Discover our favorite birthday gifting for the June born.
Hello, sunny days! With summer kicking off this month, June babies have some of the year's best weather to celebrate their birthdays. If you have a special someone in your life who celebrate their birthdays in this special month, read here to get some ideas on what to buy as a gift for June birthdays. In this article, you will find our favorite picks for the month of June. These gifts are inspired by their zodiac sign (Gemini/ Cancer), birth month flower (the rose), and birthstone (pearl).
Something fun and cute will make the June-born women happy. Whether it is for your mom, wife, daughter, sister, or friend who was born in June, these ideas are sure to bring a smile to her face. May the warmer weather brings the June-born a fun-filled birthday. Read on to find out these best June birthday gifts for her.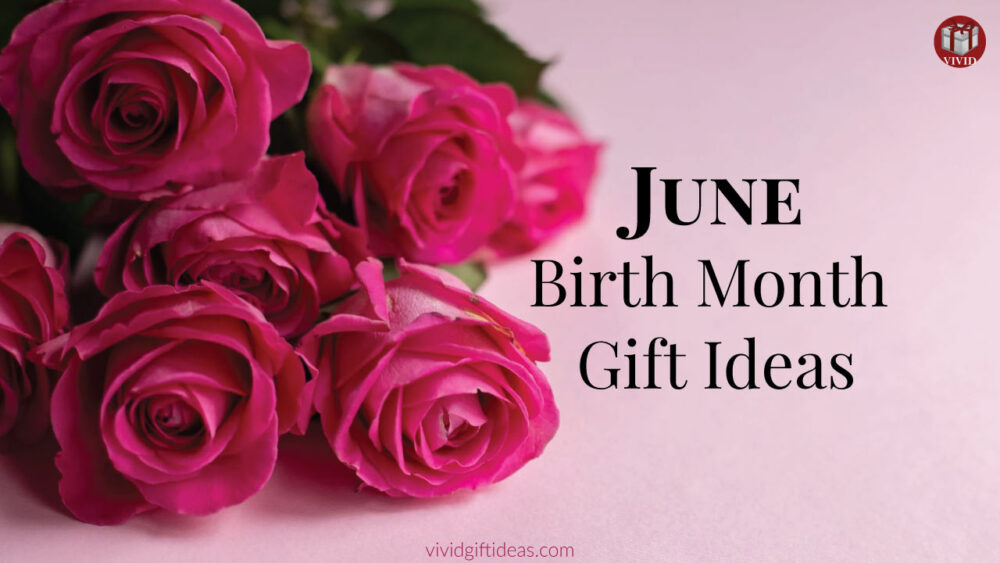 June Birth Month Flower Gifts
Give her a rose on her birthday because rose is the birth month flower of June.
Fresh roses look nice but they will wilt after a few days. Let this lovely angel brings the best wishes for her birthday. It houses a fresh rose that has undergone a complex preservation process. The flower looks almost like fresh flowers in terms of color and shape.
A lovely June birthday gift for her. This canvas tote bag showcases a beautiful artwork of June's birth flower, rose, and its flower meaning. Rose symbolizes beauty, love, and happiness.
3. Jora Rose Flower & Pearl Stud Earrings
When it comes to picking the perfect birthday gift for women born in June, a gift that combines their birthstone and birth month flower is definitely a winner. This pair of earrings will make her thrilled. The freshwater pearls are lustrous and the rose gold rose petals look delicate. It is a pair of graceful earrings suitable for women of all ages.
4. Ban.do Floral Rough Draft Spiral Notebook
She will definitely need a pretty notebook to write down her thoughts and ideas.
5. Leaper Vintage Floral School Backpack
Another practical alternative to roses. This vintage rose pattern backpack makes a thoughtful gift for teenagers and college girls. The main compartment has multiple pockets in different sizes and also a padded pocket for a laptop. It is spacious and sturdy enough to hold textbooks, folders, and other backpack essentials.
Best birthday gift for the beauty lovers in your life. This overnight gel mask with natural rose extracts provide instant hydration and gradually buff away fine lines. It will leave her skin so smooth and moisturized.
7. Twinings Cold In'Fuse in Rose Lemonade
Fancy a cuppa of cold brew tea? Treat the birthday girl born in this month with this premium rose lemonade water enhancer from Twinings. It tastes flavorful and fresh like roses from the garden. A delicious blend to bring a summery pause to the afternoon.
After a tiring day, soak in tranquility with this luxurious bath salt. It is infused with dried rose petal that has anti-inflammatory properties to soothe sensitive skin. Pamper yourself with an aromatherapy bath session to relax the mind and revitalize the skin.
June Birthstone Pearl Gifts
The traditional birthstone of June is pearl. Pearls are wildly popular in jewelry making because of their natural beauty. It is considered as a symbol of purity and faithfulness.
9. Grace of Pearl Mother Daughter Necklace
Be sure to get a meaningful present for her birthday in June. We recommend Mother & Daughter Pearl Necklace – a thoughtful gift that comes with a message perfect for gifting. Whether it is for your mother or your daughter, this dainty necklace never goes wrong.
10. Vintage Pearl Shell Trinket Box
Pearl gifting in a unique way. This whimsical shell is a little trinket box that you can keep your rings, earrings and other small accessories. There is a white pearl inside. It definitely looks charming on the vanity.
11. Pearl Hair Pins
Another cute gift inspired by their birthstone. June born girls will definitely love these handmade pearl hair accessories. They are perfect for parties, girls' night out, and even wedding.
12. Timex Mother of Pearl Dial Watch
This nice-looking watch also makes a great birthday gift for women born in June. Slim design, lightweight, clean style. The lustrous mother-of-pearl dial looks stunning with the matching rose gold case and markers. Paired with a dusty pink leather band, this watch looks feminine and fashionable.
June Birthday Gifts Inspired by Zodiac Sign
If she was born in the first 20 days of June, she is a Gemini. If she celebrates her birthday from June 21st onwards, her astrological sign is Cancer.
Give your June-born friend a special gift personalized with her zodiac sign. This mug features a beautiful artwork of Gemini sign, symbol, and personality traits.
14. The Little Book of Self-Care for Gemini
A good read for those born in June. Let the June babies discover more about her astrological sign and ruling elements. This book encourages the reader to take time to take care of herself. She will find the ideal self-care routine to heal her mind, body, and active spirit. Practice self-care and bring cosmic relief into your life.
15. Gemini Socks
One of the cutest and cheapest gifts for Gemini woman. Feel the stellar power when you wear this pair of cute Gemini constellation socks.
16. Gemini The Zodiac Bitch Candle by Malicious Women Candle Co
A funny gift for Gemini women, aka the b*tch who gives no f*ucks about your opinion. This candle has exotic earthy, woodsy scents that bring Zen and calmness to the room.
(Click ➡️ if you need some funny swear word gifts for women.)
17. Rock Paradise Horoscope Stone Box Set
These healing crystals are carefully selected for her zodiac sign. There are 6 stones to complement her birthstone. They will help balance the chakras, bring good energy, attract positive vibes to enhance the life of the Geminians. It comes with a detailed card describing the benefits of each stone.
18. June Horoscope Sign Jewelry
18a. My Very Best Gemini Constellation Necklace
For your June-born friend to show off her Gemini pride. This necklace features a dazzling constellation symbol of Gemini. It looks simple and sweet. A delicate piece to bring some sparkles to a Geminian's life.
18b. Cancer Sign Charm Bracelet
If your June baby is a Cancerian, this gorgeous bracelet will make her happy. We love the charms inspired by the horoscope sign of Cancer. There are moon, star, constellation sign, and Cancerian symbol, crab.
That concludes our list of Best Gifts for June Birthdays. Thanks for reading.
July | August | September | October | November | December | January | February | March | April | May