There is a special teen girl in your life whose birthday is coming up. Let's see what are the 2018 most-wanted birthday gifts in teenagers' wishlist. Our gift guide here brought together 23 cool and trendy gifts loved by teens.
Scroll down to discover 2018 Best Birthday Gifts for Teen Girls.
Cute Birthday Gifts for Teenage Girls
1. Make a Birthday Wish Bracelet
Wish the girl a happy birthday with this darling charm bracelet. Features a gold dipped four-leaf clover on an adjustable cord. It symbolizes luck and happiness. Make a big wish, wear it and feel the good luck it brings.
If you are looking for an inexpensive birthday gift, you can always get cute school supplies. This rose gold love shaped paper clip looks very pretty on the notes or papers. It has a practical design and strong clipping force suitable for school use.
3. I Do What I Want Funny Bunny Mug
Okay, this is an unconventional mug for girls but this mug kind of reminds us of the expressive teens who always show their bold attitude. They are being rude sometimes but they are just expressing their true self. An honest bunny who guarantee to make your teen chuckle every time she uses the mug.
4. A Snarky Mandala Coloring Book: Mandalas? Meh.
Life at her age can be hard. Give her this coloring book to color away the stresses. Witty and hilarious illustrations inside.
5. Dogeared Good Vibes Only Pendant Necklace
Give her good vibes only on her birthday and any other days she wears this necklace. Features a beautiful sun pendant on a dainty gold chain. This necklace looks stylish and it is loaded with positive energy. It makes a meaningful birthday gift for teenage girls.
6. TONYMOLY I'm Real Mask Sheet
Girls need affordable and good skincare. She can apply Korean sheet masks for clear, healthy-looking skin. These masks are enriched with different essences for different types of skin. They keep your skin soft, smooth and hydrated.
7. ban.do Deluxe Sip Sip Tumbler
Double walled tumbler for her to enjoy her favorite drink in style. Stunning minimalist design. Features an inspiring gold foil statement, gold metallic electroplated lid, and a soft silicone straw.
Birthday Gift Ideas for Techie Girls
A cool-looking headphones with good sound quality is a must-have tech gadget for teenagers. You can get this glittering unicorn headphones for her birthday. Awesome design, amazing sound. She will love it for sure!
Selfie stick is one of the best tech gifts for teens. This Sailor Moon wand is coming to help users to take a nicer picture from a better angle. It is cute, lightweight and useful. The arm can be extended to 29.53inches long. It has 270 degrees rotating head, and can shift horizontally and vertically to shoot from multi-angle.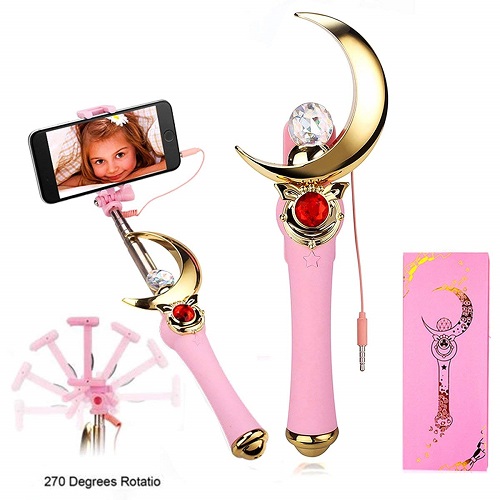 10. Fujifilm Instax Mini 8 Instant Film Camera
For her who loves taking photos of her everyday life. This popular instant camera by Fujifilm makes one of the best birthday gifts. It is small, easy to use, and loved by many. Features automatic exposure measurement, a high-key mode that allows you to take pictures with a softer impression and a newly improved viewfinder for greater clarity and visibility. Just point, shoot and instantly print out a credit-card-size photo.
11. PopSockets
The techie girls definitely need this stylish phone accessory. Attach PopSockets to the back of the phone to expand the grip or use it as a stand for hands-free viewing. It lets you hold your phone more securely without losing grip. Also, it can be used as an earbud cord storage.
Birthday Gifts for Teen Fashionistas
12. PUMA Platform Fashion Sneaker
This pair of platform sneakers is a cool kick that she will love. Classic style, lovely pink color, comfortable. It looks amazing with any casual outfit.
13. Beachqueen Retro High Waisted Bathing Suits
You can also get a nice swimsuit. She will love this vintage-inspired bikini. It has removable padded bras and runched-designed bottom that creates a slimmer effect. Looks amazing and non-sexy. Perfect for the teen girls.
Here are more pretty swimwears for teens.
14. Beauty Glazed Heart Shape Eyeshadow Palette
She will also love this chic heart-shaped eyeshadow palette. 15 gorgeous glitter infused shades, highly pigmented, smooth creamy texture for easy application.
See for more gift ideas for the beauty-obsessed girls.
15. Mini Curling Iron Hair Brush
No messy hair when you step out from the house. Curl or straighten your hair into beautiful styles in minutes. This styling tool heats up fast and super easy to use. It is compact and light; great for traveling.
For her to experiment with different hair colors. A box of 6 vibrant hair coloring chalk combs. Bright, vibrant, blendable colors. The colored chalks are attached in a comb so that you can easily dye your hair without unnecessary messiness.
A classic denim jacket is a must-have for teens. It is versatile and never goes out of style. She can wear it from summer to winter with any outfit for a more fashionable look.
You can also get this cat handbag for her birthday. It is mini and adorable. The purr-fect little bag to carry your wallet, phone, makeup, and other small stuff.
Also available in pink and blue.
Motivational Birthday Gifts for Teenagers
19. "She Never Gave UP" Notebook
You can also get unique school supplies as her birthday gift. Backpack, pencil, notebook are some of the good choices. We recommend this hardcover notebook featuring an inspiring beautifully written quote "She Never Gave Up" in gold embossed.
20. Strong Girl Bag
Whimsy book bag that shows the girl power. Simple and cute design. It reads "Wink at challenges. I am a strong girl."
21. Believe In Good Inspirations File Folders
File folders to keep her papers and school projects organized. Letter-sized, inspiring theme, embellished with gold foil.
A fun statement tee that she will adore. It says "I kick ass. I don't kiss it".
Also available in white, grey and red.
23. The Confidence Code for Girls
A good self-help book is another great idea. The Confidence Code for Girls is a must-read for teenage girls. Yes, girls can rule the world—all they need is confidence. This empowering, entertaining guide lets girls see how awesome they really are, instill self-confidence and helps them to become fearless.
That concludes our list of 2018 Best Birthday Gifts for Teen Girls. Thanks for reading.