When your friend or family is feeling stressed, help them to relax with some stress-relieving gifts. In our gift guide below, discover what's the ultimate relaxation gifts for women who are stressed. Featuring 30 de-stress gifts that will bring peace to her body and soul. Read now to find out these useful stress-relief gifts to make her smile again.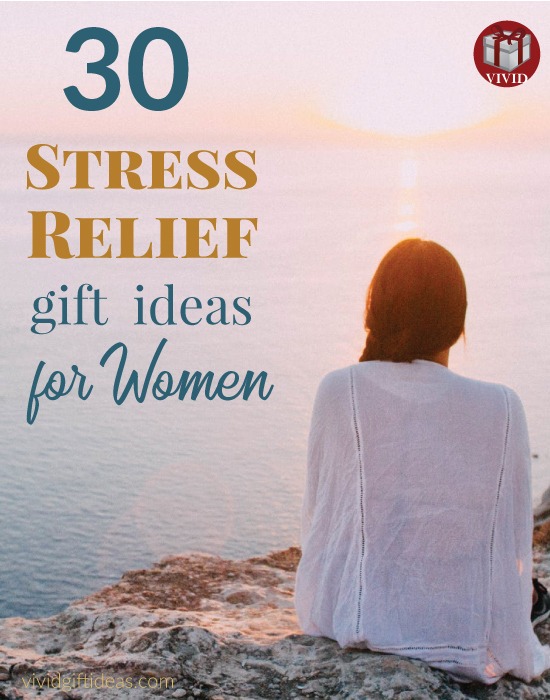 Best Stress Relief Gift Ideas 2021
Life has been rough and it's time to slow down. Place this inkless drawing board in your room. Take your time off and paint it in a relaxing way. Just dip the brush into water, slowly paint and watch the images evaporate. As the images slowly disappear, your negative emotion will also slowly slip away.
2. Find Your F*cking Happy: A Journal to Help Pave the Way for Positive Sh*t Ahead
A stress-relieving gift for her whose life is filled with sh*t. This delightfully profane journal will help you to practice mindfulness and make you LOL. Sometimes a little bit of humor and curse words are exactly what you need when you are feeling down.
(Need more profanities to de-stress? Get one of these 25 Funny Swear Word Gift Ideas to battle the negativity in life.)
Carry your own rainbows wherever you go. These earrings are so cute and vibrant they will definitely brighten up your day.
(RELATED: Best Rainbow Gifts To Cheer You Up)
Give her a relaxation gift in the form of a beautiful moon. This lamp is made with fine details that portray the moon's surface. Like a true moon, it will bring calmness to your room.
5. Push Pop Pop Bubble Sensory Fidget Toy
Small fidget toy is one of the most practical stress-relief gifts for kids and adults. This silicone squeeze toy is effective in combating anxiety. Simply play it and pop away the restlessness.
6. Retro Necklace Series Embroidery Starter Kit
A special gift for women to relieve stress. Sit down and take your time to make a delicate embroidery necklace. Making small craft brings joy to the hectic modern life. It will shift our attention away from daily pressures.
7. Good Vibes Rainbow Tote Bag
A bag filled with good vibes. Pack all the small relaxing gifts and goodness like her favorite food into this bag.
8. Foot Spa Bath Massager with Heat
Sit back and unwind after a long day. Enjoy a luxury foot spa at home. Just fill the tub with water, select your preferred heat, and let the jacuzzi-like bubbles massage away your tiredness.
9. National Geographic Greatest Landscapes
One of the best de-stress gifts for your family and friends. Escape to the world's most majestic places with breathtaking nature landscapes. Take a visual journey to enjoy the various seasons, spectacular views, and the beauty of great nature.
Bring the element of Zen and tranquility by placing some green plants in the room. And… we can level up our plant game by getting a cute planter to house your plant.
11. Relaxation Hammock Chair Macrame Swing
This Mediterranean style macrame net swinging chair will become her new favorite. Wherever you feel exhausted, take a break and lounge in style.
Another wonderful stress-relief gift approved by many women. This facial ice roller stays cold longer to calm skin irritation, reduce puffiness, and brighten your complexion. It is also good for alleviating muscle soreness and relieving headaches.
13. INSMY Portable IPX7 Waterproof Bluetooth Speaker
Play some soft instrumental music to soothe your mind. This mini speaker is powerful, light, and waterproof. Play your favorite music anywhere you like, even in the shower.
14. Magical LED Curtain Lights
Bring harmonious and happy vibes to her room, these colorful lights will lighten up her mood.
15. What a Melon Jelly Hydrator 
A good skincare is one of the best self-pampering gifts for women. This soothing moisturizer is packed with antioxidant-rich watermelon extract. It provides hydration and nutrients to revitalize your skin. What we love most is the jelly texture that feels really smooth and weightless on the skin.
16. Get Relief Tea by The Republic of Tea 
Get a nice hot cup of tea, it is the best relaxation gift people enjoy for ages. Have a cup of herbal tea when you are feeling tense. When you sip your tea mindfully and slowly, the aroma will calm your senses and make you feel relaxed.
(Related article: 17 Fun Ideas for a Tea Lovers.)
17. Woolzies Therapeutic Blends Essential Oil Gift Set
Essential oils are known to improve mood, relieve stress, and calm the mind. Use these naturally derived oil blends to improve all areas of health and wellbeing.
18. Colorado Home Co Mulberry Silk Pillowcase
This 100% mulberry silk pillowcase will help stressed people to achieve a better night's rest. The natural silk is highly breathable and super smooth. Its soft, friction-free, and temperature regulating benefit allow you to have a more restorative sleep.
19. Naipo Shiatsu Neck Massager
What could possibly be more relaxing than getting a warm massage after working on the computer for long hours? Simply place this massager on your shoulder, adjust the heat, and kneading intensity to release the muscle soreness.
20. Unicorn Stemless Wine Glass
This stemless wine glass is perfect for unwind after working hard for the whole day. Because adulting is full of responsibilities, burdens, and pressures. It's time to loosen up a bit and drink like a unicorn.
(If she loves unicorn, don't miss out on our gift guide for unicorn lovers.)
21. Japanese Zen Garden Kit for Desk
A relaxing gift for your colleagues, boss ladies, and girlfriends. This peaceful Zen garden is a must-have Zen office decoration to help us to remain calm, focus better, and work better.
22. Yoga Dice
Yoga brings many benefits to us, both mentally and physically. It is proven that practicing yoga can improve our strength and flexibility, calms the nervous system, lower the stress level, and combat anxiety. This yoga pose dice is a creative relaxation gift for the yoga lovers in your life. It allows your yogi to practice their routine in thousands of possible combinations.
23. Self-Love Workbook for Women
A colorful self-help workbook for women to focus on their own emotional health. Give her a stress-relieving gift in the form of learning self-love. With easy-to-follow guides and activities, this book will help you to understand yourself and make positive changes in life.
Add a lush of green and a sense of peace to the room. This bonsai is a low growing plant that is easy to take care.
25. Dammit Doll – Classic Dammit Money Doll
Feeling stressed about your financial situation? Whack this doll. It won't make you richer, but smacking it will definitely make you feel better.
26. Vooray Stride Cinch Backpack
Give her this versatile backpack and encourage her to go for a hike or a short getaway. Soaking up the sun, going to new places, and meeting new people will take your mind away from daily stresses.
(Related article: 28 Best Weekender Bags for Women)
27. Crazy Aaron's Thinking Putty Wizard's Wand Putty
This is an amazing stuff for the stressed out. The purple putty glows in the dark and it's indestructible. As you snap, twist, stretch or pull it, your tension will magically melt away.
28. Majestic AF Inspirational Pencils
This is an awesome stress-relief gift for college students, co-workers and friends. They are dazzlingly cute and the inspirational messages will definitely boost your mood.
29. BABEYOND Kimono Robe Cover
After a long day at work, take a warm bath, and cozy up in this pretty satin robe.
30. Mae Fine Foods Gourmet Chocolate Bonbons and French Macarons Gift Set
Sweet food will stimulate brain to release chemical that make people happy. Get this box of gourmet Belgium chocolate bonbons and yummy French macarons for the overworked. It is a great relaxing food for women.
That concludes our list of Best Stress Relief Gift Ideas. Thanks for reading.
More Stress-Relief Guides: