Welcome to the second month of the year. This is the shortest month of the year and also the best month of the year. February brings some pretty awesome celebrations and plenty of other good stuff. Valentine's Day is coming, President's Day is this month (one day off from work, yay!), time to Nutella all the food because World Nutella Day is here. It's also the awards season, and most importantly there is one special girl in your life who is celebrating her birthday in February. Like the gift guides we wrote for all other birth months, in this article, we are bringing together the best gifts for February birthdays. There are more than 20 personalized gifts for the February-born inspired by their birth month flower (the violet), birthstone (amethyst), zodiac sign (Aquarius/ Pisces), and birth month colors (purple and light blue).
These birthday gifts are special and thoughtful. They will make your February babies smile no matter how old she is. Whether she is your bestie, daughter, girlfriend, sister, wife, or mom, these February-inspired birthday gifts will definitely warm her heart. Read on to find out our favorite birthday gifts for people who were born in February.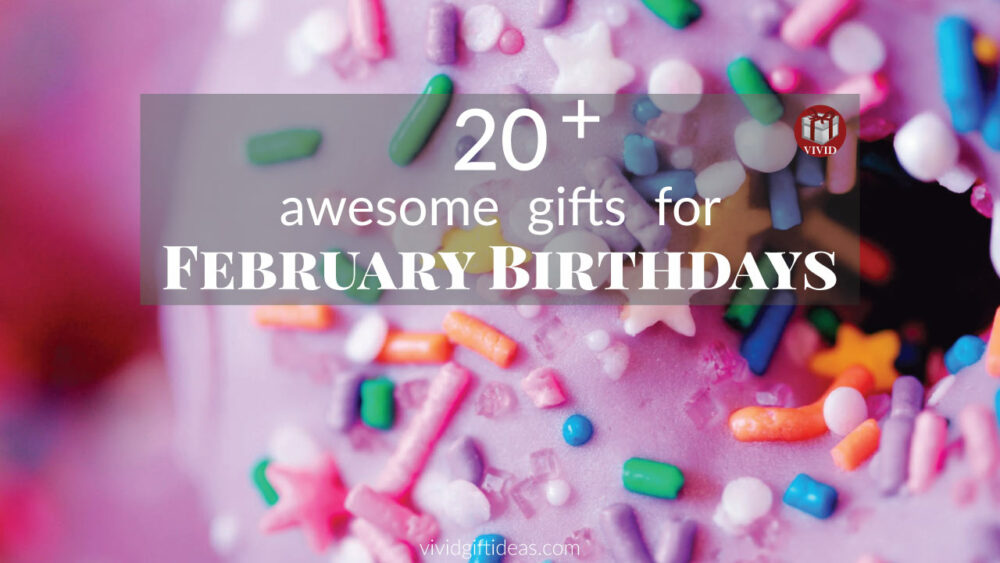 Best Birthday Gifts for People Who Born in February
Birth Month Flower Gifts for February
When it comes to picking a nice gift for women born in February, you can pick a gift based on her birth flower. Violet is the birth month flower of February. It signifies faithfulness, virtue, and modesty.
1. Violet Pattern Tote Bag
Let's start our list of Best Gifts for February Birthdays with this versatile tote bag that features her birth month flower, violet. She will adore the flowers designed in three different purple shades. It looks feminine and cute perfect for everyday use.
2. February Birthday Mug
Give the February-born women this beautiful floral mug. She will love the graphic on this mug — it is full of violets and there is a heart-warming message on the back that reads "you're the best of the bunch."
Make her room smells fresh with the scent of bright violet, sweet rose and earthy cedarwood. Transport her to a local farmers' market filled with  blooming bouquets.
February Birthstone Gifts for Women
People born in February are represented by amethyst. Amethyst is crystalline quartz that symbolizes courage, loyalty, and power. It is believed that wearing an amethyst calms the nerve system, relieve stress, balance mood swings, and cleanse one's energy field of negative influences.
4. Silvershake Amethyst Leaf Dangle Earrings
Amethyst was favored by St. Valentine and it is the stone of faithful lovers. Give this pair of amethyst earrings to your lover. She will love the unique leaf design and the rich purplish stones that sparkle. This pair of earrings looks delicate and gorgeous. It is one of the most romantic birthday gifts for your wife.
5. Amethyst Facial Roller
For the women who are obsessed with skincare. Help her to level up her game with this amethyst facial roller and gua sha set.
6. Dear Ava Birthday Gift Necklace
Wish her a happy birthday with this pretty necklace. Features a brilliant lilac birthstone and a gold-tone chain. Its simple design never goes out of style and it looks great on girls of all ages.
7. Enesco Foundations Birthday Angel Figurine
This birthday angel with sparkling purple wings sends good wishes to the February-born people. She is beautifully crafted with pewter and a birthstone on her chest. Place this angel in your room to create a protective shield from negative energy, calm the mind, and attract good luck.
8. Amethyst Raw Stones LED String Lights
A unique Zen decoration for any room. Hang these amethyst fairy lights to create a calm and warm ambiance. Each of the natural amethyst stones varies in shapes and sizes. They will definitely make your room looks a lot cooler and cozier.
9. Sleep Aid Crystals and Healing Stones
A set of natural healing stones delivered from the spiritual hotspot of the world, India. It contains four types of crystals to promote better sleep, offer personal protection, and help you focus better.
Zodiac Sign Gifts for February Birthdays
There are two star signs associated with the month of February. If she was born on February 1st to 18th, she is an Aquarius. If she celebrates her birthday from February 19th onwards, her astrological sign is Pisces.
10. Aquarius: Harness the Power of the Zodiac
Give her the key to a starry future. This is an insightful book for the Aquarius girls to seek guidance from the sky. Understand more about your astrological life as the water carrier and learn how to harness the ancient power of the zodiac. Get helpful advice on topics like self-care, career, money, relationships, and more.
11. February Horoscope Sign Jewelry
11a. Aquarius Sign Constellation Necklace
A wonderful zodiac gift for those born under the sign of Aquarius. This necklace features a dazzling constellation symbol of Aquarius. It is gold and shiny. Wear your sign to amplify the strong characteristics of Aquarius.
11b. Pisces Zodiac Necklace
A chic necklace to bring some sparkles to a Pisces's life. It is made of sterling silver with many glittering stones. The design of two fishes swimming in opposite direction looks special. This is a trendy piece that the Pieces women will adore.
12. Rock Paradise Aquarius Horoscope Stone Box Set
A thoughtful gift to enhance the life of Aquarians. This box contains six carefully selected stones that are compatible with the Air sign girls. It is believed that these healing crystals can bring the best energy, fortune, and positive vibes to the individual. It also comes with a detailed card describing the benefits of each stone.
13. Pisces Birthday Mug
Give a personalized birthday gift to the Pisces girls in your life. This mug features a beautiful artwork of Pisces and their personality traits.
14. Par Avion Tea Zodiac Sign Tea
Healthy green tea for the health-conscious Pisces. She will appreciate the refreshing scent of green tea with the notes of ginger and turmeric in this tea. A delicious treat that tea drinkers will definitely appreciate.
15. Lucky Feather Zodiac Bracelet
A cute birthday gift for teens who love her astrology sign. This statement bracelet looks simple and stylish perfect for showing off her Aquarius pride.
16. Women's Horoscope Sign Socks
A small gift for Pisces women in your life. This sock features the astrological symbol of Pisces sign — two fishes swimming in a different direction. It is a fashionable and fun addition to her closet.
(More gifts for Pisces women can be found on ➡️ gift guide for March birthdays)
17. Astrology for Real Relationships
This is a must-have book for people who are into astrology and relationships. It is a modern guide to astrology that will illuminate your relationships of all kinds; love life, friendship, family, coworkers, and boss. It is filled with practical tips to help you understand your strengths and weaknesses. Read it to uncover and deepen the understanding of yourself and the people that you care.
February Birthday Gift Ideas
Birth Month Color Gifts for February Birthdays
Purple and light blue are the birth colors for the month of February. You can incorporate these colors into the gift for the February-born people.
18. Daily Gratitude Journal for Women
February birth month color gift for women — a simple and beautiful journal in purple color with daily prompts for us to reflect and write down the things, people, and circumstances that we are grateful for. It also contains inspirational quotes and coloring pages. This mindfulness journal helps us to form a habit of appreciation and focusing on the positive things in life.
18. Sorbus Big Purple Storage Case
She definitely needs a good organizer to keep her space clutter free. This stylish purple storage case is perfect to organize all her makeup and accessories. It is made of clear acrylic plastic that looks sleek on any desk.
20. Royal Purple Felt Letter Board
For the girls who love to decorate their living space. This purple felt board allows her to DIY with her own message. She can arrange simple quotes to motivate herself on a daily basis. It is easy and fun to do. A nice decor to add a personal touch to any space.
21. MOSISO Laptop Sleeve
You can also get a good-looking light blue bag for the February babies. We recommend this chic blue marble laptop bag for the working ladies and college students who always need to carry their laptops around. Features water-repellent outer layer, polyester foam padding, and extra fluffy cushion for shock absorption.
22. BerryGo Women's Embroidery Maxi Dress
Help her to get ready for spring and summer with this lovely dress. It has an attractive V-neck design with a flare ruffle hemline. We love the cotton eyelet embroidery fabric. This dress is soft and comfortable to wear for many occasions; party, picnic, beach, garden wedding.
That concludes our list of best February birthday gifts for her. Thanks for reading.
Follow us on Pinterest!
More birthday gifts for each month:
See our list here for January – December birth month gifts.