August — this is the last full month of summer. There are fewer rainy days, it is not uncomfortably hot, and there is this special someone in your life who celebrates her birthday this month. It's time to look for unique August birthday gifts for her.
In this article, we have rounded up our favorites for the August-born. Whether you are shopping for your friend, daughter, girlfriend, wife, or mom, these 16 cute ideas are going to make her happy. Shop these personalized gifts inspired by the month of August.
Read on to discover the perfect gifts for August birthdays.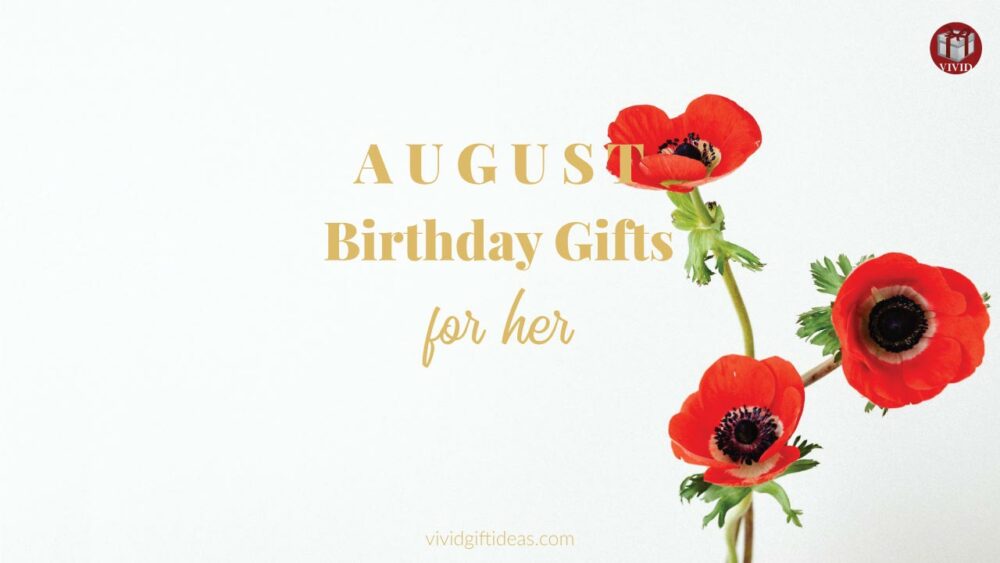 August Birthday Gifts
1. Wine Glass for the Birthday Queens
Cheers to the birthday girl! Because queens are born in August.
Birthday gifts inspired by August birthstone
Peridot is the birthstone of August. It makes a wonderful birthday gift for people who were born in this month. This lime green stone symbolizes strength.
This "August Angel" is here to protect and bring good lucks to the August-born woman in your life. She is finely crafted and colored like peridot birthstone crystal.
A great birthstone gift to make her smile. Peridot is a crystal of positive power, it is believed to bring strength and energy to its wearer.
4. Disney Minnie Mouse Birthstone Earrings
This pair of Minnie Mouse earrings with her personalized birthstone makes a thoughtful gift for the Disney fans out there.
Birthday gifts inspired by August birth month flower
The birth flower of August is poppy. It is a symbol of consolation, imagination, and wealth. The other birth month flower of this month is gladiolus. This flower signifies remembrance, calm, and integrity.
Surprise her with this lovely gold necklace featuring August birth flower and birthstone.
Celebrate the month of August with this beautiful floral mug. It features the flower of the month, poppy. It has a lovely design with charming colors. It is a simple gift to make the August babies happy.
A stunning wall decoration to brighten up her room. These red poppies will bring luck to all births in this special month.
Red poppies are eye-catching. It signifies pleasure. Get this beautiful notebook for your birthday girl. It has 120 lined pages for her to write down her dreams and plans.
9. Signare Tapestry Poppy Flower Shoulder Bag
Another fantastic August birthday gift based on her birth flower. This poppy patterned handbag looks elegant with any attire. The shape looks feminine and the details of the print are outstanding.
August birthday gifts inspired by zodiac sign
People who were born in August are either a Leo or a Virgo. If she was born on August 1st – 22nd, she is a Leo. For the woman who was born from August 23rd to August 31st, she is a member of the Virgo sign.
10. Gold Lion Head Wall Hanging
We know that Leo absolutely needs a regal touch to her room. Let her show off her Leo pride with this attention-grabbing wall art. It is fully shining in gold with stunning details to catch the eyes of any visitor she has.
11. CaliRoseJewelry Leo Pendant Necklace
A trendy necklace for your August-born girlfriend who is a Leo. We love how the lion is standing proudly in the circle of all zodiac signs. This necklace looks really cute and it matches well with any outfit.
12. Lion Head Studded Backpack
Leo girls enjoy being the center of attention. For the fashionistas or the girls who love cool stuff, you can't go wrong with this awesome lion backpack. Features an all-black PU leather with an amazing 3D lion head design and silver studs. This is definitely a stylish backpack she will keep for years.
13. The Little Book of Self-Care for Leo
For the girl who believes in astrology and cosmic power. This book lets Leo discover more about her sign and ruling element. With this guide, she will learn ways to heal her mind, body, active spirit, and find the perfect set of self-care routine.
A decorative art print with a simple, clean, and neat style that the Virgo will adore. The encouragement words and inspirational sayings are written in a humorous way to make her LOL.
Antique-style bronze earrings with her zodiac charm dangles within a silver crystal halo. Above it is a tiny star set with a crystal stone in the mystical color for Leo's sun sign. This pair of earrings looks dainty and very unique.
A fun and colorful sock for the Virgo woman to show off her Virgo pride.
17. Leo Aromatherapy Diffuser Night Lamp
Another unique birthday gift for your Leo friends. This essential oil diffuser night light is a must-have for her den. It diffuses aromatherapy oil in a steady stream of cool mist. Turn it on, sit back, relax and enjoy the calming scent while watching the lion moves with a 3D color-changing light.
That concludes our list of Best Gifts for August Birthdays. Thanks for reading.
More personalized ideas for each birthday month:
January | February | March | April | May | June | July | August | September | October | November | December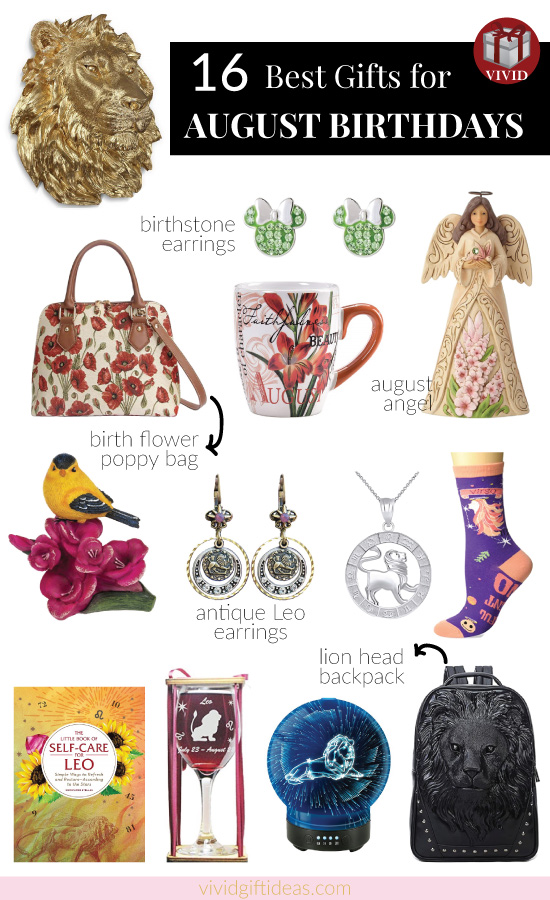 Follow us on Pinterest for more awesome birthday gifts!