Hello, March! As the weather is getting warmer, we are welcoming spring. We know it's time to write an article for the March babies. If you have a special someone who is born in March, it's time to look for unique March birthday gifts to celebrate with her. In this article, we have rounded up our favorites for the March birthdays. These 18 birthday gifts are really cute, thoughtful, and affordable. They are perfect for your gal pals, girlfriend, wife, sister, or daughter who is born in March.
So, read on to discover 18 best March birthday gifts for her.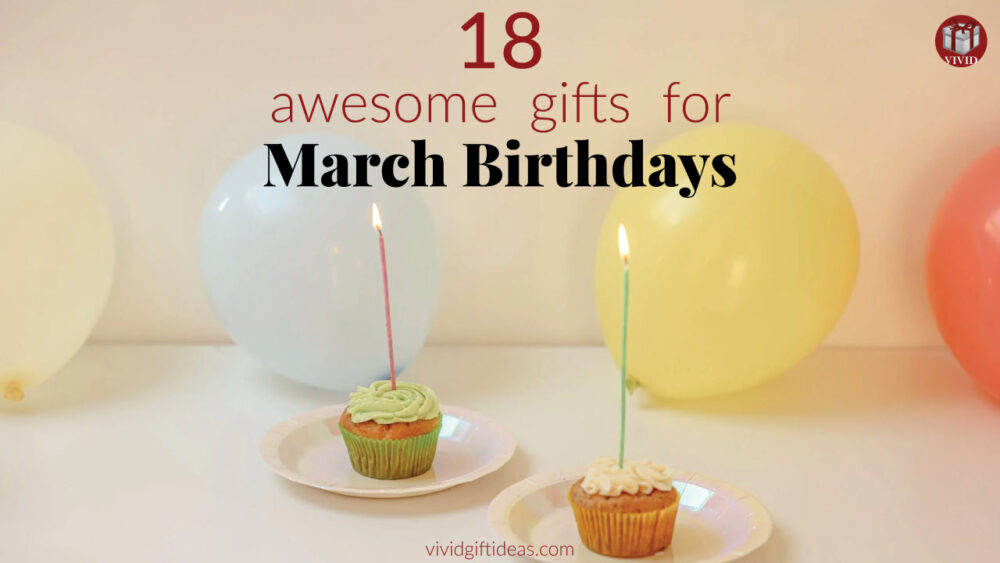 Best Birthday Gifts for People Who Born in March
A pretty accessory for the March babies in your life. This stylish necklace features a shiny aquamarine stone and a dainty sterling silver chain (Yes, aquamarine is the birthstone for March).
2. Astrology Sign Trinket Tray
If she is born in the first 20 days of March, she is a Pisces. Give her this beautiful ceramic dish with her zodiac sign. It is made in the right size perfect for storing small gems and other small objects.
3. March Birthday Flower Coffee Mug
Daffodil — the birth month flower for March. When the cheerful daffodils emerge from the chilly earth, we know warmer days are around the corner. You can't go wrong gifting this colorful mug for the women born in March. Because, you know she is the best of the bunch.
4. Pisces The Zodiac B*tch Candle
Make your pal laugh on her birthday. Present this snarky AF gift to her. It is the coolest zodiac gift for the Pisces — also known as the b*tch who can see right through your shit.
She will love a personalized birthday gift in the form of beautiful earrings with her birth flower.
6. Kendra Scott Elaina Adjustable Chain Bracelet
We love the stunning aquamarine stone, the adjustable feature of the chain, and also the fact that this simple and classy design never goes out of style. This gorgeous bracelet by Kendra Scott makes an awesome birthday gift she will treasure for years to come.
7. Vera Bradley Crossbody Purse
Spring is here. Let's help the birthday girl to update her wardrobe. Why not we start off with this cute purse? Its floral pattern looks so colorful and fun. We are sure she will love the bright spring vibe of it.
8. Kate Spade New York Initial Monogram Tumbler
A personalized birthday gift for women who born in March — a double-walled, insulated tumbler with straw for her to sip in style. We have to admit, this tumbler is too cute. You probably want to get one for yourself.
9. Happy Birthday Confetti Wine Glass
Cheers to the March babies!
10. Lucky Feather Pisces Necklace
Pisces gals will be so thrilled to receive this. The good-looking gold medallion featuring her astrological sign will leave her star-struck.
Another lovely daffodil themed gift for those born in March. This washable cotton tote bag features her birth month flower and its symbolism. It is perfect for hauling groceries, books, and more.
Himalayan salt lamp is very popular this year. We heard it is one of the must-have room decors for the college girls and trendy ladies. We ❤️ this Himalayan salt lamp in charming heart shape. It gives a warm and soft glow to Zen up your room.
Because this pair of glittery geode earrings matches well with many outfits. And, it is so glittery and cheap (less than $20).
The light-catching simulated stones are also available in pink, blue, purple, and black.
14. STYLEWORD V Neck Floral Swing Dress
Bring in the joyful spring feel to her wardrobe with a flare, floral dress. The sundress is definitely a must-have fashion item for spring and summer.
14. March Flower Daffodils Plant
For the girl who loves adorable decoration for her room. These daffodils will make her happy. Place it on her desk, shelf, or any corner of the house to bring in the sunny, joyous feel of spring days.
For the girls who can't start her morning right without a cup of coffee. The fuzzy Sherpa fleece of these slippers will keep her feet warm and cozy in the morning.
16. Glass Birthstone Heart Suncatcher
A stunning heart-shaped ornament carefully hand crafted out of glass. The color aquamarine is used to represent the month of March. Hanging in the window to catch sunlight can bring a sense of calmness.
17. Daffodil Fairy
With the blooming of daffodils, it marks the beginning of sunshiny season. Present this adorable flower fairy to your friends born in March. It is a unique way to show how much you appreciate your friendship. Each of the fairies are hand-painted and finished with a tiny rhinestone in her hair.
18. COCODOR Daffodils Flower Reed Diffuser
And, you don't want to miss gifting this aromatic diffuser set on her special day. Brighten up her room, fill it with luxurious fragrance to make her happy.
That concludes our list of best personalized gifts for birthday month of March. Thanks for reading.
More personalized ideas for each birthday month:
More cute birthday gift ideas for her:
Follow us on Pinterest to see more unique gift ideas!