See a list of unique birthday gifts for celebrating September birthdays. We have brought together 16 thoughtful September birthday gifts for him and for her below. Our favorites include special stuff personalized with September birth sign and September birthstone, the sapphire. Ranging from jewelry, home decor, books, accessories, and more. These 16 really awesome items are perfect for the September babies.
Scroll down to discover now!
Gifts for People Born in September
1. 1928 Jewelry "Flowers Of The Month" September Birth Flower Pendant Necklace
A gorgeous antique-style necklace for the women born in September. The pendant features the birth month flower of September, which is aster. The chain has delicate details that look like it is from the olden days.
2. September Birth Sign Wine Glass 
If she is born in the first 22 days of September, she is a Virgo. This beautiful wine glass makes a wonderful birthday gift for women who love wine. It featuring a simple and charming graphic of Virgo. This is a sturdy wine glass with a 19-ounce capacity.
3. The Little Book of Self-Care for Virgo
People born in September are extremely hard working. They are known to be the "perfectionists". When the Virgos are on their quest to achieve perfection, they need some me-time for self-care routine. Get this book for them to learn more about their sign and their star-powered strength. Welcome the cosmic relief into your life. Find ways to heal the mind, body, and spirit.
4. Soular Therapy Astrological Heavenly Body eau de toilette
A refreshing and energizing cologne suitable for men and women. Inspired by the earth element and the color blue of September. This perfume has a fresh and uplifting unisex scent with hints of greens, woods and floral. Wear the signature scent of your sign to unleash the power of Virgo.
Next, let's move on to the birthstone of September, which is the sapphire. For men, a pair of sapphire cufflinks is a fantastic choice. He will appreciate these classic sapphire cufflinks. Disco-ball like design, shiny sapphire crystals. It looks sleek and elegant.
6. Lucky Feather Zodiac Ring Dish
A cute dish with gold-tone constellation accents reflecting her astrological sign. Mini in size; perfect for rings, earrings, and other small accessories.
7. Zodiac Constellation Symbol Keychain
A small zodiac gifts for Virgo men and women. It is made of stainless steel. The message highlights the good characteristics of September babies.
8. Leafael Superstar Zodiac Bracelet
Rose gold lovers will definitely want to have this stylish bracelet. It is dangled with four stellar charms. Modern design, eye-catching blue Swarovski Crystals. Wear it and let the charms transmit the heavenly powers to you.
For your loved one who is born in September — a blue crystal music box decorated with two golden roses. This music box is engraved with the word "Love". It plays "Can't Help Falling in Love".
It comes in a nice gift box with a romantic inscription.
10. Polennon Virgo Diffuser Night Light 
Bring in the stars and calmness to your room. A 7 color-changing LED oil diffuser to fill your room with your desired scent.
11. Ganz Flower of The Month Figurine 
We love how adorable this little blue bird is sitting on the aster flower. It makes a nice decoration for any room.
12. My Very Best Horoscope Constellation Zodiac Sign Necklace
A dainty necklace with the design of the Virgo sign. It has a simple gold chain with seven shiny diamonds in different sizes. A lovely birthday gift that the September babies will be thrilled to receive.
13. Invicta Men's Pro Diver Watch
Another great gift for men born in September. This handsome watch by Invicta features a sapphire blue dial with a black silicone band. It is well made, durable, and comfy to wear. It is a simple and stylish everyday watch loved by men.
14. Victorinox Swiss Army Classic Pocket Knife
This classic pocket knife in sapphire is a perfect gift for men born in September. It has six useful tools which include a knife blade, scissors, nail file with screwdriver tip, toothpick, and tweezers. It is compact, sturdy, and useful. This pocket knife also comes with a handy key ring so you can attach it where it is convenient.
We are coming to an end of our list of gifts for September birthdays. Let's take a look at the last item – a pretty sapphire pendant necklace for her. Featuring an oval-shaped blue sapphire, sparkly side stones, and rhodium-plated chain. This necklace looks dainty and graceful. It is perfect for women above 30.
That concludes our list of best gifts for September birthdays. Thanks for reading!
Read birthday gift guides of another birth month: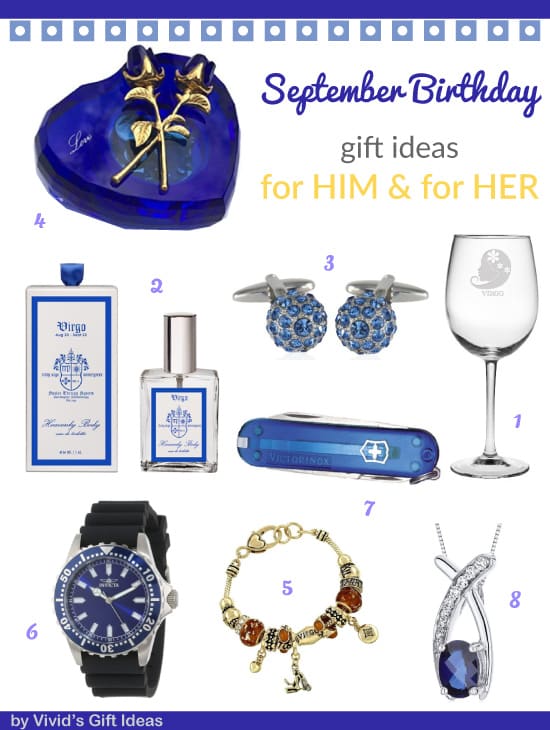 Follow us on Pinterest!