See a list of unique birthday gifts for celebrating September birthdays. We have brought together 23 thoughtful September birthday gifts for him and for her below.
Our favorites include special stuff personalized with September birth sign and September birthstone, the sapphire. Ranging from jewelry, home décor, books, accessories, and more.
These 20+ really awesome items are perfect for the September-born adults, teens, and kids.
Scroll down to discover now!
(Get gift ideas inspired by each of the 12 individual month by reading our article on Birthday Gift Ideas by Month)
Birthday Gifts for People Born in September
1. September Birth Flower Necklace
The birth month flower of September is aster. Aster symbolizes wisdom, faith, compassion, and velour fortune. This rose gold tone necklace makes a good birthday gift for women born in September. The disc pendant features the a beautiful aster. It looks simple and lovely perfect for girls of all ages.
2. September Birth Sign Wine Glass
If she is born in the first 22 days of September, she is a Virgo. Give a personalized birthday gift in the form of this beautiful wine glass with her astrology sign. This wine glass is stemless and it has a big18-ounce capacity to allow you to swirl without spilling.
3. The Little Book of Self-Care for Virgo
People born in September are extremely hard working. They are known to be the "perfectionists". When the Virgos are on their quest to achieve perfection, they need some me-time for self-care routine.
Get this book for them to learn more about their sign and their star-powered strength. Welcome the cosmic relief into your life. Find ways to heal the mind, body, and spirit.
4. Sapphire Blue Diamond Paperweight
Blue is the birth color of September. You won't go wrong with things that are in blue color. This big diamond in mesmerizing blue looks good in the office. Both September-born men and women will appreciate having it on their work desk.
5. Birthday Angel Figurine
Present this angel to those celebrating their birthday in this month. She is bringing good lucks and magical blessings to the September babies.
6. Sapphire Birthstone Cufflinks
Next, let's move on to the birthstone of September, which is the sapphire. For men, a pair of sapphire cufflinks is a fantastic choice. He will appreciate these classic sapphire cufflinks.
The disco-ball like design and shiny sapphire crystals caught our attention. This pair definitely looks sleek and elegant on your man.
7. Scriveiner Midnight Blue Fountain Pen
Another good gift for adults inspired by their birth month. This luxury pen by Scriveiner expresses elegance and sophistication. It is finely crafted out of brass with a blue lacquer finish and chrome appointments. Its sleek design and solid built allows him to write smoothly on any paper.
8. Birthday Girl Candle by Katie Loxton
For the girl who was born in this month to celebrate her special day the fabulous way. The sparkling blend of pink champagne and sweetheart strawberry will fill her room with happy vibes.
9. Zodiac Ring Dish
A cute dish with gold-tone constellation accents reflecting her astrological sign. Mini in size; perfect for rings, earrings, and other small accessories.
10. September Birthday Symbol Keychain
A small zodiac gifts for Virgo men and women. It is made of stainless steel. The message highlights the good characteristics of September babies.
11. Birth Sign Zodiac Bracelet
Rose gold lovers will definitely want to have this stylish bracelet. It is dangled with four stellar charms. Modern design, eye-catching blue Swarovski Crystals. Wear it and let the charms transmit the heavenly powers to you.
10. Birthday Wine Glass for Women
Because queens are born in September.
13. Blue Hardcover Journal Notebook
Something blue for him and for her. This notebook opens flat with 140 pages. It is useful for planning, note-taking, travel, work, and, more.
14. Sapphire Music Box
For your loved one who was born in September — a blue crystal music box decorated with two golden roses. This music box is engraved with the word "Love". It plays "Can't Help Falling in Love".
It comes in a nice gift box with a romantic inscription.
15. Morning Glory Fragrance Body Mist
Morning glory is another birth flower for the month of September. And, this morning glory spray mist is perfect for the birthday girl born in this month.
16. Happy Birthday Novelty Socks
Treat the September babies with birthday cakes that are not too sweet nor fattening.
17. Coffee Warmer with Cat Mug
As we are stepping into the ninth month of the year, the days are getting colder. Sweater weather is approaching us and it would be nice to have a mug of warm beverage in hand.
And, this adorable kitty will make sure your coffee is always hot.
18. Star Sign Diffuser Night Light
Bring in the stars and calmness to your room. A 7 color-changing LED oil diffuser to fill your room with your desired scent.
19. Horoscope Constellation Zodiac Sign Necklace
A dainty necklace with the design of the Virgo sign. It has a simple gold chain with seven shiny diamonds in different sizes. A lovely birthday gift that the September babies will be thrilled to receive.
20. Invicta Men's Chronograph Watch
Another great gift for men born in this month. This handsome watch by Invicta features a sapphire blue dial with a black silicone band. It is well made, durable, and comfy to wear. It is a simple and stylish everyday watch loved by men.
21. Victorinox Swiss Army Classic Pocket Knife
This classic pocket knife in sapphire is a perfect gift for men born in September. It has six useful tools which include a knife blade, scissors, nail file with screwdriver tip, toothpick, and tweezers.
It is compact, sturdy, and useful. This pocket knife also comes with a handy key ring so you can attach it where it is convenient.
22. Sapphire Pendant Necklace
We are coming to an end of our list of September birthday gift ideas. Let's take a look at the last item – a pretty sapphire pendant necklace for her.
Featuring an oval-shaped blue sapphire, sparkly side stones, and rhodium-plated chain. This necklace looks dainty and graceful. It is perfect for women above 30.
23. Soular Therapy Astrological Heavenly Body eau de toilette
A refreshing and energizing cologne suitable for men and women. Inspired by the earth element and the color blue of September. This perfume has a fresh and uplifting unisex scent with hints of greens, woods and floral.
Wear the signature scent of your sign to unleash the power of Virgo.
That concludes our list of best gifts for September birthdays. Thanks for reading!
Read birthday gift guides of another birth month:
January | February | March | April | May | June | July | August | October | November | December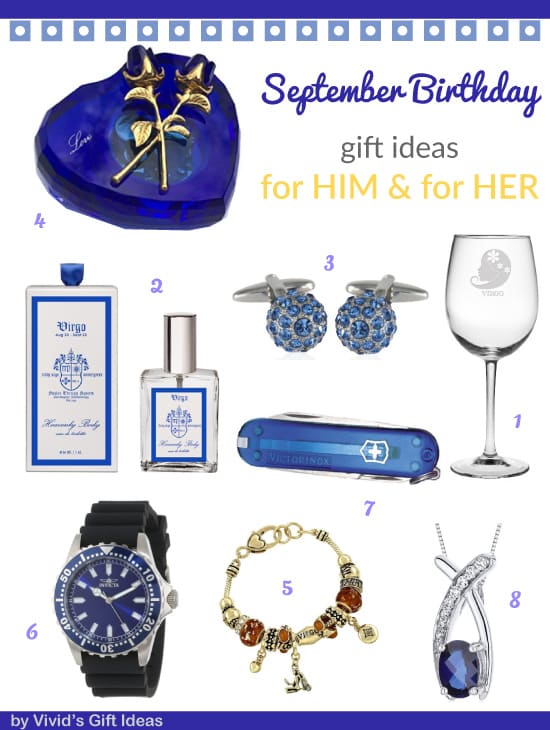 Follow us on Pinterest!