If you have someone special celebrating birthday in the month of October, see here for unique birthday gifts inspired by their birth month.
Say hi to the tenth month of the year. We love October. The weather is just right. It is not too hot and it is not too hot. We can wrap ourselves in a blankie and devour everything pumpkin spice. The leaves are turning golden and there are many fun seasonal activities we can do in October. If you like cosplay, it's totally okay to dress up on Halloween. These are the many reasons why we love October.
And, one more reason to love October is your favorite girl is celebrating her birthday this month. If you are looking for gifts to surprise the October-born, here are 18 cute and thoughtful gifts she will love. We have brought together special gifts inspired by October and stuff personalized with October birth sign. These ideas are perfect for your friend, sister, wife, daughter who was born in October.
Take a look at our favorite October birthday gifts for her.
(If you are looking for a birthday treat for her who was born in another month, check out our series of personalized gifts for each birth month.)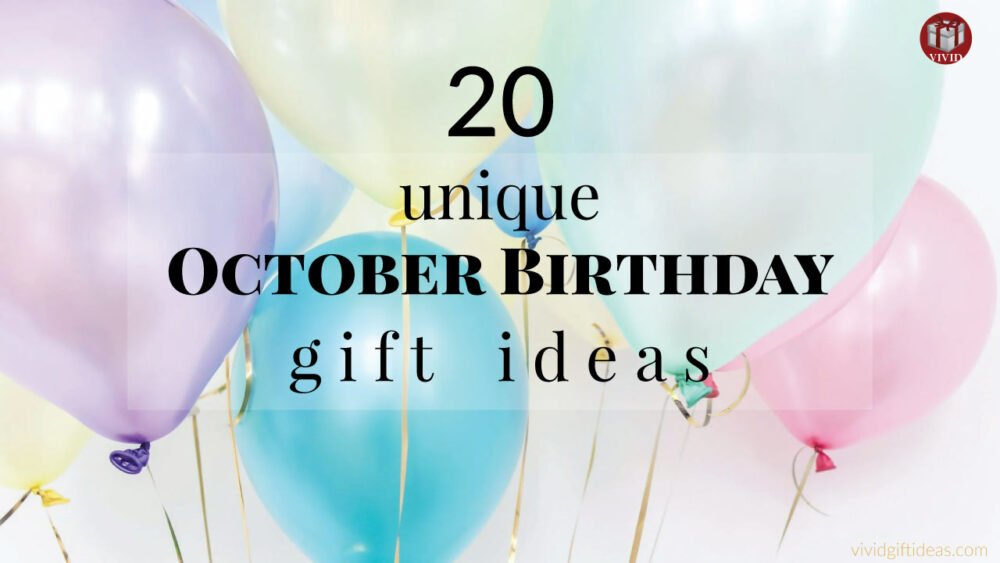 October Birthday Gifts for Her
Zodiac Sign Gifts for People who were Born in October
If she celebrates her birthday in the first 22 days of October, she is a Libra. For those born from October 23rd to October 31st, they are the members of Scorpio sign.
1. Astrology Crystal Healing Birthstone Kit Set
Let's start our list of best birthday gifts for people born in October with this set of personalized healing crystals for Libras. According to astrology, every sign has unique characteristics, strengths, and weaknesses. This set of healing crystals is carefully selected to support the energy well of Libra. The six natural crystals resonate strongly with the sign to enhance the life of the Libras.
You can give her this pretty pink dish if she was born in the first 22 days of October. This ceramic dish with gold accents depicts Libra constellation in the starry sky. It is small in size perfect for storing jewelry and accessories.
3. Libra The Zodiac Bitch Candle
This snarky candle will make your girlfriend LOL. It is the coolest gift for your libra friend — also known as the b*tch who is silently judging you.
A lovely mug with beautiful artwork of Libra sign, the scale symbol, and character traits of this sign.
5. Libra Horoscope Zodiac Constellation Wall Art
A minimalist wall decor that fits perfectly for any room. Features Libra's constellation sign with uplifting words describing the traits of a Libra. It is written in a humorous way with some hidden cuss words.
Get a meaningful birthday gift for the October-born Libra. This Zodiac Sign Wish Pearl Gift Set makes a wonderful choice. Features an unopened oyster shell containing pearl inside, a scale locket (scale is the symbol of Libra), and a stainless steel chain. Make a wish before you open the oyster and who knows you will get a lustrous pearl in the color that you like.
For the girl who was born after the 22nd of October, she is a Scorpio. This little gold scorpion necklace looks dainty and adorable. It is perfect for the Scorpio-born to show off her Scorpio pride.
8. The Little Book of Self-Care for Scorpio
For the Scorpio girl who is into astrology. Let her discover more about her star sign and ruling elements. She will learn to take time to practice self-care in an ideal way that suits her sign. Bring cosmic relief into your life by refreshing your mind, body, and active spirit.
(This book is also available in the Libra version.)
October Birthstone Gifts
The birthstone of October is opal. Opal symbolizes faithfulness and confidence. Each opal is unique because it has its own color combination. It was believed that wearing an opal necklace will repel evil and protect eyesight. Another birthstone of October is tourmaline. Tourmaline is a bright and beautiful gemstone that is available in a rainbow of beautiful colors. It is thought to bring healing powers, promoting meditation, and aiding in stress relief.
9. Foundations October Angel Figurine
Send a gorgeous angel on her birthday. She is finely crafted using stone resin completed with a linen-textured finish and special birthstone accents for the month of October. With grace and elegance, this October Angel is here to wish your October-born friends a blessed birthday.
10. Birthstone Necklace
10a. Inspired Jewelry Birthstone Cat Necklace
A beautiful necklace for the October babies in your life. It is made with tourmaline (the birthstone of October) in a charming cat design.
10b. Peora 14K White Gold Black Opal Necklace
Simple yet still eye-catching, this pear-shaped opal necklace will make the October-born women happy. The black opal has one-of-a-kind colors and it is accented with a sparkling diamond.
Your October-born friend will adore this pair of rose gold earrings crafted with lovely opal. The mini cat shaped looks sweet on girls of all ages. It is a cute and dainty piece perfect for everyday wear.
12. Handmade Genuine Opal Bracelet
A gorgeous gemstone bracelet made from natural opals with the alluring colors. The stunning colors of blues, reds, greens, and yellows will definitely catch your attention.
The birth month flowers of October is marigold and cosmos. Marigold symbolizes love, faith, optimism, and wisdom. The cosmos means peace and tranquility.
13. October Birth Flower Mug with Flower Meanings
The marigold is the birth flower of October. Give her the gift of marigold on her birthday. This mug features a vibrant marigold graphic to commemorate the month. It is big in size perfect for enjoying your morning coffee.
A pair of shining golden plated earrings inspired by this birth month. The marigold flower in rust orange color is the perfect match for your fall outfits.
For the October babies to rock her birth month flower.
16. Sweetsation Therapy Organic Calendula Butter Cream
Calendula is a type of marigold. The calendula extract is good for the skin. We recommend this calendula butter cream for people with dry skin. It is made of organic, all-natural ingredients including calendula, avocado, shea butter, and vitamin E. It is soothing for dry, irritated, and distressed skin like eczema and psoriasis.
More Birthday Gifts for October-Born
17. Pumpkin Carriage Trinket Box
Here's another gift inspired by the month of October — pumpkin! Pumpkin is the star of October. It can be found in pies, ice cream, coffee, and pretty much anything. It can also be found on the dresser of the woman who was born in October. This whimsical jewelry box is covered by lustrous enamel, decorated with shiny rhinestones. The design and color looks exquisite. It is a winning gift to make her thrilled.
18. Heart Elbow Patch Pullover Sweater
It's the sweater weather. Help your October-born friend to update her closet. Get her a cute sweater to stay warm. She will thank you for this soft and comfy sweater top.
19. Par Avion Tea Birthday Cake Tea
A delicious treat for the birthday girl loves tea. This birthday cake flavored tea tastes rich and flavorful. Added with colorful funfetti sprinkles, this is definitely a good tea to sip anytime.
20. Wonder Woman Adult Wearable Blanket 
You can also get her a nice blanket to cozy up at home. A superhero wearable blanket will make her smile. It is soft and thick to keep your birthday girl warm this fall.
That concludes our list of unique gifts for October birthdays. Thanks for reading!
Read birthday gift guides of another birth month:
Here's the list for more birth month gifts for women.
January | February | March | April | May | June | July | August | September | November | December