Hello to the new year. We are entering the first month of the year and there is a special someone in your life who celebrates her birthday in January. Make this birthday girl feels special by getting her a unique birthday gift for people who were born in January. We understand that most of us suffered from all the holiday shopping and we want to cut spending this month. But, it's her birthday, nobody wants to skip celebrating their own birthday nor getting a 2-in-1 Christmas & birthday present. January-born deserves a special birthday treat because it's her day. In this article, you will find 20 of our favorite gifts for January birthdays that are affordable and thoughtful. Show your January babies how much you care by giving her an awesome pressie. The 20 ideas below are inspired by January's birth sign (Capricorn or Aquarius), birth month flower, birth month color, and birthstone. Whether it is for your BFF, daughter, wife, sister, mom, or girlfriend, these carefully selected January birthday gifts will help you earn some serious brownie points with the January-born women in your life.
So, read on to find out our top picks on January birthday gifts for her.
(Just in case you need to know what gift to get for the people who were born in February, or March, we have a full list of personalized birthday month gift ideas from January to December.)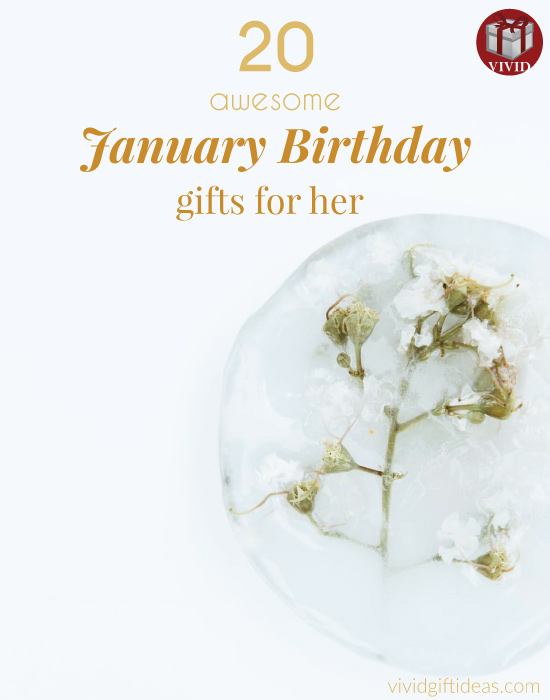 Birthday Gifts for People Born in January
Let's start our list of best gifts for January birthdays with this regal wine glass. Cheers to the January-born queens! She deserves to drink her favorite wine with this stemless wine glass.
January angel is here to present a magical blue flower for the people who were born in January. She is bringing warm wishes and good lucks to the birthday girl.
Zodiac Sign Gifts for People who were Born in January
Two star signs are associated with the month of January. If she was born in the first 19 days of January, she is a Capricorn. If she celebrates her birthday from January 20th onwards, her astrological sign is Aquarius.
3. January Horoscope Sign Necklace
A golden goat necklace to help your Capricorn activate their divine inner energy. This necklace has a shimmering diamond accent for a touch of sparkle that girls adore. This is a dainty necklace that makes one of the best zodiac gifts for Capricorn.
3b. Aquarius Constellation Zodiac Necklace
A little bling to make your Aquarius friend happy. This Aquarius constellation necklace is perfect for the Aquarius girls to show off their air-sign pride.
For the woman who is into astrology. This book will give her in-depth knowledge about her astrological life as the goat and find guidance in the ancient art of astrology. She will learn how to harness the ancient power of the zodiac and open her mind to what the universe can offer.
The best astrology gift for your friend who is obsessed with horoscope. This wall tapestry looks magical and dreamy. It will give her room a fresh look. It will also attract all the good vibes for the Capricorn women.
A cute and inexpensive birthday gift for your friend who is an Aquarius girl. This ceramic dish features gold-tone constellation accents reflecting her astrological sign. The pastel blue color is pleasing and its size is perfect to keep your jewelry neatly organized.
January Birthday Gift Ideas
January Birth Flower Gifts
There are two birth flowers for the month of January. They are the carnation and the snowdrop. Carnation symbolizes admiration, love, and affection. While the snowdrop signifies hope and beauty.
Give this beautiful tote bag to the women who celebrate their birthdays in January. It features a vintage floral pattern of pink, red, and yellow carnations. This tote is made of washable fabric perfect for everyday use.
The January-born women will admire this lovely coffee mug that has the design of her birth month flower, the carnation.
Make her room smells nice with the scent of pink carnations. Like true romance, the scent of this flower is wonderfully sweet with a touch of spice.
Surprise the January babies with a real birth flower. Fresh carnation looks glorious but it will wilt in a couple of days. Get this preserved carnation instead. The glass box contains two real carnations flowers and other small ornaments.
January Birthstone Gifts
The birthstone of January is garnet. This special gem comes in a variety of colors like red, pink, green, orange, and purple. Among all the colors, the most popular color of garnet is the pomegranate-red shade, just like the meaning of the word "garnet" which means the seed of a pomegranate.
These glittering butterfly earrings make one of the best January birthday gifts for her. We love how the red birthstones, small diamonds, and the rose gold pair well with each other. They look simple yet elegant. A charming pair of earrings perfect for girls of all ages.
January Birth Month Color Gifts
Dark red represents the month of January. Therefore, you can also pick a pressie based on this color for the January-born.
A cheap, stylish, and functional purse for the ladies. It has a roomy compartment to fit your wallet, keys, sunglasses, and some makeups. It also has two zipper pockets and a slip pocket to help you organize your stuff.
A good-looking coin pouch with two separate compartments for your cash, coin, and cards. Soft leather, smooth zipper, eye-catching bee logo. This pouch is also great for storing lipstick, keys, and other small items.
More Gifts for January Birthdays
January is the first month of the year, a fresh start for each year. We can get a planner notebook to help her stay organized and work towards her goals. A guided journal like this is also good for helping her to get through the year with more good vibes. This journal is filled with therapeutic exercises and journaling prompts. Grab a pen and start writing. You will discover how good it feels to let go of bad thoughts and feels happier.
Sure, you can write with any pen. But cute pens like these will definitely brighten our day. Each of these 5 pens has tiny gold hearts design at the cap and a punchy phrase.
Make her desk look chic with this set of ocean-themed stationery set. There are glitter gold washi tape, sticky note pads, gold binder clips, small clips, gold leaf fridge magnets, and a fancy pen in this acrylic container.
Other attractive designs like marble, mermaid, unicorn, tropical flowers are also available.
If you are looking for a cute and practical birthday gift for college students, get this mini toaster oven. It is compact and easy to clean perfect for a small kitchen. Available in four trendy colors, it is a functional retro appliance to make toast, bagels, pizza, paninis, and even cookies.
January's weather is pretty cold in most parts of the country. Keep her warm and cozy in this sloth blanket. It is soft, plushy, and the design is super adorable. It even has hand pockets as claws!
Yes, the birthday girl definitely to wear special birthday-themed pajamas to bed.
We all make New Year's resolutions in January. A new year, a new goal. No matter what your goal is, this is the year to do it. Get this guided journal to help you achieve your goals. It helps you to set realistic goals, track your progress, find motivation, and stay inspired in working toward success.
That concludes our list of Best Gifts for January Birthdays. Thanks for reading.