We all know that your wife's birthday is an important date not to be missed. It is the perfect day to give her warm wishes, express your love, and the major goal is to make her happy. Gifting the right gift for your wife's birthday can be tricky. You are worried that you are not good at this task. Well, choosing a nice present for the woman that you love doesn't have to be hard for you. We are here to help you win her heart. Pick an amazing gift to wish your wife a happy birthday. Here's a fail-proof list of 20 most romantic and thoughtful birthday gifts for wife.
Scroll down to discover now!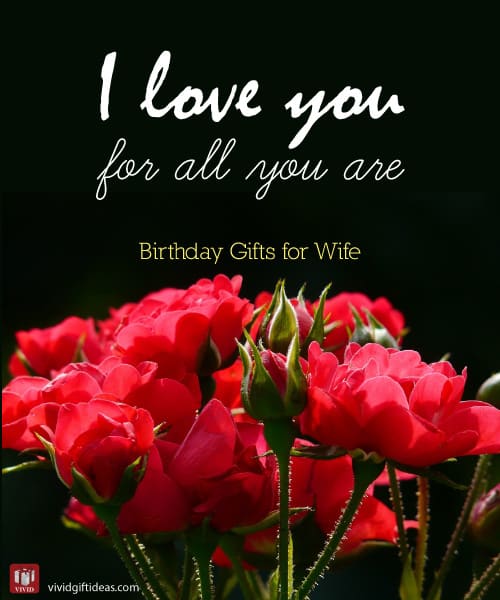 Romantic Birthday Gift Ideas for Wife
Couples that get away together, stay together – Studies indicate that couples that travel have stronger relationships. Ignite more romance in your life with these delightful matching luggage tags and passport holders. It's the perfect gift to help couples bond on their honeymoon, or "just because"! Bonus: You'll spot your luggage a mile away!
Each tag and passport holder is built to last for every adventure.
2. Betsey Johnson Watch – A classic birthday gift for wife
A brilliant watch with a fun and vibrant design. This timepiece by Betsey Johnson features a cute dial and floral printed mesh bracelet. It looks cute and stylish.
3. Birthday Rock – A fun birthday wish for your other half
A sweet way to say "I love you" to your wife.
A practical birthday gift for your best wife ever.
Add some blings to your handbag. A luxurious-looking charm to make your bag looks extra glam.
For the fine lady that won't step out from the house without the perfect makeup.
The twinkling fox looks really adorable. The diamond on its belly moves and sparkles constantly like a dancing diamond.
A well-crafted bathtub shelf that allows you to read, watch your favorite show, enjoy a glass of wine, and relax like a queen.
Mermaid lovers are going to love this spoon set. It adds more fun when doing the big projects in kitchen.
A nourishing body scrub to keep her skin looking bright and smooth. This jar is packed with concentrated pomegranate seed extract to renew skin and natural essentials oils that are intensely moisturizing.
A beautiful rose pattern bag that fits her laptop and other business essentials.
Keep her space neat. A square dish to place all her pretty things.
A silky soft robe that is comfy enough to cuddle in and cool enough to layer as outerwear.
You can also get this Willow Tree figurine that depicts the strong bond and romance of a couple. It is beautifully handcrafted by Artist Susan Lordi.
This "I've got your back" t-shirt will definitely make her laugh.
A cute figurine by Precious Moments that feature one boy and one girl cuddle on a couch. It is hand-painted with lovely colors.
Perfume inspired by the magical world and enchanted dreams. It has a charming bottle with the design of a mischievous fairy. You will love the joyful scent like the breeze of springtime mixed with the scent of blossoming violets.
For the green thumb. A pink multi-purpose bag that contains pink gardening tools like pruning shears, bypass pruner, trowel, and cultivator.
For the woman who loves everything to smell amazing, even the house itself.
20. Cordless Wand Massager – A thing loved by both husband and wife
A lightweight, waterproof massager to ease stiff neck, sore muscle, and beyond. It is powerful, flexible, and has different vibrating patterns. Get one today to bring in more excitement to your bedroom.
For the woman who loves lounging in the pool and getting sunkissed.
(Related article: Don't miss out on these funny pool floats for adults this summer.)
That's the 21 Most Romantic Birthday Gifts for Wife. Thanks for reading.
Remember to follow us on Pinterest!
More Gift Ideas for Your Wife: