Your girl is turning 16. You want to get her a wonderful present for her sweet 16 birthday. We have selected 12 pretty and unique gifts suitable for 16 year old teenage girls. Read on for our list of sweet 16 birthday gift ideas below.
Sweet 16th Birthday Gifts
A fancy watch set with seven interchangeable faux leather strap bands. The colorful snakeskin pattern bands work great for color coordination with her outfit of the day. This timepiece makes a chic fashion item for her.
She has hit 16 and eagerly wants to become a new driver. If you can afford a new car for her, it will be a big birthday surprise. If you are not planning to buy her a car, a roadside emergency kit is a good idea. This 70-piece kit will be a great helper when something goes wrong while she is on the road. It comes with an emergency care guide, flashlight, work gloves, emergency poncho, emergency whistle, screwdriver, knife, 45 pieces of first-aid kit and more.
For your princess who loves cupcake. This pink metal parking sign is a cute gift she will love. Put it in the garage or the spot where she parks her car to make her smile!
For the girl's 16 birthday, you can also get car accessories for the new driver. We pick this innovative and cool inverter charger in a cute coffee cup design. 200/400 Watt inverter, draw power from your car. It has a USB port and an AC outlet that charge any devices fast. It fits in the standard car cup holder.
For active girls who love sports. This pair of sneakers by Skechers is perfect for young girls. It looks fun with the striking colors.  It is also lightweight and comfy.
This pillow in hot pink is a fantastic piece of furniture that teenage girls love. It is convenient for them to write homework and journal while sitting comfortably on their bed. It is covered in a plushy high pile and stuffed with polyfill making it feeling soft and cozy. This pillow also comes with a top handle for easy moving.
For her 16th birthday, you can also get her this sweet pink wallet with big bow design. Features five full-length compartments, one zipper pocket, eight card slots, and a clear ID window.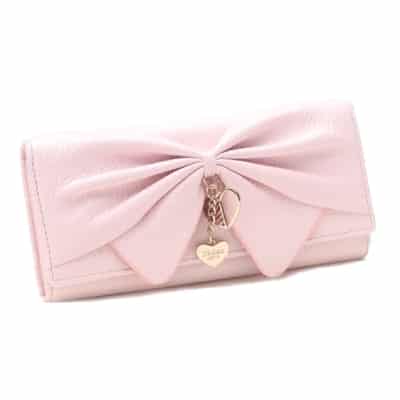 Damara Long Bifold Wallet
If you have a higher budget, you can get this stylish studded wallet by Kate Spade. Features vibrant color, adorable polka dots design loved by girls.
This magical jewelry carriage makes a great 16th birthday present. It is functional and looks amazingly beautiful. Let's bring in the fairy tale decor to her room.
Alternatively, you can get this pink jewelry box. It has a simple and classy design.
A remarkable self-help book to prepare teenagers to handle pressures and make the right decisions. By Sean Covey, the author of the international bestseller The 7 Habits of Highly Effective Teens. This book talks about the 6 important decisions: the decisions involve getting a good education, choosing true friends, getting along with parents, dating, and sex, avoiding addictions, and establishing a healthy sense of self-worth. Entertaining and inspirational. A definite must-read for teens.
Skincare and beauty products are one of the necessities that girls always need. Good facial care products, lotion, lipstick, eye shadow are some of the things you can get. If you are not sure what skin type she has or what makeup color she likes, we recommend this makeup brush set. It is a set of five pretty purple brushes comes in a matching case. The bristles of the brushes are soft and it picks up makeup product effortlessly. They work well, easy to use, and easy to carry around. All the basic brushes she needs for creating a flawless look are in this set.
Teenagers love experimenting with beauty products. She will love this primer balm that hides blackheads, large pores, and scars. It creates smooth skin with and a silky touch. This primer contains Skin Growth Complex, camellia and egg extracts that manage dead skin cells, controls excess sebum, and strengthen the elasticity of the skin. It is packed in a unique egg container loved by teens.
That's the 12 special presents for girl's super sweet 16 birthday. Thanks for reading!
Need more birthday gift ideas for teens?
---
Like us on Pinterest!