Say hello to April. The weather is getting warmer, the days are getting longer, and the plants return. Spring is here, the earth is awakening, and the flowers are blooming. There are so many reasons to celebrate April. And, if you have a family member or a friend who was born in April, we are here to help you out with picking the perfect gifts inspired by April.
Whether she is an Aries (born on the first 19 days of April) or Taurus (born on the 20th of April or onwards), or the fact that she loves her birth month flower, we have gathered 20 thoughtful birthday gifts with a more personalized touch for the April babies.
Take a look at our favorites for April birthdays below.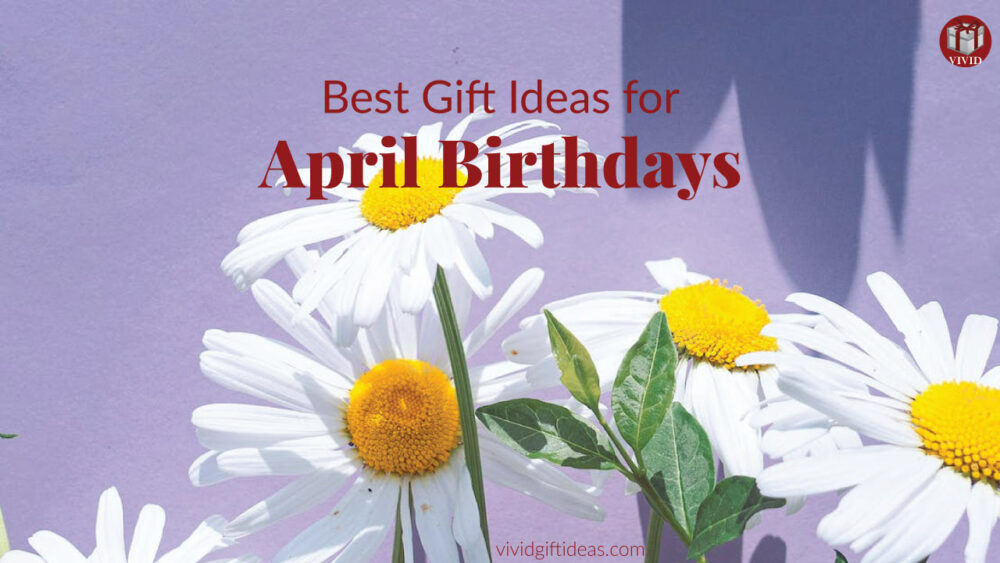 Best Gift Ideas for April Birthdays
1. Mini Backpack inspired by April birth flower
The birth month flowers of April are daisy and sweet pea. Let's start our list with a daisy-themed gift perfect for the April babies. Wearing a mini backpack is so on-trend for teens and adults. We recommend this cute backpack. It has lovely white daisies against black background. This backpack is small but roomy. It is perfect to use when you are traveling, going for a concert, or just strolling around the town.
2. SHEKINI Daisy Print Bandeau Bikini
Perfect for girls who were born in April. This daisy print bikini set looks sweet. It has a removable halter tie and trendy high leg cut. Both the top and bottom of the bikini have adorable ruffle trim to add a playful detail to the look. It is a must-have cute swimsuits for spring break and summer.
3. Rose Gold Aries Zodiac Sign Cuff Bracelet
For the birthday girls who celebrate their birthday between April 1 and April 19. A minimalist rose gold bracelet with April's horoscope sign, Aries. This bracelet looks simple and stylish.
Be sure to get something special for her birthday. Why not give her a personalized gift with her birth flower? This mug features a beautiful artwork of daisy and its symbolism.
5. Diamond Clover Stud Earrings
Diamond is the traditional birthstone of April. It was thought to provide stronger inner strength and better relationships to the wearers. It is definitely one of the best April birthday gifts for your loved one. Because natural diamonds are rare, they are expensive. But fret not, you can always opt for cubic zirconia, the diamond alternative. It is similar to a diamond and its brilliant appearance can sparkle like a real diamond.
A small birthday gift for your friend who was born in April. This key chain has three lovely charms featuring moon, star, and her astrological sign, Aries.
7. Daisy Notes Journal Notebook
This is a beautiful journal with cute daisy flowers on the hard-wearing flexi-cover. 256 ruled pages for the April babies to write down their thoughts.
8. Vera Bradley Signature Cotton Weekender Travel Bag
One of the best weekender bags for her to travel in style. It is made of durable cotton that is lightweight and comfy to carry. Features Vera Bradley's signature floral pattern in daisy dot paisley.
9. Engraved Diamond Paperweight
Diamond is a girl's best friend. Get her a big 💎 for her birthday. This diamond is a paperweight that bling. You can personalize it with your own message to make it extra meaningful.
10. Happiness Blooms Daisy Tote Bag
A beautiful fabric tote perfect for everyday use. Features cheerful daisy print on both sides of the bag. It reads "Happiness blooms from within". Wear it and be happy!
11. Queens are Born in April Tank Top
A cool statement tank top for her who celebrate birthday in April.
12. April Horoscope Sign Jewelry
She is either an Aries or a Taurus. Below are our favorite zodiac sign necklaces for the month.
8a. Leafael Superstar Zodiac Constellation Pendant Necklace
The refined design and the glittering crystals make sure the inner power of Aries is unleashed.
8b. Taurus Symbol Necklace with Message Card
Surprise the Taurus women in your life with this 18K gold plated Taurus necklace. It has a modern, minimalist design suitable for everyday wear.
13. Sweet Pea Candle by Jackpot Candles
Sweet pea is another birth flower of April. Get this aromatherapy candle to make her room smells divine. It has a mellow top note of sweet pea followed by undertones of fresh berries. Lit it to uncover a surprise ring inside.
14. Daisy April Birth Month Flower Bag
This is another good birthday gifts for people who were born in April. This washable fabric tote bag features birth flower of the month and its meaning.
15. Birthday Constellation Mug Set
A polished porcelain mug set will be useful to her. It has a big capacity and exquisite appearance. We love its sleek black color with gold detailing.
This mug set also comes with a matching gold spoon.
16. Daisy Garden String Lights 
Daisy fairy lights that bring a blissful spring vibe. We love how the yellow, pink, and white daisies liven up the space.
17. Betsey Johnson Daisy Flower Dangle Earrings
Daisy symbolizes love, innocence, and purity. The birthday girl will adore this pair of daisy earrings. Dainty design, attractive colors. It matches well with any casual or dressy outfit.
The cheerful floral pattern will brighten up her mood. This clutch purse has roomy compartments and multiple card slots inside. It is a another great daisy gift for girls who were born in this month.
19. Artificial Flower Daisy Pot Bonsai
Add a pop of color to her desk, give her a pot of daisy. The artificial flower bouquet looks realistic with its natural colors.
20. Bohemian Daisy Tapestry Wall Hanging
An artistic tapestry with unique dotted daisy print. This boho-chic decor will definitely bring calmness to your room.
More personalized ideas for each birthday month:
January  | February | March | May | June | July | August | September | October | November | December 
Our Popular Birthday Guides: