For many of us, we spend most of our waking hour working. In fact, statistics show that an average person spends 1/3 of their lifetime at work. If you are one of those who are occupied in the office for most of the day, it's beneficial to make your workspace calm and cozy. When we stay in a peaceful environment, it helps us to focus better and also increase our productivity. The good news is, we can easily bring in the Zen element to the workplace. Let's fill our day with more positive energy, start decorating your office to make it Zen. Because you deserve a better, less stressful, and a happier working environment.
Read on for Zen office decor below.
Zen Office Decorations
1. Grey Stone Cement Buddha Statue Bookends
These Buddha head statues bring peace and harmony to the office. They are made of concrete — heavy and sturdy. You can place them on the desk as a Zen decoration or use them as bookends.
2. Himalayan Pink Salt Zen Garden
This is a pretty Zen garden to place on the work desk. It is composed of 100% all-natural Himalayan Pink Salt crystals (both the sand and three healing rocks). When you need to Zen out in the office, simply tend to your garden by raking the sand or rearranging the rocks. You can also lit it to purify the air.
Ordinary tape dispensers are boring and kinda distracting to look at. Get this concrete tape dispenser instead. You will love its sleek design and the clean lines that make it looks like a rock from far.
Zen Office Design Ideas
Hang these mandala canvas arts on the wall to make your office Zen. The mandalas are designed in stunning silver and gold, while the subtle gray at the corner gives it a more charming effect.
5. Small Juniper Bonsai Live Plant
One of the simplest ways to fill our space with calmness is to bring the nature inside. Having a bonsai creates a miniature representation of the great nature. We can slowly understand the art of bonsai, learn to be patient, see it grow slowly, and enjoy the beautiful living illusion in your own office.
Write your thoughts in this notebook that looks like a koi pond with lotus flowers.
7. Cement Concrete Pencil Holder
Declutter your space with this desk organizer made of solid cement.
Zen Decor for Office
Because we need some good energy flows in our workspace. Get yourself a Tai Chi meditation garden and practice mindfulness. It helps us to focus better and work better.
9. Let That Sh*t Go Buddha Coffee Mug
Don't let the negative thoughts get to you. When things get stressful, have a cup of coffee and let that sh*t go.
10. Lotus Aromatherapy Diffuser Humidifier
A minimalist designed, delicate white lotus desk accessory to create that Zen feel we need. This is a mini diffuser that diffuses well for a small area. Just fill it with your favorite essential oil and enjoy.
11. Tervis Bright Mandala Insulated Tumbler 
Features gorgeous mandala design. This double-walled tumbler lets you enjoy your favorite beverage hot/ cold.
12. Mini Buddha Monk Figurines
These adorable little monks are very calming to look at. They are meditating in different poses. When you have a bad day, simply look at them. They will definitely make you smile in contentment.
Even a small Zen decor like this coaster will make the space more calming. We love how this set of four coasters can be pieced together to form various shapes.
A distressed, vintage style wood sign to remind you to "Think deeply, speak gently, love much, laugh a lot, work hard, give freely, and be kind".
This is a simple and adorable planter for your Zen space.
16. Streamline Buddha Head Planter Pot
Another must-have Zen decor for office. This ceramic Buddha planter is crafted beautifully. It will bring peace to you and your plant.
17. Let That Sh*t Go Art Print
A cute gold foil poster to make your office Zen AF. Hang it on the wall, master the art of Zen to eliminate all the bad feelings.
We don't want a fancy, showy lamp. We want a minimalist lamp to promote the Zen-like atmosphere.
When you need to unwind, draw on this board. Paint it with water then watch your artwork slowly evaporates and disappears. The whole process is really soothing to look at. It is a wonderful way to release stress.
20. Notes of The Buddha Sticky Notes Booklet
Not to stress you out, the Golden Buddha is here to gently remind you of the important tasks to do.
Create Relaxing Zen Office Space
21. HoMedics Tabletop Zen Fountain
Add a little serenity to your day with the sound of water flowing like a peaceful running stream. This water fountain is perfect to create a relaxing workplace.
Without tracking time, people tend to overwork and burnout. Then, we will lose our productivity. We can get this set of classic sand timers to help to track our time. It includes a 30-minute and a 5-minute timer in black and white.
23. Chesapeake Bay Candle Peace + Tranquility 
Aromatherapy candle can offer Zen-like benefits. It helps us to concentrate, stimulate our senses, and soothe the nerves.
Related Articles: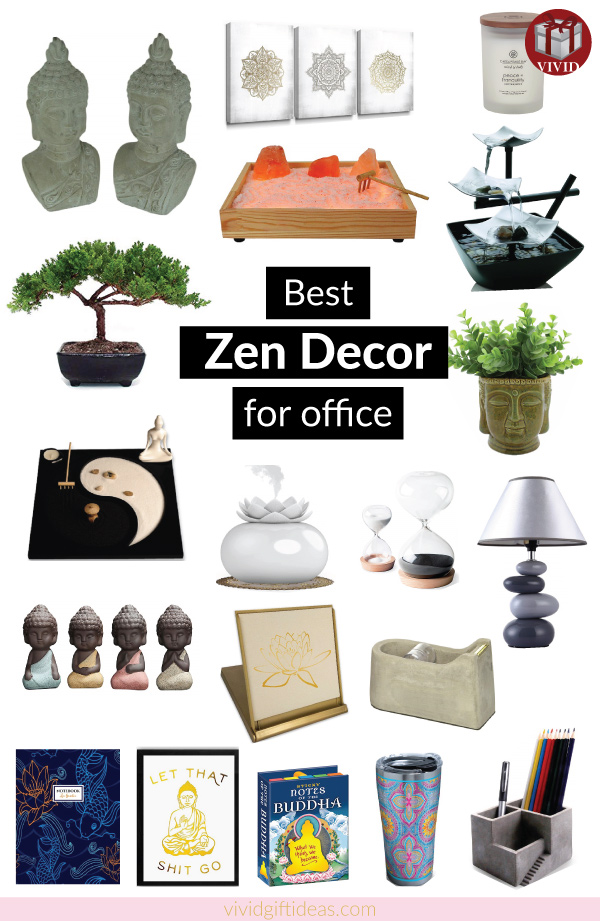 Remember to save this on Pinterest!