Surprise the college girl in your life on her birthday. Get 12 awesome birthday gifts for college students here. From college essentials, school supplies, college fashion items, dorm decorations, and more. These gifts are useful and they can't go wrong for a college girl.
Read on to discover our favorite Birthday Gifts for College Girls.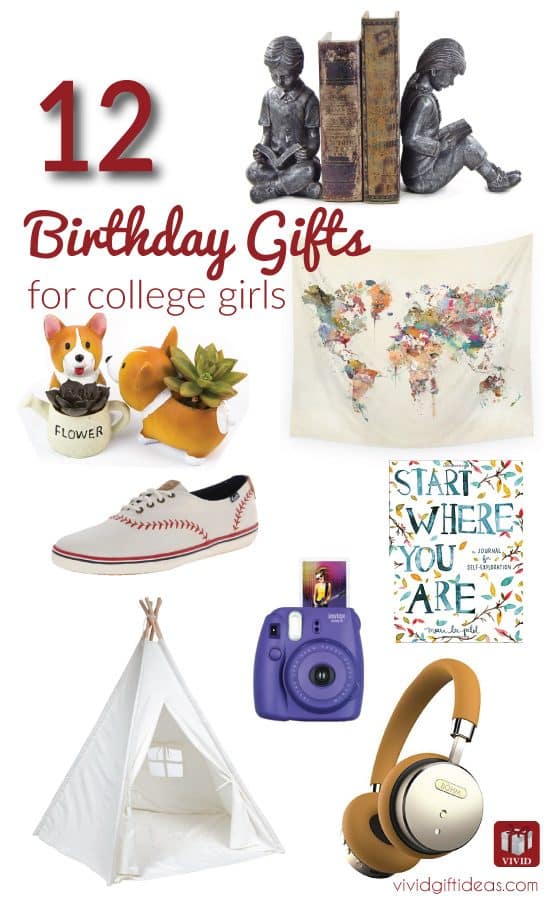 Best Birthday Gifts for College Girls
1. MANCIO Slim Vintage Laptop Backpack
Let's start the list of birthday gifts for college girls with this purplish backpack. It is a well-built, good-looking backpack that can she can use every day for classes, travel, and more. It has a simple retro look, five roomy compartments for easy organization, and a USB charging port at the side. This backpack is perfect for carrying a big load of college textbooks, notebooks, laptop, and more!
Purple isn't exactly her color? Check out our cute backpacks collection for more inspiration.
For the college student to decorate her dorm room. This beautiful watercolor world map tapestry is another great birthday gift for her.
3. Good Vibes Only Necklace For the Birthday Girl
For your college girl's birthday, you can also get a piece of pretty jewelry for her. She will love this shiny gold sun pendant necklace. It looks dainty and cute. This necklace carries a meaningful message that reminds the girls to stay positive and happy.
4. Start Where You Are: A Journal for Self-Exploration
An interactive journal great for college students who are having a busy life. It is designed to nurture creativity, mindfulness, and self-motivation. By Meera Lee Patel. This journal inspires and encourages reflection through writing, drawing, chart-making, and more.
5. Keds Champion Pennant Baseball Sneaker
One of the most practical birthday gifts for college girls – a pair of comfy and stylish shoes to walk around the campus. Features a cool baseball design. It is easy to match with any casual wear.
6. Corgi Succulent Planter Pot
You can also get some small decorations to brighten up her room. If she is a dog lover, she will enjoy watching these little corgis standing on her desk.
7. Unique Dorm Decor — Reading Children Bookends
Unique bookends suitable for college students to hold their reading materials. It is beautifully handcrafted and hand-painted with a bronze finish. It makes one of the best birthday gifts for college students.
8. BÖHM Bluetooth Wireless Headphones 
A cool tech gadget that college students will appreciate. It is a chic, powerful, and advanced headphones loved by many. Features crisp sound, enhanced bass, gorgeous look, and long battery life.
9. Good Bed Sheet for Students
College life can be very busy. That is why a good night's sleep is important for college students to restore their energy and get ready for the next day. Give your college girl a good bedding to improve her sleep quality. Pamper her with a silk bed sheet that gives a soft luxe feel. It can vents heat and moisture away for cooler temperature, it is also gentle on the skin. There are different types of silk sheets and silk-alternative available. Be sure to shop around and understand their benefits. To make your life easier, you can refer to this comparison list and pick the best silk sheets for college students.
10. Canvas Teepee
Need a little me time? Use this teepee to hide yourself from the world. It is made of canvas, easy to set up, and sturdy. This teepee feels cozy and fun even for the big girls.
11. Fujifilm Instax Mini 8 Instant Camera — Popular Birthday Present for College Girls
For your college girl to capture the memorable moments in college years. This is a mini and handy instant camera that prints out credit-card-size photos. High picture quality, easy to use. It is an awesome birthday gift that she will definitely love!
12. Dorm Room Organization Essentials
12a. Jewelry and Cosmetic Organizer
Practical gifts for college students – a storage case made of clear acrylic that blends well into any vanity area. Features 4 drawers and 13 compartments. It is great for keeping makeup, makeup tools, skincare, jewelry, and more.
12b. Desktop Photo Holder
Simple and creative stainless steel clips tree for holding photos and artworks. It has a modern look with a sturdy base. Features 18 branches to hold whatever you wish. This photo holder can be doubled as a memo and notes holder. An inexpensive gift that's useful for college students.
That concludes our best birthday gifts for college students. Thanks for reading.
Follow us on Pinterest!
More Unique Gifts For College Girls: