We have all the best gifts to impress the teenage girl in your life. This list got you covered with forty ideas that are cool enough for every type of teenagers. Discover popular stuff and meaningful gifts that teens really want. From chic accessories for the fashionistas, exciting items for the gamers, unique things for the nerdy girls, trendy tech gadgets, useful school supplies, and more.  We've got something right for different types of teenagers, including the pickiest ones and even teens who already have everything.
Read on for cool gifts for teenage girls that you should actually buy, whether it's for Christmas or her birthday.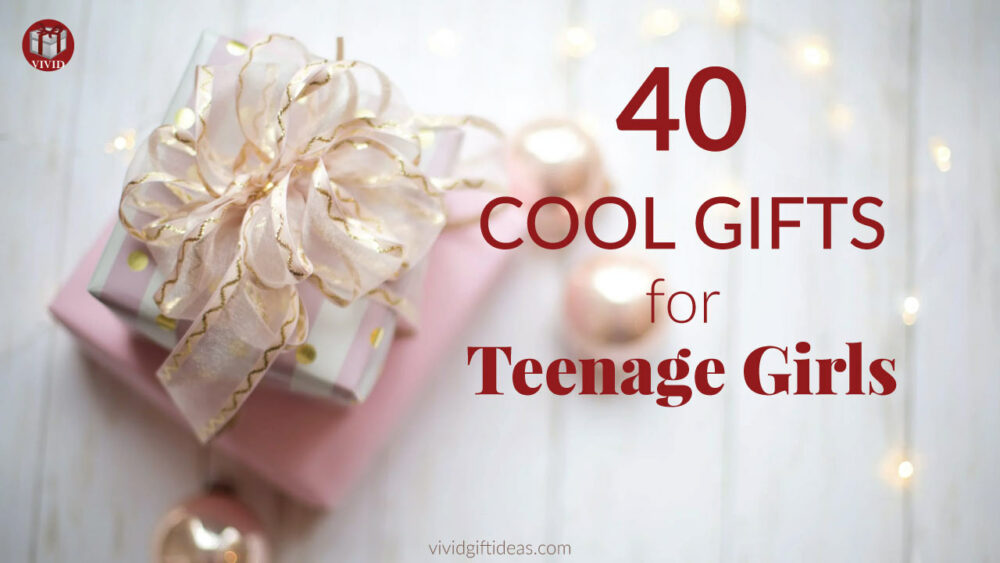 Cool Gifts for Teen Girls
Be sure to get something cool that she really wants this Christmas. This giant donut is a soft flannel blanket that has many functions. It can keep her warm at nights and double as picnic mat or beach blanket.
2. Logitech POP Keys Mechanical Keyboard
Believe it or not, retro keyboards are so popular now. Your teenage girl can actually use it for gaming and typing homework. This keyboard is able to connect to multiple devices and its bouncy round keys make click, clack and pop sound like an old typewriter. And, it has 8 swappable emoji keys and 1 emoji menu key!
3. Personalized Starbucks Inspired Tumbler
This tumbler is guaranteed to please even the fussiest teenager on your list. With Starbucks inspired design and customizable texts, this is the ultimate cool gift.
Cheer things up a little. A cool neon light is a must-have for every teenager's room. It is one of the most popular Christmas gifts loved by teenage girls.
5. Fujifilm Instax Mini Link Smartphone Printer
Another tech gadget approved by teenagers. Bring images to the real life, she can now turn any pictures in her phone into an old-school Polaroid photos. Better yet, she can resize, add frames, filters, sketches and sticker to the pics.
6. Kendra Scott Jae Star Stud Earrings
Small accessories and jewelry are most-loved stocking stuffers for teenage girls. Because your daughter is the brightest star in the universe she deserves to get these rich sparkling earrings this holiday.
7. Mario Piranha Plant Posable Lamp
This piranha plant lamp is actually cool to buy. Adjust its neck to shine bright light to where you need most.
Get a slim wallet personalized with her initials — this is something small and inexpensive that teenage girls will actually use. 
9. ALDO Women's Crodia Crossbody Bag
Perfect for the fashionable ones and girls who love everything pink. They will surely love this crossbody bag with quilted detailing. Its simple and sweet look makes it a great bag for any outfit.
10. To My Badass Daughter Necklace
A stylish necklace for your daughter because she is a badass. This necklace features a silver sun moon star pendant layered on top of a sparkly blue moon disc pendant.
11. Rainbow Cat Mug
If she loves rainbow-themed stuff, this mug will make her "feline" good for sure!
12. Mini Projector
This is one of the things every teenage girl should own. With this compact projector she can watch her favorite movie anywhere she likes. It is made in the size smaller than a soda can, she can bring it to the backyard, her friend's room, and even camping at the outdoor.
Teenagers can't live without their devices. And, this charging station is a useful gift to make their life easier.
14. FaceTory Glow Baby Glow Sheet Mask
We know how much hormones change and the busy lifestyle can take a toll on teenagers' skin. These sheet masks will fight inflammation, calm acnes, and improve their complexion.
If she is an artistic teen who enjoys doodling, drawing, and making crafts. These metallic pens are great for adding extra sparkle and embellishments to her projects.
For the girl who is into astrology. This book teaches the fundamentals of astrology. You will get to know more about your signs and how each Zodiac present themselves. It's an astrology book that not only helps you understand yourself more, but it will also allow you to understand people around you.
When you are looking for something cute to gift your best friends this Christmas.
This gift is lit … for the gamers. Brighten up their room with these pop culture icons from the 80s. It's definitely an awesome addition to any room.
Level up her social media game. Recording videos and live streaming made easy with this auto tracking camera mount. The portable robot camera inside automatically recognize your face and capture your every move so you don't have to keep adjusting your phone. And, it comes with a selfie ring light perfect for taking selfies in dark areas.
Teenagers are often sitting or lying down while focusing on the screen. The sedentary lifestyle is putting adolescents' health at risk. It is important to get them moving for better health. This is an excellent fitness equipment set to encourage physical activity. The push-up board, resistance bands, core sliders, and Pilates bar are helpful in training core strength, building muscles, and body shaping.
21. Morning Cereal Dessert Candle
Is she obsessed with candles? Then you can't go wrong with handcrafted scented candles. She will thank you for adding this beautiful dessert candle to her collection. This candle doesn't just look yummy, it actually smells amazing.
22. Rainbow Motivational Tote Bag
Let her know how awesome she is doing with this colorful bag. She can use it to haul her books or use it as a shopper bag.
23. Gaming Mouse Pad
Brighten up her desk with a full desk pad. It is big enough to accommodate computer, keyboard, mouse, and other desk items. With waterproof coating and non-skid rubber base, she can move her mouse freely in any direction during gaming and work.
24. Crossbody Phone Wallet Purse
This is a pretty mini purse that girls adore. We love its 2-in-1 design that combines a crossbody bag and wallet. It fits a smartphone, multiple cards, cash, and coins.
25. Life Skills for Teenage Girls
If you are thinking to get a meaningful gift for teenage girls, why not give the gift of learning. This guidebook is suitable for 14-18 year old teenage girls, and even young adults. It covers topics like personal hygiene, financial wellness, physical health, mental health, and general daily living skills like cooking, sewing, and etc. The author also shares experiences and talk about challenges that young women face as they age.
26. Dayna Lee "What A Big Heart" Love Pen
At under $15, these cute pens makes excellent stocking fillers. Better yet, they are engraved with hand-lettered quote in gold.
27. Monogrammed Natural Leopard Travel Bag
Another functional gift that teenagers actually want. This duffel bag features chic leopard print with metallic vegan leather trim. Plus, you can add monogram to make it extra special.
28. Fashion sneakers
29. Headphones — Get it in her favorite color to impress her
30. A pair of earbuds — This is something functional and cheap for her
31. Pajamas
32. Platform boots
33. Backpack — You might want to have a look at our collection of stylish backpacks suitable for school and travel.
34. Wall decoration for teens room — Check out these minimalist posters that you can DIY at home.
35. Facial cleansing brush
36. Gaming chair
37. Cute swimsuits
38. Skincare set
39. Sweatshirt
40. Turntable
More Christmas Gift Guides for Teenagers:
More Cool Stuff for Teenage Girls: