If you are wondering what can you put in a teenager's stocking, we found the answer for you. Impress your teenage girl on the Christmas morning with stocking stuffers that are way more fun that the actual Christmas present. Discover inexpensive, little gifts that will make your girl happy. From small tech and games, room decorations and stationery, to hair accessories and socks, we have brought together this year's most popular mini gifts that teens really love.
You don't have to spend big to win a teenager's heart. We just need to be creative to find the stuff that would appeal to a teen. Sometimes a small gift will bring out the best smile. Read on to discover these awesome teen-approved stocking stuffer ideas.
(If you are also looking for the actual Christmas present for her, check out these 55 popular Christmas gifts for teenage girls.)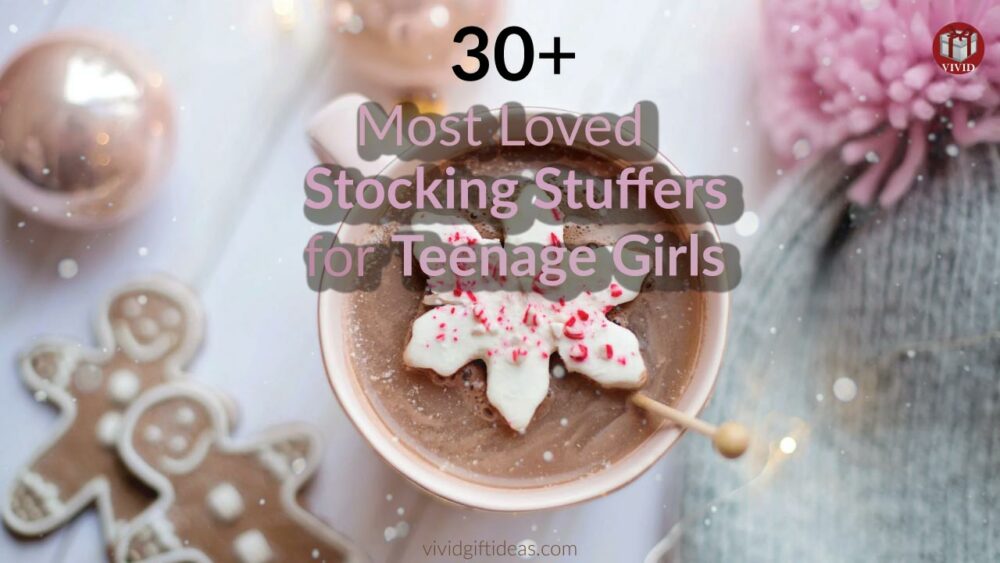 Disclosure: This post contains products that I personally like and may contain affiliate links. I get commissions for purchases made through links in this post, at no cost to you.
Stocking Stuffer Ideas For Teenagers (2023)
Teenagers are known to be hard-to-please. Be sure to get some special stocking stuffers that they will really like. These pineapple earrings look stylish and fun. Features two toned design filled with super bling stones. They pair well with any casual wear or dressy outfits.
Small tech gifts are perfect stuffers for a teen's Christmas stocking. This pink Frappuccino silicone Airpods case is so dang cute. And, it will protect her earbuds from fall and dust.
3. Let's Bake!: A Pusheen Cookbook
Baking just got way more cuter courtesy of this cookbook. Whether you are a Pusheen fan or not, these vibrant recipes will inspire you to bake the cutest sweet treats ever.
Features forty colorful recipes inspired by this adorably plump and mischievous kitty. With detailed instructions, you will learn how to make cookies, cakes, donuts, and other delicious treats all in the shape of Pusheen and her friends.
4. Rainbow Tie Dye Knit Beanie Hat
Brighten up your winter look with this rainbow beanie hat. It keeps your teenager warm in adorable style.
(RELATED READING: 30 Rainbow Gifts For Adults & Kids)
This cool-looking bracelet makes one of the best stocking stuffers for your teen daughter. The beads are arranged like the Morse code. It carries the meaning of "badass daughter".
6. SELOVO Gold Foil Letter Charm Key Chain
She will definitely love this personalized stocking stuffer in the form of a beautiful keychain with her initial. She can use it to decorate her bag or hold the keys.
7. Retro Mini Handheld Game Console
How fun is this mini game console? Let your teenager relive the exciting moments you had in childhood. It is built in with 500 classic games suitable for all ages. Play it alone or connect it to the TV for memorable holiday time.
8. Push Bubble Sensory Pencil Case
This poppable pencil case is the perfect size for a stocking. It's a good stress-relieving gift to help teens to manage their stress. They can use it to store stationery and bring it out to pop whenever things get crazy.
9. Skullcandy Dime True Wireless in-Ear Earbud
Music appeal to teens. Speaker, headphones, and earbuds are must-haves for teens. They are most popular stocking stuffers to impress a teen. She will be thrilled if these earbuds appear in her stocking this year. The color looks awesome and the sound is crisp with deep bass.
These earbuds are also available in red, blue, green, gray, and black.
10. Isaac Jacobs Black Ceramic Cat Holder
She can keep her desk organized by storing pens or makeup brushes in this adorable kitty holder.
11. Uimoky Facial Scrubber Brush
This ultrasonic deep cleansing brush look like a luxury splurge, but it costs less than $20. The soft silicone bristles are gentle enough for all skin types. This brush has 5 speed modes from weak to strong. It is also waterproof and fast charging.
It gently cleans to remove dirt, dead skin, makeup residues and blackheads to give you smoother and healthier skin.
12. Cat Tarot: 78 Cards & Guidebook
If she is a cat lover. She will have a fun time reading these humorous cards. The 78 tarot cards are filled with feline sense of humor. It also comes with a guidebook on how to get the most out of the cat's wisdom.
This is literally the most useful gift for students. They can use it for note-taking, doodling, and journaling.
14. Daisy Dream Motivation Mug
No matter what you drink in the morning, this daisy mug will keep you motivated.
Another cool gift for teenage girls. This cordless mini vacuum is useful for picking up dust on your desk, keyboard, and small corners.
16. I Identify As A Badass Ankle Socks
Socks are practical and cheap, but no boring socks for her Christmas stocking, please. And, we know your teen wouldn't mind getting this badass sock.
17. Girl Blowing Bubbles Statue Planter Pot
Another small gift that teens appreciate. This charming planter pot adds whimsy to her room.
18. Welly Bandages
These colorful bandages are packed with good vibes. They are great for cheering her up on the days she has small cuts and painful blister.
19. Cow Print Tri-folded Wallet
Holy cow! This is the cutest wallet they've ever want.
20. Simple Modern Water Bottle
Water bottles will be helpful when she needs to leave the house for long hours. These vacuum insulated bottles keep drinks hot or cold for up to 24 hours.
For the girls who enjoy baking and cooking, these super cute paw mitts will make her happy.
22. Assorted Rose Gold Paper Clips
Stylish school supplies are stocking stuffers that teens really want. We recommend rose gold stationery. They look pretty and is very popular now. And, these adorable paper clips are useful for teens and college students.
23. This Girl Is On Fire:: A Positive Adult Coloring Book
You will find more than 45 pages of uplifting messages and motivational self-expression in this book. It is a cheap and relaxing adult coloring book to help her combat stress and anxiety.
24. Constellation Sleep Mask with Gel Beads Pad
Teenagers also love small personalized gifts like this silky soft mask with her zodiac sign.
This set of 2 hair claws look fancy but they cost less than $10.
Why the shell not to get your teen this tee when she is a turtle lover?
27. Push Bubble Pop Fidget Sensory Toy
Nothing beats stress better than a good food, and this burger and fries combo is calorie-free.
28. Broadway Colors Musical Theatre Themed Colored Pencils
For the girls who are Broadway lovers and musical theater fans. This box contains 12 beautiful colored pencils themed after your favorite Broadway shows.
29. Zodiac Sign Healing Crystals
If your girl is into astrology, this horoscope stones starter kit is an awesome choice. The box contains six natural stones carefully hand-selected based on the traits of each horoscope. The stones are believed to bring great energy, increase positive emotions, eliminate negativity, and improve the wellness of each individual.
30. Desktop Mini Bowling Game Set
This mini bowling game would be such a cool addition to her desk. It is compact in size and suitable for all ages. You might see her have lots of fun playing it with friends and family members this holiday.
31. Faber-Castell Metallic Pitt Artist Pens
Another stocking stuffer approved by teens. These metallic marker pens add shimmer to your art projects. They are waterproof and won't bleed through the pages. What we love most is these pens work on all types of papers and even canvas.
32. VSCO Aesthetic Sticker Pack
These vinyl stickers are waterproof and stick well on phones, laptop, bikes, water bottle, folders, and etc. They are also cute and cheap, and girls love them.
33. You Are Awesome Rainbow Motivational Tote Bag
Help save the environment by cutting down the use of plastic bag. You can always fold up this fabric tote bag and keep it in your backpack, so you can skip the plastic bag the next time you buy something.
Hair scrunchies are very popular among the teens. It's a top recommendation for VSCO girls.  You can't go wrong stuffing her Christmas stocking with a scrunchie or two.
35. REPUBLIC OF TEA Gingerbread Dessert Tea
Treat her to a delicious cup of tea this winter. She will definitely love this holiday blend rooibos tea with a sweet hint of cinnamon, ginger, and vanilla.
36. Burt's Bees Moisturizing Lip Balm
Four assorted lip balms in a special holiday gift box. Keep one in the backpack, one in the room, one in the school locker, and one for spare to keep your lips always moisturized.
This phone accessory adheres to phones and is a great way to expand grip and act as a stand for easy viewing. It also comes with a mirror inside so that you can always check on your hair and makeup.
38. J.R. Watkins Natural Moisturizing Hand Cream
A classic stocking stuffer for girls. This aloe & green tea hand cream leaves your hands smooth with a lovely scent that uplifts your spirits.
That concludes our list of best stocking stuffers for teens. Thanks for reading and have a happy Christmas!
More Holiday Gift Guides for Teenagers:
The Ultimate Guide: 50 Christmas Gifts For Teen Girls | Cool Christmas Gifts for Teenage Guys |  30 Unique Christmas Gift Ideas For Teens | 20 Best Stocking Stuffers for Teen Girls of All Time | 22 Unique Holiday Gifts for College Students | Top 10 Stocking Stuffer Ideas for Teen Girls | 20+ Christmas Holiday Gift Guide for Teen Girls