Make your best friends feel special this holiday with a gift that she really wants. We have rounded up a list of cute and thoughtful stuff for every type of BFF. Whether she is a fashionista, a foodie, a person who loves finding peace, or decorating her desk with stylish accessories, we have something in this guide for each of your friend. From inexpensive small gift to meaningful personalized gift, these unique pressies are perfect for girlfriends of all ages. Whether you see your bestie everyday, or miles apart, these are the best gifts to surprise your BFFs this Christmas.
Read on to find out the best holiday gifts for friends in 2023.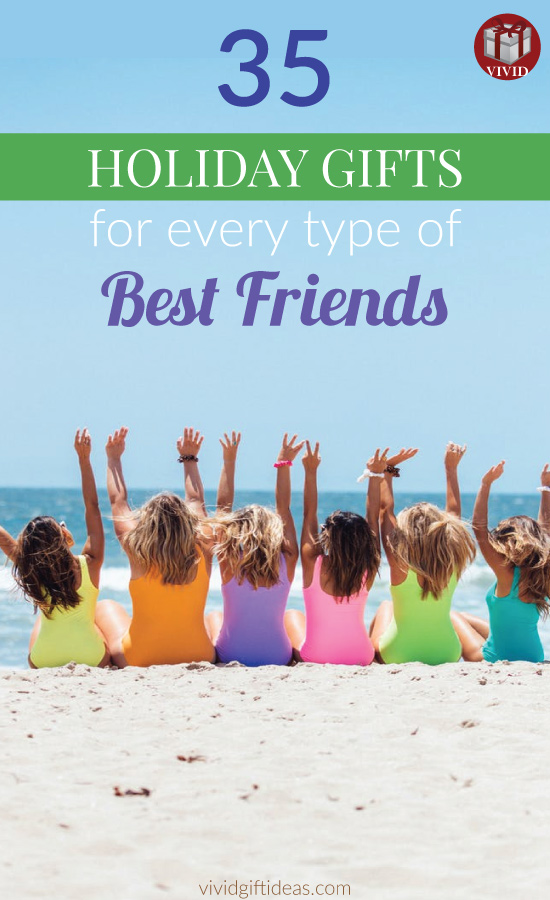 Best Christmas Gifts For BFFs
1. A personalized Christmas gifts for best friends – Paint Your Life Painting
Show how much you care about your friendship by printing out painting out her favorite pic. Of course, you can do this effortlessly by simply upload a photo onto Paint Your Life system and let their artists take care of the rest.
2. A heartfelt Christmas gift for your BFF — Reasons You're My BFF Fill in the Love Book
Write down your thoughts, show her your love. Make this keepsake book a special gift your friend will cherish for years.
3. For the bestie who stays far away — Good Friends Stemless Wine Glass
A thoughtful gift to send to your long distance friend this holiday. Let her know she is always in your thoughts.
4. For the friends who love decorating their room —  Pineapple String Lights
These pineapple string lights will add some cuteness to her room.
5. Christmas gift with hidden friendship message — Morse Code Bracelets for Women
These bracelets look simple and cool. They are perfect for twinning with your bestie.
(If you need more options, don't skip this post on matching friendship bracelets.)
6. For your disorganized friend — Get Sh*t Done Funny Tear Off Notepad
Get more things done with the help of this to-do list.
For your friend who is a dog owner — BFF Dog Paw Collar Owner Necklace & Keychain Set
We know that the obsessive dog mom would love these accessories. The sparkling paw charms are so cute even her dog would adore.
7. For your best friend who is environmentally conscious — Rainbow Tote Bag
This durable fabric tote is foldable and washable. And, we love how the bright rainbow make us feel happy.
(Do you love rainbow themed stuff? Don't forget to check out our list of 30 best rainbow gifts.)
8. When she's an anime lover — Pokemon Wand Makeup Brush Set
These adorable Pikachu brushes will make her go OMG.
9. Hottest holiday gift of the year — Pink Unicorn Cloth Mask
Have fun wearing a fashionable mask when going out. It will keep your BFF safe and looking cute.
10. For your best friend who loves wearing pajamas all day long — Women's Pajama Set
This pajama set is so soft and comfy it will get her feeling egg-cited all day.
11. Best holiday gift for a friend who loves music — Bluetooth Wireless Earbuds
Forget about the expensive Airpods, get these pink earbuds instead. Ergonomic design, waterproof, powerful. And, it is really pretty in pink!
(If your BFF is a girl who loves everything pink, don't forget to check out this article for pink lovers.)
12. Motivational Padfolio for Women
This gold-foil quote will boost her confidence. And, it's perfect to keep her documents organized.
13. Cozy gift for her this holiday — Sloth Wearable Hooded Blanket for Adults
If you are looking for a unique gift for friend who has everything, why not get this sloth blanket? It will keep your BFF warm and toasty so that she can laze around comfortably all winter.
14. Pamper your girlfriend with TONYMOLY I'm Honey Deep Moisture Rescue Mask
Rich in antioxidant, this honey mask will leave your skin glowing.
15. Lovely friendship gift — Rainbow BFF Necklace Set
Matching friendship necklaces to make your BFF smile. One for her and one for yourself. It is shiny and colorful. Wear it and be happy together.
16. Stress relief gift for best friends — When It Rains Positive Life Quote Mug
You may be apart from each other because of COVID. In case she feels stressed from quarantine, give her this mug to uplift her spirit.
17. For your best friend who loves watching movies — Nostalgia Classic Tabletop Popcorn Maker
Movie nights at home are getting more exciting. Now, she can enjoy her favorite movies with some healthy, homemade popcorn.
18. For the best friend who is a working professionals — MOSISO Women Business Laptop Tote Bag
A chic laptop bag for her to go to work in style. This bag is large, roomy, and it has a padded compartment to protect your laptop when commuting.
19. For your best friend who is a cat lover — Opal Cat Stud Earrings
These earrings are shiny and dainty. It is a wonderful Christmas gift for kids and adults.
20. Simplicity Winter Outdoor Earmuffs
And, this is an Insta-worthy headgear to make her look extra sweet in the pictures.
21. Tie Dye Printed Hooded Sweatshirt
Everything inspired by the 90s is so on trend now. Give her this tie dye pattern hoodie. The colors are so vibrant it will make us feel young again.
22. Thoughtful gift for the minimalist — Floral Leather Card Holder
When your BFF hates carrying bulky purse. This slim card case will be useful to her. It has multiple card slots and zipper compartment to hold her cash, IDs, and small items. There is also a key ring to hold her keys.
23. Sweet treat for your gal pals — If You Can Read This Funny Socks 
Bring her an ice cream now and she will be the happiest girl in the world.
Who doesn't like a fluffy pom pom and pink marble case guarding their Airpods?
25. Cheap gifts to share with friends — Tie Dye Scrunchies
Hair scrunchies made a big come back this year. This pack of 7 scrunchies with cool tie dye colors look great on the hair and also your wrist. This is an affordable VSCO gift your girlfriends will totally love.
26. Whatever Beanie
The perfect headgear when she is having a bad hair day and feeling meh.
27. For the girlfriends who is into everything retro — Retro Stereo Speaker
If you are looking for some nice room decoration, we recommend this mini wireless speaker. We love its retro look and powerful sound.
(You might be interested in these cute retro home appliances.)
28. adidas Linear Mini Backpack
We all agree that mini backpack is so useful. They are good for everyday use and also traveling.
(–> More stylish mini backpacks that we love.)
29. For your bestie who has OCD —  Marble Pen Holder
You know that she loves to organize and everything has to be in order. So, she will definitely appreciate this chic marble organizer.
(Here's the list of stylish marble office accessories to keep her desk clutter-free.)
30. Cute stuff she can't say no — Trinket Tray Dish
Her trinkets and loose items has a proper home now.
31. 2 in 1 Vibrating Jade Roller Massager
Give her the gift of great skin. Use this vibrating jade roller to roll away dark circles, wrinkles, and fine lines.
32. Vera Bradley Accordion Wristlet
She can store her cards, cash, keys, and lipstick in this wristlet. No more hauling your big handbag, just grab this and go.
33. Small pressie loved by women —  J.R. Watkins Lavender Hand Cream
This lavender lotion will soothe her mind and skin.
34. For your BFF who loves puns — Turtle Pun T-Shirt
The gift not only turtle lovers will appreciate. Why the shell not give her this T-shirt on Christmas?
And, the best way to tell your best friend how much you love her this holiday season.
That concludes our list of this year's best Christmas gifts for friends. We hope your gal pals will love these awesome goodies. Thanks for reading.
More Christmas Gift Ideas for BFFs: