This holiday, give your teen girl a super awesome Christmas gift that she really wants. Whether she is a high school girl who is hard to please or a college girl who loves pop culture, we have got awesome stuff for every teen on your list. Discover what's cool enough for teen girls and find out what is on your teenager's wish list in this article. From fashion accessories, beauty products, tech gadgets, school supplies, to home decorations, we have brought together a list of 34 trendy gifts approved by teens.
Read on to find out this year's most popular Christmas gifts for teenage girls.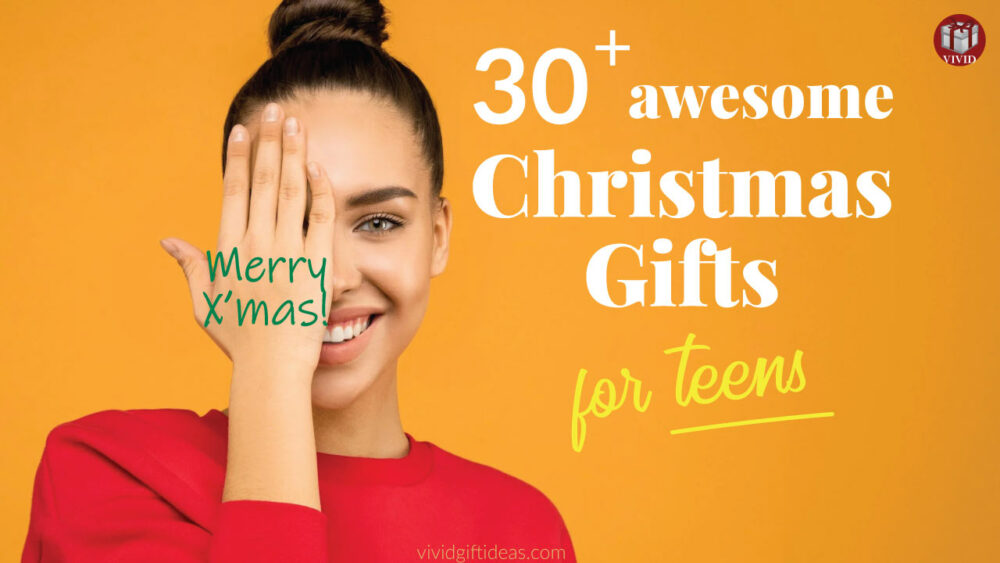 Top Christmas Gifts for Teenage Girls 2023
Teens love music and they like to play it loud. This portable record player will make her happy. It is compact, versatile, and the vintage design looks totally cool. This sound player can play warm vinyl music and also modern digital music from your own device. It is a fantastic gift to impress your teen this holiday.
Get something extra special for your teenage girl this Christmas. Gift them with colorful custom buttons that they can adorn on their jackets, bags, hats, or clothing. To make these buttons look really cool, you can personalize them with her name, favorite lyrics, motivational words, or even cartoon images.
Neon sign is a popular teenagers room decoration. And, personalized neon sign is actually a cool stuff to get for teenage girl.
4. Fjallraven Kanken Mini Classic Backpack
Surprise your girl with a Kanken backpack. It is the hottest accessory that every teen wants this holiday. This mini version of the classic Kanken backpack is light and spacious. The color is striking and the rainbow straps are eye-catching.
For your sweet little girl who has grown into a teenage girl. This bow shaped pendant necklace looks dainty and lovely.
AirPods is a popular item on teenagers' Christmas wish list. But, to be honest, the price is not for everyone. We highly recommend these earbuds instead. We love that the sound is solid with deep bass, the battery life is long, and the connectivity is stable. They also have a built-in mic design with noise isolation feature for crystal-clear phone calls. What we love most is the fantastic price that costs much lesser than half the price of an AirPods. And, they come in six charming colors.
This wallet is so pretty and glittery. It is also mini and handy. Available in many gorgeous colors. This is an accessory that we can't say no to.
Ok, teenagers just need one more cool-looking shirt. Add a little more 90s inspo to her closet with this rainbow tee. It will attract good vibes for the day.
9. Fujifilm Instax Mini 11 Instant Camera 
VSCO girls-approved gift for Christmas — Fujifilm Instax Mini Camera. It is compact, powerful, and so much fun to use. Just point, shoot, and instantly print out photos. This camera is also available in other candy colors that girls love.
10. Vans Women's Low-Top Sneakers
Classic canvas shoes are always welcome. Add a retro bit to her wardrobe with this pair of Vans sneakers. We love its color combination of mustard yellow, cobalt blue, and white.
If she is into astrology, why not give her a mug featuring her sign, symbol, and personality traits?
12. Babycakes Mini Donut Maker
Give the gift of delicious donuts to the sweet tooth girl. Make breakfast time more fun with this easy donut maker. It is quick and easy to operate. Your teen can make sweet donuts anytime she craves something sweet.
13. The Unofficial Harry Potter Cookbook
Whether she is a fan of Harry Potter or simply enjoys cooking, this cookbook will help her to create spellbindingly delicious meals. This book contains more than 150 recipes to transform your ordinary meals into magical culinary masterpieces. Learn up the techniques, add a drop of creativity to make your meals magically tasty.
Why lounge in ugly pajamas when we can have this exciting jogger set?
All she needs to create her own special journal. This kit includes a binder journal, glitter tape rolls, magnetic bookmarks, stickers, paper clips, and pens.
16. OOLY Color Write Fountain Pens
Level up your writing game. 8 bright color fountain pens to pen down your thoughts and ideas.
17. Cactus PU Leather Keychain
A small gift to make the cactus lover happy. Hang this keychain to your backpack to make it look sharp!
18. Birth Month Flower Necklace
And, you don't want to miss gifting something with personal touch. Why not get this necklace that's made from flowers of her birth month?
19. Workout Mat 
This high-quality exercise mat is a must-have for teens who are into sports. Yoga lovers love its good cushioning, anti-slip textures, and alignment marks to assist you in body balance.
18. Happiness Blooms Daisy Tote Bag
One of the best eco-friendly gifts you can get this Christmas. Keep this washable tote in your bag and you will never need to use a plastic bag again.
VSCO stickers are cheap and trendy. They are a great small gift that makes it to the list of this year's most popular stocking stuffers for teen girls. These stickers are cute and waterproof. They are great for decorating your water bottle, journal, phone, laptop, skateboard, and etc.
22. Beach Theme Decorative String Lights
Let your teenage daughter decorate her room with these nautical-themed string lights. It adds a California seaside feel to any space. And, yes, VSCO girls would approve of this beachy feel.
The single-use cup is so outdated. This travel mug with double-walled insulation will help to keep your drinks cold without sweating on the outside. It comes with a flexi straw so that you won't need to use a plastic straw again.
24. Viviva Colorsheets – The Gift Set
A special art gift for teenagers who love painting. Viviva Colorsheets Gift Set comes with a beautiful African Maple wooden cover where you can customize with her name and message. This watercoloring kit has 16 incredibly vibrant colors that she can mix using the inbuilt reusable mixing palette. It is compact and fun to use. Now your artistic teen can paint wherever she wants.
25. Celestial Starburst Stud Earrings
If she loves something gold and shiny. Pick the brightest stars for her this holiday. These 18k gold-plated earrings have that chic and sleek look that girls adore.
26. The Secret Language of Birthdays
For the girls who are into astrology. The author of this book, Gary Goldschneider, has in-depth knowledge about astrology and its symbolic relationship to personality. In this book, he gathered the birthday data from many sources and presented the personality profiles and characteristics associated with being born on a particular day. Understand your star sign, strengths, weaknesses, and other major concerns. This is fun book to make a great birthday or Christmas gift.
You might be wanna check out these 20 unique gifts for December birthdays if your girl was born in December.
(Read here if you are interested in gift ideas according to birth month.)
Your teen can use this felt board to arrange motivational quotes and cool messages. It comes with a wooden sorting tray containing 690 letters, characters, emojis, and symbols.
28. Inflatable Llama Pool Float
This llama float with shinny glitters will make you the most llamazing girl in the pool.
(Related article: Make beach vacation more fun, bring these funny pool floats today.)
If you are thinking of getting a popular tech gift for your teenagers this year, we would recommend this dimmable ring light with tripod stand. It is an essential item for YouTubers, bloggers, and Instagrammers. It gives you the perfect illumination for the shooting of videos and photography. You can adjust the height of the tripod, light color, and brightness level to suit your needs.
A good book for the young people. Learn from Instagram guru Vex King to make positive changes in your life. Be inspired to practice self-care, overcome fear, transform negative emotions into positive ones, manifest your goals, and find lasting happiness.
31. O Naturals Watermelon Vegan Gel Mask
Help keep her skin hydrated with this gel mask packed with watermelon extract. Watermelon has high water content, vitamin C, and vitamin A. They are excellent nourishing stuff to tone, moisturize, and balance your skin.
A comfort gift to boost her mood. The pink salt lamp is a trendy room decor among college girls and teens. It emits a calming glow and negative ions to purify the air. Place it on the desk or nightstand to fill the room with peaceful energy.
33. Sparkle Like A Unicorn Mug
Your teen will love drinking from this mug. It motivates her to sparkle like a unicorn.
This inflatable hammock chair was made for lounging comfortably at your backyard, campground, festival activities, or by the sea. It is easy to set up and fits 3 people.
That concludes our list of this year's most popular Christmas gifts for teenage girls.
More Holiday Gifts For Teens: