What's the perfect gift for an artistic teenager? We know that gift shopping for a teen girl can sometimes be tricky. What makes it even harder is you have an artistic teen in your life. To impress them, you got to find something that appeals to their artistic side. Lucky for you, we have brought together a list of 18 fun and creative gifts for artistic teens. Scroll down to discover now!
Best Gifts for Artistic Teen Girls
1. Artist Paint Palette Enamel Pin
This colorful palette pin is cute, cheap, and totally affordable. Your teenage artist can use it to accessorize her backpack, jacket, or hat.
This quirky watch is perfect for the teen who is into graphic design. The dial looks sharp and cool. The color wheel will be a big helper to her when she is designing her artwork.
3. Let's Get A Little Crazy Here Art Quote Mug
A mug to inspire the teen artist in your life. This mug features a quote from the famous American painter, Bob Ross. See more mugs that inspire.
4. Kodak Mini Shot 3 Retro 2-in-1 Instant Camera & Photo Printer
A fun gadget for the teen photographer to snap and print photos instantly. This mini camera also works as a portable pic printer with simple editing app.
5. Warning Artist at Work Decorative Sign
Decorate the door of your teenage artist with this retro sign.
6. Graphic Designer Gift Keychain
If she is obsessed with editing and choosing the most attractive fonts — this keychain will make her laugh.
7. Tombow Dual Brush Pen Art Markers
A pack of 10 versatile dual brush pens to create beautiful artworks. The flexible brush tip works like a paintbrush perfect for hand lettering, drawing, and painting. The fine bullet tip gives a consistent fine line perfect for writing, intricate designs, and details.
This whimsical find is totally functional for the artists.
9. Miliko Abstraction Collection Washi Tape Set
Eight uniquely designed rolls of washi tapes that the artistic teens will appreciate. They are perfect for decorating a bullet journal and other art & craft projects.
10. 360 Rotating Bamboo Paintbrush Holder
A clear acrylic holder to help her organize her art space.
A beautiful tote bag featuring Pablo Picasso's quote "Everything you can imagine is real." This bag is made of sturdy fabric and it is suitable for carrying the art supplies.
12. Blue Marble Large Notebook
A blank notebook for the artistic teens to doodle or jot down her creative ideas.
13. Artists: Their Lives and Works
A visual celebration of greatest painters throughout history, from the Early Renaissance to the present day. This fantastic coffee table book contains full-page artwork prints, stories behind each masterpiece, historical context, and their influences in the art world.
The cover of this book features an artwork by Frida Kahlo. Kahlo is considered one of the most influential painters of the 20th century.
14. Artist Painter's Palette Pendant Necklace
This stunning painter's palette necklace will look so amazing on your teenage artist.
Practice painting in a relaxing way. Create a masterpiece by dipping the brush with plain water. Paint an inky artwork then see it slowly evaporate and disappear.
16. Artist Paintbrushes with Travel Holder
What artist doesn't need a brush? It is a must-have for the artists. Your teen artist will appreciate this set of good brushes that comes in different sizes and shapes. She will also love its convenient case in pretty pink color.
For the artistic teens to write anything painter-style.
Make a fashion statement that highlights your inner artist — Picasso-inspired abstract face earrings in gold-tone.
That concludes our list of gifts for artistic teens. Thanks for reading.
Follow us on Pinterest for more unique gift ideas.
Remember to pin this!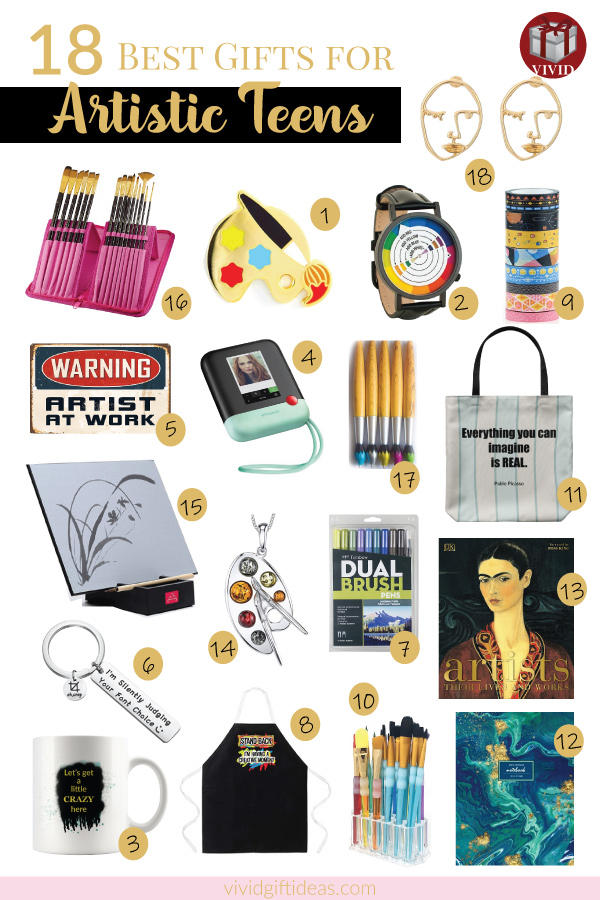 Articles Related to "Teen"