Make your teen boy smile on Christmas morning with some cool stocking stuffers that he'll actually love. Inexpensive and small gifts could really thrill them if you pick the right items. Browse through our holiday gift guide below to find out what are the cool stuff that are cheap and awesome enough to fill a teenage guy's stocking. From fun little gadgets, trendy teen fashion stuff, room decorations, men's accessories, and more. These stocking fillers are suitable for 13 year old to 18 year old boys.
There are more than fifty stocking filler ideas in this list. Read now to get some inspirations on what to put in a teenage boy's stocking. We've got something right for every type of teen on your list, even the pickiest one!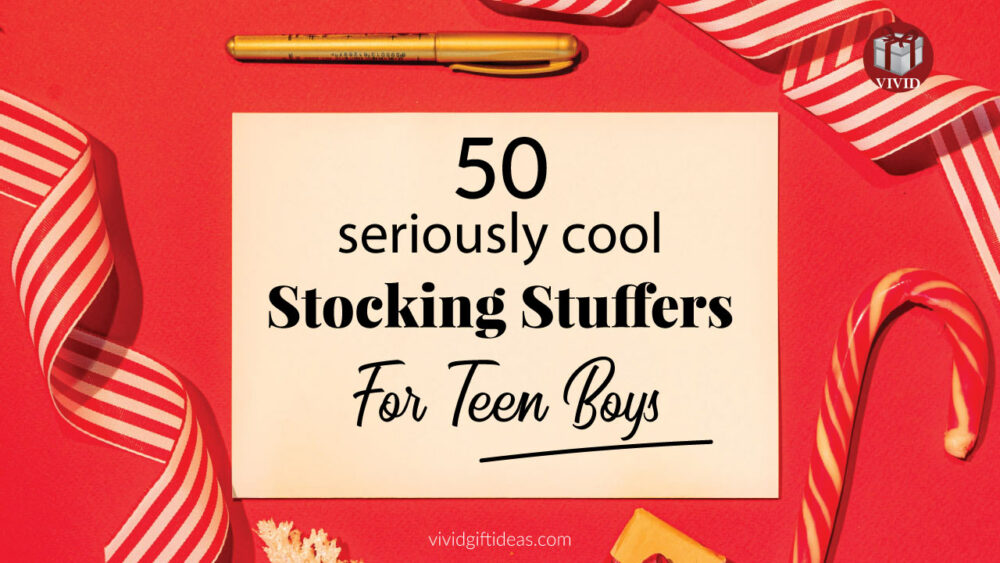 Best Stocking Stuffer Ideas for Teen Boys
You want to get some equally cool stocking fillers to match his really cool Christmas gift this year.
These gloves are cool enough for a teen boy's stocking. The bright LED light offers a helping hand when he is doing outdoor activities at night. No need to carry an extra flashlight so he can have both hands free to work on anything in dark spaces.
We love that these gloves also features a stretchy finger-less design and adjustable wrist strap that fit hands of all sizes.
2. VersionTECH Wireless Gaming Mouse
Teen boys love gaming and they are always looking to play the next popular games. Gift them with good gaming equipment this Christmas. Gaming mouse with good precision and smooth signal is a must-have to make their next game more fun.
3. Coconut Tree Neon Light Sign
Add a relaxing beach vibe to his room. This palm tree neon light will make him happy.
4. The Teenage Mutant Ninja Turtles Pizza Cookbook
Up his pizza making skill with this creative cookbook. Let Teenage Mutant Ninja Turtles bring you on a seriously ooey, gooey, and cheesy adventure. This cookbook contains sixty-five delicious recipes from breakfast pizzas, mini-pizzas, party pizzas, and even dessert pizzas.
5. Desktop Arcade Basketball Game
Another teen-approved stocking filler. Whether he is 14 or 18 years old, this is a game he will enjoy playing with his friends and siblings.
This cool-looking galaxy tie-dye fidget toy makes a great stocking stuffer for teenage boys. It helps improve focus and curb restlessness. Playing it also diffuse anxiety and help him deal with daily stress.
7. iLuv TB100 Wireless Earbuds
Music is definitely their thing. And, headphones are on every teen's wish list. We know you have probably spend some big money on your teen boy's actual Christmas gift. We recommend to get this pair of wireless earbuds at below $30.
It features advanced Bluetooth 5.0 technology, ultra-lightweight design, waterproof protection, and powerful battery life. Enjoy clear sound with rich bass whether you are studying, running, or gaming.
8. Ello Jones Stainless Steel Travel Mug
He will also appreciate this travel mug. It is leak-proof and vacuum insulated to keep beverages hot or cold for up to 20 hours.
Help your teen boy to replace his old underwear. This funny boxers is an awesome stocking stuffer for the smart ass.
10. BOBO BIRD Colorful Wooden Watch
Your teenage guy will definitely love this unique watch. Each of them is crafted using real colored wood and they have one-of-a-kind wood grain. He will also love how the various colors and clean design give this watch a youthful vibe.
11. Taco vs Burrito
Because cheap card games are equally fun to play compared to the expensive video games. This card game is popular among the teens. It is quick to play and surprisingly strategic. Every round is an exciting food fight up to the very last card.
12. Knock Knock WTF Am I Doing? Writing Pad
For the aimless or disorganized boys. Give him this to-do-list pad to plan his life. It is easier to stick to your schedules and track your records when you write things down.
13. Pac-Man Handheld Game Console
Better than PC games: A handheld gaming console can keep you entertained anywhere you go. It is compact and easy to carry around. Just charge it using USB and have hours of fun playing the popular retro games.
14. Stud Beanie Hat
This cool beanie helps him to get through winter stylishly. And, it also offers a quick fix on the bad hair days.
15. Inspirational Morse Code Bracelet
For the guy who is into fashion, braided bracelet is a must-have. It will keep him looking on-trend and stay motivated. He will love its simple design and how the beads are arranged like a Morse Code that carries an inspirational message.
16. Black Wolf Men's Charcoal Powder Face Wash
Gift him with blemish-free clear skin this holiday. This face wash is packed with charcoal powder and salicylic acid. It effectively cleanse the dirt and grease off the dude's face. It penetrates deep into the pore lining to unclog and clear acne pimples. It is an extra effective skincare for teen boys.
17. Surprise Money ATM Wood Puzzle
A gift that combines three into one. Brain teaser for hours of fun, cash money, and improve his logic skill.
Why not fill his stocking with Bob Ross's happy little tress?
19. Basketball Bandages Collectable Tin
For the guys who play basketball — a tin of basketball shaped bandages to protect them when there's small cut and injury.
Waterproof vinyl stickers are so popular among teens. It is another cheap and trendy gift that teen guys actually want.
21. The Don't Laugh Challenge – Teen Edition
Joke book is another awesome stocking filler loved by teenage boys. Make your teen LOL this Christmas. This is not an ordinary joke book meant to be read in isolation. It is an interactive game to be played between two people who like to tell jokes and act out silly scenarios.
A tech gift that guys really want — RC drone that provides easy and stable flying experience. It is foldable so he can takes it anywhere he likes. This quadcopter drone has two speed settings, dual batteries, and it can perform 3D flip stunt in the air.
For the techie guys. They might have multiple devices to charge every day. Make his life easier with this charging station. It is a slim charging pad that he can simultaneously charge his electronics. This is a tech gadget that he will actually use.
This waterdrop shaped lamp is too cute to resist even for the most picky teens. It gives a soft and calming glow. Gently tap it to change into different colors.
Looks really matter in teenage life. It affects their self-esteem and mental health. Help your teen guy to stay sharp and looking cool by fixing his hair. Give him with this pliable wax to style with ease.
26. Mini Pop It Sensory Controller
Because popping this game controller is actually fun. Clip it on your backpack and pop it whenever you feel bored.
27. Rite in the Rain Weatherproof Notebook
For the teens who love doing research in the natural environment. Keep all their notes intact for the fieldwork done. Protect the notes from water, grease, and mud. No more mushy notes, crumbly papers, and fading ink.
28. Fiodio IPX6 Waterproof Portable Speaker
For him to have fun listening to his favorite songs whether he is at the pool, having a shower, kayaking, or playing at the beach.
Teenage boys will love this incredible little tool. It is made of durable stainless steel. 18 in 1 features that include wrench, screwdriver, bottle opener, and etc.
30. Card Holder for Back of Phone
This card holder is a practical stocking stuffer that teen boys will actually use. They can use it to keep their ID, cards, and some cash without having to carry an extra wallet.
31. The Try Not to Laugh Challenge – Would Your Rather?
Another funny stuff to put in 13 year old's stocking this year. This book contains 160+ hilarious, creepy-crawly, ooey-gooey, and smelly questions that are guaranteed to make you ponder on and giggle.
32. Long Arm Flexible Phone Holder
Trendy tech accessories that your boy will really love. With this sturdy phone holder, he can watch Netflix, video call, take selfies, and record videos handsfree.
33. Buffway Minimalist Men's Wallet
Slim wallet — one of the most favorite accessories for teenage guys. They can carry their IDs, cards, and cash without the bulk.
34. Sunglasses
35. Sandal
36. Desk lamp
37. All in One Bazooka Sushi Making Kit
38. "Never Trust A Man Who Doesn't Like Cats" Washable Face Mask For Cat Lovers Men
39. Cable bite
40. Extra long charging cable
41. Keyboard cleaning putty
42. Deodorant
43. Flashlight
44. Action figures
45. Drum stick
47. Alarm clock
48. Tie
49. Collapsible straw
50. Quick drying towel
51. Body spray for men
52. Swim trunks
More Christmas Gift Guides For Teenage Boys Aged 13-18