Here are this year's most popular gifts for the teen girl in your life. This Christmas, surprise her with a trendy gift that she really love. Get some inspo from our list below if you are wondering what are the popular teenage trends and what is a good gift for teenage girl.
Featuring more than fifty age-appropriate gifts that are actually cool for teens. From latest tech gadgets, fashionable accessories, hottest teen outfits, room decorations, and more. We've got something right for every teenage girl, even the hard-to-please one. Read now to discover 55 top holiday gifts for teenage girls.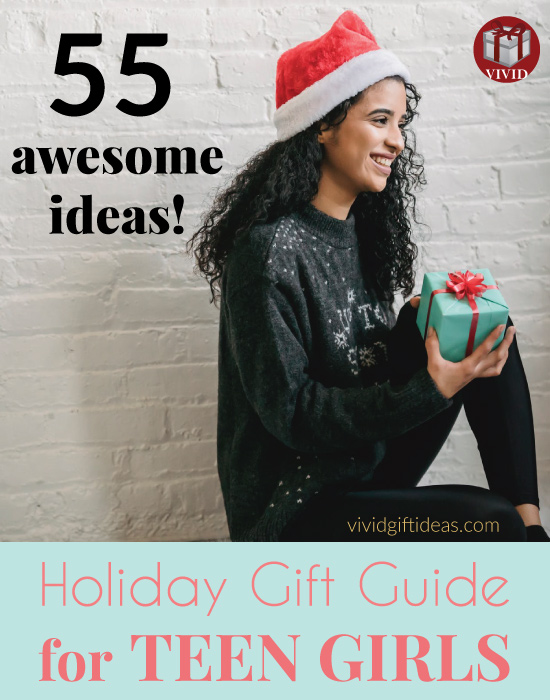 Top Christmas Gifts For Teenage Girls (2022)
1. Cute Chick Tap Control Night Light
Be sure to get a fun gift for your teenage girl this Christmas. This chick light is too cute to resist even for the pickiest teenagers. We are sure she will enjoy tapping it to see it shines at night.
2. UGG Women's Oh Yeah Slipper
One of the top gifts for teenage girls in 2022. This adorable slipper by UGG is so popular, it's definitely teen-approved.
3. Fujifilm Instax Square SQ1 Instant Camera
If you ask us what's a good Christmas gift to get for teenage girl, we won't hesitate to tell you to get an instant camera. Up her photo-taking game with Fujifilm Instax Square SQ1. This camera lets her captures more of the moment with its larger square print.
It also features automatic exposure for brighter pictures, retractable lens for better positioning, and easy selfie mode.
4. Samsung Galaxy Buds 2 Pro True Earbuds 
You can't go wrong by gifting her a pair of good earbuds. It is a must-have tech gadget for every teen. These pretty purple earbuds by Samsung is an excellent pick. It features enhanced 360-degree audio and Bluetooth technology that offers more stable connection and low latency. Crisp sound, rich bass, and loud. It is also sweat proof and water-resistant.
Studies show that drinking enough water is important to help us perform better physically and mentally. It can also aid weight loss and improve our skin condition.
For her health sake, motivate your girl to drink more water. Getting a cute water bottle definitely helps with your daily water intake goal. Whether she is a mermaid lover or not, this pretty water bottle will make sure she drinks like a mermaid.
6. You Are Awesome Rainbow Motivational Tote Bag
The cheerful colors and encouraging words of this tote bag will make her happy every time she carries it.
A stellar gift for her this holiday. This book covers all you need to know about astrology from your sun, moon, and rising signs, to how astrology plays a part in your interpersonal relations. You will learn to understand yourself more and how to interact with the world around you.
8. Pink Purple & Blue Ombre LED Curtain Lights
Room decoration that teen girls actually love. This gorgeous fairy curtain lights will bring a magical vibe to her room. She can adjust the brightness to create a calming ambiance and control it to set a slow twinkle glow.
9. Rose Gold Skates by Impala Rollerskates
When you think your teenage daughter spend too much time on her phone. This super chic rose gold skate will make her want to go out more (to skate with friends, and of course for posing with her new skates for Instagram).
This skate is comfy to wear and fun to skate on. And, the rose gold color looks really striking even in photos.
10. Rose & Jasper Crystals and Healing Stones Set
Healing crystals are actually cool to buy. They are great for practicing self-care, finding inner peace, and controlling anxiety.
11. EISHOPEER Women's Pajama Set
Another Christmas gift approved by teenage girls. The tie-dye design of this pajama set is super trendy now and its breathable cotton material feels nice on skin.
12. FaceTory Spot Fighter Acne Blemish Patches for Pimples
Beauty products are highly appreciated. They always made it the list of most popular Christmas gifts for teen girls. And, we recommend these packs of blemish patches that flatten acne and gently clear out the pus.
Add some sparkle to her lobes, classy snowflake earrings never go out of style. It will become her new favorite for this season and more winters to come.
Dressing up is important even for your phone. Get this colorful phone case for her this holiday. We love its soft pastel colors and the pop-pable bubble that can be doubled as stress-relieving fidget toy.
15. Tie Dye Lap Desk
A must-have for any teen girl. It is useful when she wants to write homework or use the laptop on the bed.
16. When It Rains Positive Life Quote Mug
Wake up to positive vibes and ready to conquer your day.
17. Salmon Pink Wireless Keyboard and Mouse Combo
Girls just wanna have … non-black and white keyboard. We love the attractive color of this keyboard, its ultra slim design, the retro aesthetic, and the springy keys.
It is also available in lemony yellow and vintage green.
Mini personal fridge in your room? Yes, yes, and yes. It's actually a cool stuff to buy for teenage girls. We can use it to store skincare stuff like masks and jade roller.
19. Avocado Microwavable Heating Pad
How freaking cute is this avocado? Hugging it will definitely make you feel better especially those days in the month when your period hits.
Your room could use a little rainbow to brighten things up. Personalize it with cute words for daily inspo.
(🌈Love rainbow stuff and accessories? See here for 30 rainbow gifts suitable for adults, teen, and kids.)
21. Mini Backpack
Another popular Christmas gift loved by teens. This mini backpack with marble pattern is lightweight and roomy. It is a versatile backpack for daily commute, travel, festivals, concerts, and many other outdoor activities.
If you are wondering what to get teenager for Christmas, why not gift her with multiple skills. Level up her life skills from cooking, managing money, staying healthy, to taking care of a car.
This book helps teenagers to widen their knowledge in different aspects that are required to achieve a successful adulthood.
23. Miessial Women's Pom Pom Sweater
For the girl who is into fashion, get her this trendy pom pom sweater. She will love the cute detailing, puffy sleeve, and the soft knit material.
24. Round Quilted Crossbody Bag
For the girlie girls. If she loves purple or lilac color, this lovely purse will surely impress her. Nice size, elegant look. It looks great with dresses and jeans outfits. It also comes in other pretty colors like mint, pink, blue, gray, yellow, and red.
25. Conair Unbound Cordless Auto Hair Curler
Loose waves or tight curls? No problem at all. With this handy hair styling tool, she can create the perfect curls with zero skill. The multi-directional curl action, adjustable heat and timer settings allow her to style with ease.
Add a tropical vibe to her room. Get this cacti terrarium set to grow your own miniature desert. Your girl will enjoy seeing these succulent plants grow slowly for the years to come.
(🌵Love cactus and succulents? You might love these cactus gifts.🌵)
Looking at how Pusheen slurps the noodle will make your bowl of ramen extra delicious.
28. Glitter Gel Pens
Stationery is the most-loved stocking stuffer for teenage girls. They are inexpensive and students do need them. If she is an artistic teen who draws and doodles most of her time or if she likes to write things down, these glitter pens will make her happy. A set of 48 different glitter colors. The colors are so vibrant and they glide on smoothly on paper.
29. SINGER Making The Cut Sewing Machine
If she is into sewing or making crafts, this sewing machine will become her new BFF. It is a popular sewing machine for beginners. This machine features 97 stitch application, quick threading, automatic 1-step buttonhole, and LED lighting for a clear view of sewing area.
Sturdy for sewing on a wide range of fabrics, this machine is easy to operate and fun to make/ alter your own outfit.
30. SIMPLE RETRO Satin Scrunchies
Hair scrunchies in different colors and styles — a popular VSCO gift teen girls actually love.
31. Women's Graphic Print Sweatpants Joggers
Jogger pants — popular teenage fashion trend. You can't go wrong with this stylish find that features sun and moon design.
If she is serious about dancing, this guided journal will help her focus in her practice, explore who she is as a dancer, and experience more joy in the process of becoming a great dancer. This book features 100 days of strategic prompts that provide opportunity for expression, identification, and growth. It is one of best gift for teenage dancers.
33. MOSISO Laptop Shoulder Bag
Protect her laptop from accidental bump and scratches. This shoulder bag features foam padding and fluffy fleece fabric lining for shock absorption. And, its starry galaxy design looks totally cool.
34. Happy Hatter Christmas Tree Beanie Hat
What winter accessories look more festive than this beanie? It will keep you warm and looking Christmassy AF. This is definitely a cute piece you might want to get one for yourself.
35. Trendy room decor for teens — Himalayan Pink Salt Lamp
36. Cookbook for teens — We recommend The How-To Cookbook for Teens
37. Shower speaker
38. Lip balm (Must-have small gifts for Christmas stocking)
41. A pair of cool sneakers
42. Waffle maker
43. Tarot cards with guide book
44. Tie dye kit
45. Cruiser bike
46. Planner notebook
47. Facial roller
48. Eyeshadow palette
49. Stylish necklace
50. Body scrub
51. Yoga mat
52. Watch
53. Sunglasses
54. Mini wallet
55. Heated blanket
More Holiday Gift Guides for Teen Girls:
30 Unique Christmas Gift Ideas For Teens (2022 Most Awesome List) | 38 Most Loved Stocking Stuffers for Teen Girls in 2022 | 20 Best Stocking Stuffers for Teen Girls of All Time | The Ultimate Christmas Gift Guide For Teen Girls | 22 Unique Holiday Gifts for College Students