Surprise your teen girl on her birthday with a special present that she really wants. Browse through our gift guide approved by teens below and discover what's cool enough for them. Featuring twenty age-appropriate gifts for 14-year-old to 19-year-old girls. Waste no time, read now and get some pointers to buying what she will appreciate. We bet she will have a big smile on her birthday this year.
Best Birthday Gift Ideas for Teens 2020
1. Not My Mama's The Natural Deodorant Collection
At this age, teens start exploring different beauty products. It's good if you could help her to choose a non-toxic, good quality beauty product. Not My Mama's The Natural Deodorant Collection makes one of the best birthday gifts for teens. These cute-looking deodorants are made from natural ingredients, they are safe and effective at helping your teenager stay fresh all day. What's more? It comes in a set of four lovely scents to match her mood of the day.
Give her a personalized birthday gift in the form of a beautiful mug with her Sun sign. She can use it to drink her favorite beverage.
3. Lucky Feather Sweet 16 Birthday Bracelet
Be sure to get a special present for her 16th birthday. This minimalist bracelet is designed with 16 dainty gold-dipped beads representing each fabulous year.
4. Fujifilm Instax Mini Link Smartphone Printer
If you are looking for an electronic gadget to make your techie teenager happy. This amazing mini photo printer is an awesome choice. Sleek design, easy to use, vibrant printing. It connects to any smartphone and camera with Bluetooth features. You can even edit, customize, and collage your pictures before printing.
This printer is definitely a must-have tech gadget for teen girls.
5. Eccolo World Traveler Blue Dreams Notebook
If she likes to write everything down and keep things organized, this chic notebook with gorgeous marble cover is perfect for her.
6. adidas Originals Women's Santiago Mini Backpack
Another birthday gift approved by teens. The baby backpack is super trendy right now, and its size is just right for stashing the essentials.
7. Cool Room Decor — Amethyst LED String Lights
Natural amethyst fairy lights that bring a peaceful vibe to any room. Each of the stones is in different shapes and sizes. They create a pretty ambiance to up your Zen level.
(Amethyst is the birthstone of February. It is a wonderful birthday gift for people born in February.)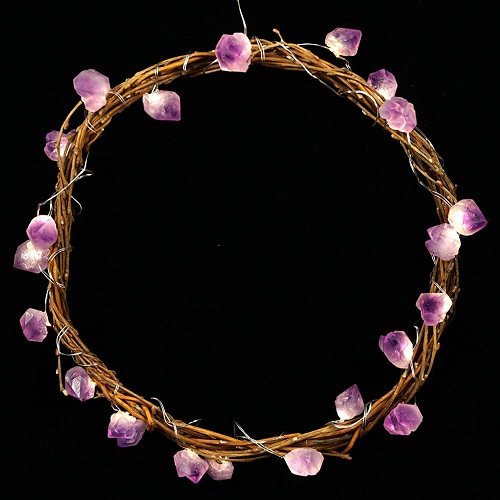 Add some sparkle to her lobes, this pair of Saturn earrings will be her new favorite.
9. Victrola Vintage 3-Speed Turntable
A classy gift for the music lovers. This turntable looks cool in any room and it allows your teens to take their music listening experience to the next level. It features modern Bluetooth technology, three speeds, and a portable suitcase design. Enjoy a more analog music experience wherever you go.
A glowing salt lamp is a new must-have Zen decor for every teenager's room.
11. Vera Bradley Little Hipster Crossbody Purse
For the teen girl's birthday, you can also get this mini crossbody bag by Vera Bradley. We love its slim design, roomy interior, and the vibrant pattern.
Suitable for girls aged 14 to 19.
Popsockets is a popular phone accessory for teens. It is stylish and useful for teens who are addicted to the phone. Attach it to the back of your phone for a more secure grip. You can also use it as a stand for hands-free viewing or an earbud cord storage. A cheap birthday present that she'll appreciate.
13. Good Books for Teens
Books never go out of style. They always made it to the list of the most popular birthday gifts.
13a. Women in Sports: 50 Fearless Athletes Who Played to Win
An inspiring read for teen athletes. This beautifully illustrated book highlights the achievements and stories of the tough women athletes in more than forty sports. It also contains a motivational quote from the athlete, infographics on sports topics like muscle anatomy, a timeline of women's participation in sports, pay and media statistics for female athletes.
13b. Galaxy Girls: 50 Amazing Stories of Women in Space
An excellent read for girls who dream to reach the stars. This book tells the amazing true stories of fifty remarkable women who helped fuel some of the greatest achievements in space exploration. From astronauts to scientists, mathematicians to engineers, physicists to aerospace psychophysiologists, these extraordinary women taught us that the sky is not the limit.
14. GoWoo 100% Natural Bamboo Toothbrush
For the eco-conscious teens. These biodegradable toothbrushes will keep her teeth clean for the months to come. The handle is made from sustainable bamboo and the soft bristle is dyed by the food coloring.
15. Tombow Dual Brush Pen Art Markers (Popular School Supplies)
An inexpensive gift for that artistic girl in your life. These pretty pastel-colored brush pens are perfect for bullet journaling, drawing, painting, and other creative artworks.
16. Creative Idea — DIY Lip Balm Kit
Let her have fun making her own lip balms. This simple guide book teaches you to make 12 different types of lip balms. It comes with step-by-step instructions, five colorful lip balm pods, beeswax, and mold for you to DIY with ease at home.
17. Heart Wall Grid Hanging Display
Give her a big heart on her birthday. This strong, metal grid hanging is perfect for organizing and displaying whatever your teen likes.
This is a cheap facial cleansing brush every serious beauty lovers must get. It is made of food-grade silicone suitable for sensitive skin. It gently massages your facial muscles, deep clean the pores, and exfoliate away the dead cells.
19. PUMA Women's Carina Sneaker — Trendy Gift for the Birthday Girls
This year's most popular birthday gifts for teenagers — a pair of cool-looking sneakers with charming 80's style.
20. SweatyRocks Long Sleeve Sweatshirt
Whether it's for school, hanging out with friends, or lounging at home, comfy sweatshirt outfit is popular among the teens.
This concludes our list of Year 2020's most popular birthday gift ideas for teens. Thanks for reading.
More Unique Gift Ideas for Teenagers: