Surprise your teenage girl this holiday with some cool stocking stuffers that she really wants. You have probably done shopping for her actual Christmas gift for this year. (If you haven't already, check out this article for our favorite holiday gifts for teens). You might already spend a big amount on that and when it comes to stocking stuffers, you want to stick to something small and affordable.
Cheap stuff doesn't have to be boring. They can be fun and awesome too. Find out the mini gifts approved by teens here. We have brought together 25 best Christmas stuffers for teenage girls.
Whether she is a fashionista, a techy girl, a beauty lover, or a VSCO girl, these ideas are going to impress every teen on your list. Of course, we include some cute school supplies, small accessories, and useful everyday items. We bet these small pressies will bring a big smile to her face, even the pickiest teens will be impressed.
Keep reading to find out this year's coolest stocking stuffers for teens.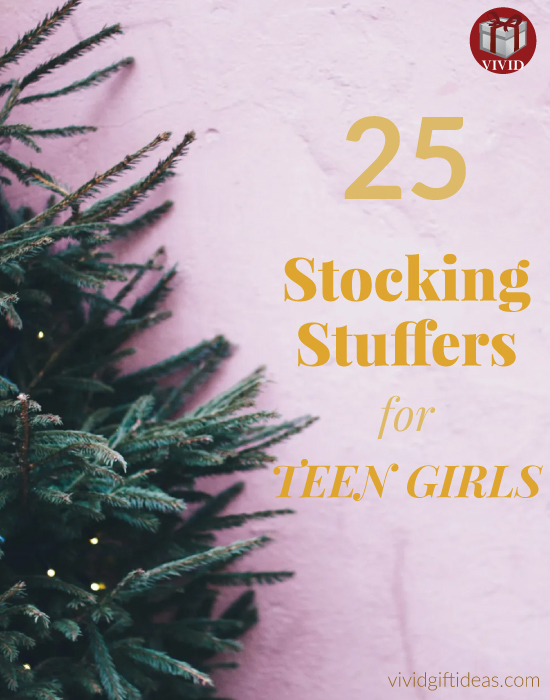 Best Christmas Stocking Stuffers for Teens 2022
A chic Christmas stuffer that teen girls love. This coin purse is cute and functional. It is spacious enough to hold your IDs, cards, coins, cash, and receipts. It also has multiple card slots to hold all your IDs, credit cards, and gift cards. This little purse is delicately handmade using 100% cotton. Plus, it can be personalized with names, initials, or words.
2. TONYMOLY Super Food Mask Bowl
I have to say that these sheet masks are awesome af. It contains a special mixture of masks infused with superfood essences. They hydrate, revitalize, and purify your skin. Giving your skin the nourishment for healthy, glowing skin.
3. Mask Up Statement Face Mask
Face mask is a must-have accessory during this pandemic time. And yes, she will need some cool-looking, stylish face masks. It is definitely one of the most popular stocking stuffers of the year.
4. elago Ice Cream AirPods Case
A small holiday gift that your teenage girl really wants because this ice cream case will protect her AirPods from dirt and drops. It is made from a premium silicone material that is sturdy and durable.
5. Dayna Lee Collection Motivational Hard Cover Notebook
The rose gold embossed inspirational quote will keep her motivated. This wirebound notebook has 200 ruled pages for her to write down anything from homework to daily schedules, wish list to goals.
This pastel blue wireless mouse is good-looking and functional. It will make her desk looks stylish.
7. purlisse Watermelon Energizing Facial Mist Spray
This year's most-loved gift for teens – facial spray to freshen her skin all day. This facial mist is suitable for all skin types. Watermelon is its key ingredient. It also contains other natural botanicals like white tea, aloe vera, and cucumber. The scent is refreshing and it keeps your skin fresh and hydrated.
8. When It Rains Positive Life Quote Mug
Not only is this mug filled with colorful raindrops, but it also provides words of encouragement to lift her up.
9. Primrosia Dual Tip Marker Pens
Artistic teens or not, this set of markers will make her happy. 60 stunning colors, dual tips. They are perfect for writing, calligraphy, coloring, highlighting, and creating impressive artworks.
10. Gold Nature Scene Washi Tape Set
To make your journal and art projects look more sophisticated. A set of five washi tapes in different width. Features gorgeous Japanese artwork design with gold details.
(You might be interested in these kawaii Japanese design stationery.)
11. Opal Unicorn Stud Earrings
Something shiny to make your girl happy. Cute unicorn design plated with 14K white gold, paired with a white opal. A lovely pair of earrings that look expensive but cost less than $15.
(If your teenage daughter loves the unicorns, don't miss out on this article that brought together 23 of our favorite gifts for unicorn lovers.)
12. Touchscreen Texting Gloves
Gift these versatile gloves to your teenage girl with cold hands. They are cute, warm, and comfy. And the bonus is you don't have to remove your gloves while using your phone.
13. AmazonBasics Wireless Shower Speaker
Enjoy the beats while showering. Sing your heart out when you are soaked in the bath. This water-resistant speaker is compact and powerful. Listen to your favorite music whenever and wherever you like.
14. Burt's Bees Pink Tinted Lip Balm
Lip balm is cheap and useful. It is a teen-approved stocking stuffer. Burt's Bees is a trusted brand for years. It is made from 100% natural ingredients to give your lips moisturization and a hint of sheer, pink color.
A witty swear word gift to make your teen laugh. This little bird looks adorable with its vibrant colors but it doesn't have the cutest character. It constantly asks the people to "go pluck yourself".
Help save the environment by cutting down the use of disposable straws. Get this collapsible drinking straw, hang it on your bag, and sip on the go. It is compact, convenient, and easy to clean. A small gift to make the turtle lovers happy.
17. Pura Vida Gold Pineapple Bracelet
Braided bracelet is a trendy accessory that teens want. It is also a must-have item for VSCO girls. This gold pineapple bracelet by Pura Vida looks cool and fun. It is one of the best Christmas stuffers that teenage girl will appreciate.
18. BeauKON Avocado Nourishing Overnight Mask
Give the gift of beautiful skin this holiday season. This overnight mask priced under $15 is packed with avocado extract and oil. It is full of vitamins A, B, C, D, and E which are key for soft, bouncy skin.
19. Hair Scrunchies
This year's top gift for girls. Keep her hair looking neat with these pretty scrunchies. Large size, attractive colors. They look good on your hair and also your wrist.
A cheap tech gift for your teen's Christmas stocking, no matter if she is a food lover or animal lover. These cable chompers protect her cords from breakage, and at the same time keep them looking adorable.
21. Taco Cat Goat Cheese Pizza Card Game
Give the gift of laughter. This card game is so fun everyone will enjoy this holiday. It is simple to learn, fast-paced, and very funny. Suitable for all ages from kids, teens, to adults. P.S.: Be prepared to laugh hysterically.
22. ETUDE HOUSE Berry Delicious Cream Blusher
For your teenage girl who is into everything Korean. This blusher will make her cheeks looks sweet. It is highly pigmented and the color blends well for a natural-looking finish.
23. TONYMOLY Pocket Bunny Perfume Bar
Fill her holiday stocking with this perfume stick. It has an amazing scent that's citrusy and floral. Whether she is a girl who loves fragrances or a bunny lover, this solid perfume will become her new favorite.
24. Tamagotchi Gudetama Handheld Digital Pet
What are the fun toys for teens? Treat your teenager to this little egg game. It is an egg guy that you can raise from baby to different types of eggs. Feed it, nurture it, and give it some attention to prevent it from turning into an egg dish.
25. Dream Often Inspirational Tote Bag
This tote bag is foldable and washable. Keep it in your backpack and you will never need a plastic bag again.
That concludes our list of this year's best stocking stuffers for teen girls. Thanks for reading.
More Holiday Gifts for Teenagers: