Show your grown-up daughters some love with a special gift on occasions from birthdays to Christmas, wedding anniversaries to Mother's Day.
They say a daughter is the apple of your eye, and that's true from the early days when she's still a little girl up to the time when she's finally fully grown. Parents never lose their love for a daughter, but shopping for an adult daughter can be challenging, especially when she already has everything. This list of 25 gifts for your grown daughter includes items that are functional, fashionable, and designed to show her just how much you love her – today and always.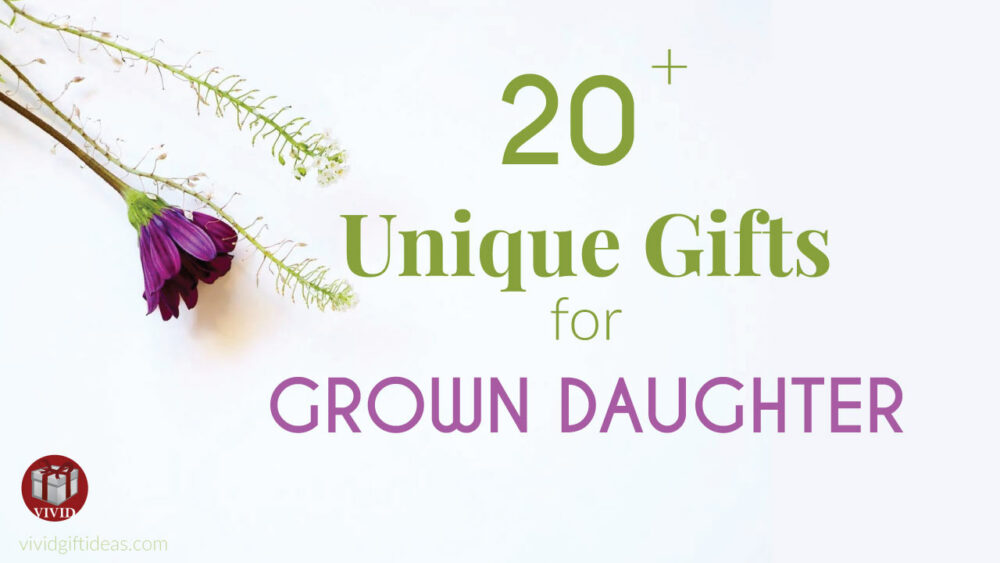 Thoughtful Gifts for Adult Daughters
1. Daughter Time Knot Necklace
A fully-grown daughter is still a daughter, and no matter how grown she gets she will always be her parents' little girl. This timeless pendant necklace is the perfect way to tell her so. It features a stunning round-cut cubic zirconia set inside a beautiful knot. The pendant's design represents an unbreakable bond, and it comes with a heartfelt message card letting her know just how very special you think she is.
For adult daughters in their 20s, 30s, 40s, and beyond. A stylish handbag never goes out of style! This pretty purse by Nine West embodies all things feminine, so your adult daughter is sure to love it. The delicate floral print and neutral trim mean you can easily dress it up or dress it down. It features a classic zip closure, and she can carry it with the double handles or with the adjustable shoulder strap. It's everything a girl wants from a handbag!
A thoughtful gift for daughters from mom or dad. Every family needs a family portrait to hang in the home. Instead of getting another awkward photo nobody likes, give your grown daughter the gift of a custom family portrait! You can customize each person's appearance to match your family members, add their names and a personalized quote to get a one-of-a-kind family portrait like no other!
4. To My Daughter Engraved Lamp
Sometimes fathers have a harder time expressing their love for their daughters. That's why this engraved bedside table lamp is the perfect gift from a dad to his daughter. The lampshade is a minimalist box shape and is made from double-layered linen, so it provides just the right amount of soft light. It sits on a study, natural wood base, and is dimmable so she can choose how bright she wants the light. And the message is sure to touch her heart, reminding her that she is strong, smart, and brave and that her daddy will always love her.
5. Happiness Blooms Daisy Tote Bag
Daughters always bring to mind thoughts of flowers and sunshine. That's why this tote bag would make a wonderful gift for daughters of all ages. This tote bag features a beautiful assortment of colorful daisies and a quote that reads "Happiness blooms from within" on the front – plus more daisies on the back! It's sure to bring a little joy to her day.
Grown daughters are reaching that age where they are ready to head out and explore the world. If your daughter is an adventurer at heart, then this book will be highly appreciated. It is filled with beautiful photography and tips from expert hikers that lists some of the best trails the world has to offer. This is a gift that she can carry with her for a lifetime, and it's sure to guide her on many great adventures!
7. Anne Klein Women's Bracelet Watch
Every lovely lady deserves a timepiece that is just as lovely as she is, and this bracelet watch from Anne Klein is sure to make her smile. Crafted in stunning rose gold with a green dial and a mineral crystal lens, this watch is timeless and will complement any look.
Perfect for women of all ages, especially the new moms. This is a journal notebook for her to practice daily reflections and record the special things that happen every day for five years.
9. KODAK Printomatic Digital Instant Print Camera
When your daughter is fully grown, graduated from college, and ready to spread her wings, you still don't want to miss a moment of her life. That's why this instant camera is the perfect gift. It instantly prints full-color photos and features super smart point-and-shoot technology, so every image comes out perfect. Not to mention the adorable pink and white design which she will be sure to love. Now she can snap pictures of anywhere she goes in life, and you can still share all her favorite moments!
10. Shiatsu Back Shoulder and Neck Massager
Are you looking for a self-care gift that she will actually use? How about the gift of a portable massage? The heated massager is every woman's dream gift. This one is electric, heated for extra muscle relaxation, and has eight massaging roller balls. It has three speed strength levels so she can customize the massage just how she likes
Another grown-up gift that women appreciate. Add some extra stress relief to her day with this Jade roller and Gua Sha gift set! It's the perfect addition to any woman's beauty routine. You get the jade roller and Gua Sha stone, both handcrafted from 100% authentic stone which promotes balance and positive energy. This beautiful gift set will make her feel brand new and look amazing too!
For adult daughters, you can't go wrong with a good skincare product. This body scrub is blended with the finest Himalayan pink salt and combined with lingonberry oil complex and almond oil. It works with your body's natural pH balance and helps detoxify the body, improve hydration, and improve the skin's elasticity for a soft, natural glow every day!
13. Electric Ceramic Tea Kettle
When your grown-up daughter is moving into a new house, give her the gift of a hot cup of tea with this electric ceramic tea kettle! The charming leaf design will look great in her home and would be great for tea parties. It's both fashionable and functional! It comes with a detachable base so she can boil water faster and safer than a microwave or stovetop.
A personalized mug always makes a perfect gift whether it's for your daughter's birthday, graduation, Christmas, or just-because. This cute mug will help her celebrate her birth month in style. Make her feel like every day is her birthday! These mugs are microwave and dishwasher-safe, and are made using strong, ceramic construction so she can enjoy drinking her favorite beverages for years to come.
Looking for a lovely, feminine gift that embodies your fully-grown daughter's beauty and uniqueness? Then this initial floral resin keyring is just right! Each keyring is handmade and includes real dried pressed flowers trapped inside the resin initial. You even get to choose between a plain gold, bronze, or silver flake design for an even more personalized touch!
Here's a gift that serves more than one purpose – it's a lantern light and a Bluetooth speaker! These LED flame tiki torches can flicker like real flames or provide a steady solid glow. But that's not all – this pair of gorgeous outdoor lanterns double as speakers! And they're super flexible because you can carry them by the handle, stake them in the ground, mount them on the wall, or hang them anywhere you want!
This self-love workbook is the perfect gift for a grown daughter learning to make her way in the world. This helpful book offers 52 weekly lessons that follow the seasonal rhythm of life designed by a licensed clinical social worker. This amazing book will remind her to truly care for her beautiful self through exercises, teachings, and insights.
This is no ordinary waffle maker! This unique waffle maker makes heart-shaped waffles that will feed both the body and the soul! With this gift, she can feed her family or entertain guests and share the love at the same time! It features a compact space-saving design and a lovely lavender finish! And who wouldn't love a heart-shaped waffle?
Every daughter deserves a little self-care and pampering, and this super soft, plush bathrobe is the best way to make her feel like a queen! It's perfect for after that luxurious bubble bath or just for lounging around the house in style. Made from 100% polyester flannel fleece fabric, this robe has two deep front pockets and a large hood for extra coziness!
20. HoMedics Indoor Tabletop Fountain
Give her the gift of relaxation and tranquility! HoMedics 3-tier tabletop fountain is beautiful and provides a calming Zen experience for the ultimate stress relief. And the Asian-inspired design will make the perfect focal piece for any room. It is perfect for de-stressing after a long day or lulling her to sleep with the peaceful sounds of water trickling through a tranquil stream.
Working professionals and female bosses will actually use this stylish blue marble padfolio. It features convenient pockets for documents, business cards, and IDs. It also has a refillable writing pad and pen loop.
22. Handmade Candle
Complete her spa experience or just bring a little love and light to her space with a handmade, personalized soy candle. These candles are made from 100% Australian Soy and hand-poured in Sydney. Each one is custom designed, and a picture of your choice is engraved on the wooden lid for that special touch that elevates this gift from just a candle to something truly unique! It's a keepsake that she will cherish forever.
23. Sunny Skies Ahead Insulated Mug
How about giving her inspirational coffee mugs to help her start her day out right? This insulated coffee mug is the perfect way to provide a little inspiration with her morning coffee or any time of day. It features original artwork with an inspirational message that sunny skies are ahead, and it's a soft, feminine pink color. Not to mention this mug is stainless steel and double-walled so it will keep beverages hot or cold for hours and isn't at risk of shattering if she accidentally drops it!
24. Vintage Cloisonne Bracelet
Here's a gift that's thoughtful and stylish. Your adult daughter will love the vintage look of these enamel bangles – straight from the 1990s. The bangles are made of metal with enamel and feature a pretty, delicate floral pattern. These bangles will pair wonderfully with any outfit, and she can bring a bit of that popular Boho hippie style to her look!
25. Motivational Unicorn Sweatshirt
Can't get enough of unicorn stuff even when you are an adult? This sweatshirt is perfect for fully-grown women because unicorns are not just for little girls. Wear it and feel motivated to sparkle like a unicorn.
More Gift Guides for Daughters: