A Rainbow Gift Guide
Cheer someone up with a unique rainbow-themed gift. Browse through our colorful gift guide below to discover 30 rainbow-themed gifts that spark joy.
Whether you are shopping for a friend who has a colorful personality, a depressed family member in isolation, a kid who loves everything rainbow, or to show support for our key workers, these multicolored rainbow stuff are guaranteed to make them happy.
From pajamas and fashion accessories to lighting and home decoration, these cheery gifts will definitely bring a happy vibe to your life. Waste no time, read now and send a rainbow over to make things brighter.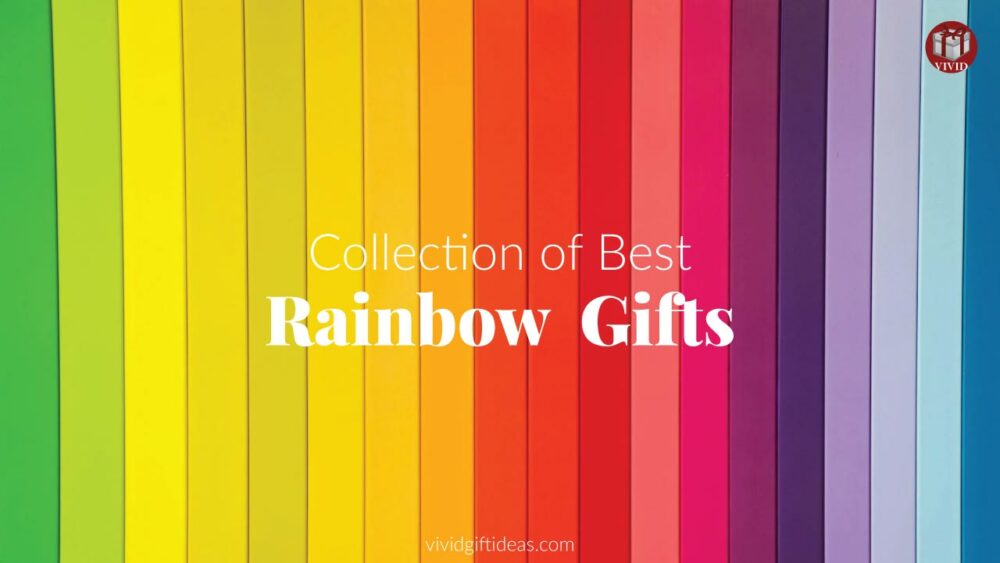 Best Rainbow Ideas for Adults and Kids
These rainbow gifts are so cheerful you might want to get one for yourself!
1. Rainbow Poop Emoji Coffee Mug
The rainbow aesthetic can definitely make anyone happy. Why not start your day with a rainbow? Drink your favorite coffee from this mug. It makes even the sh*ttiest days more bearable.
2. Colorful Rainbow Neon Light Sign
One of the best rainbow ideas for people in quarantine. No matter how gloomy things are outside, this rainbow light will instantly fill your room with happy mood. Hang it on the wall or place it on a desk to brighten up your space.
A shiny present to cheer someone up. Wear these rainbow earrings to make your days brighter and shinier.
4. Multi-Color Felt Letter Board
One of the best gift ideas for people who need inspiration during lockdown. This rainbow board lets you arrange short message and positive quote to motivate yourself.
5. Vans Rainbow Chex Skate Shoe Sneaker
Another awesome rainbow gift for men and women. This cool sneaker is so colorful. It will surely brighten up your days.
6. Good Vibes Rainbow Tote Bag
This washable fabric tote bag is great for everyday use. Wherever you go, good vibes will follow.
7. Rainbow Tumbler with Straw
This glittery rainbow tumbler is a must-have for girls who love rainbows. Its colors are so eye-catching and the double-walled construction keeps beverage cold and hot for a longer time.
A pack of 50 waterproof vinyl rainbow stickers to spread a little joy. They are great for adding a vibrant touch to your journal, water bottle, laptop, phone, skateboard, and more.
9. Graphique Rainbow Design Hardbound Journal
For friends who need a little pick me up. This adorable notebook makes writing, journaling,  and note-taking less boring.
Rainbow symbolizes peace and happiness. When you want to get a cozy gift to make your days in lockdown better, you won't go wrong with this set of rainbow pajamas.
MORE: 15 Quarantine Gifts To Send For Mom This Holiday
11. Acrylic Rainbow Desk Organizer
This colorful desk organizer is a must-have for rainbow lovers. It has five compartments for storing pencils, markers, makeup brushes, and more.
12. Mini Rainbow Stripe Kitty Earrings
Another rainbow-themed gift to make girls of all ages happy, especially the cat-loving ladies.
13. Giant Inflatable Rainbow Pool Float
Rainbow makes everything extra fun! Bring this inflatable float on your next beach vacation, and your beach trip will be super exciting.
If you are looking for a small gift to make someone happy, these cute socks will do the job.
15. Dash Mini Maker
Add a playful vibe to your kitchen. This waffle maker is small in size and it is perfect for college dorm, small apartment, and camper.
MORE: 20 Simple Ways to Decorate Your Dorm Room
16. Metallic Silver Rainbow Clouds Girls Backpack
A fantastic rainbow-themed gift to make the little girls happy. This holographic backpack shimmers and shines. It is roomy, lightweight, and super cute! We love how it reflects every color in the light.
MORE: 16 Backpacks for Middle School Girls
17. Rainbow Beads Love Bracelets Set
These tile bracelets are fun but not too little girly for teens and grown women. They are perfect for cheering up friend and make her feel loved.
18. Skyseen Cloud Rainbow Shaped Pillow
Awesome gift for kids who love rainbow. This pillow is really soft and plushy. It is a wonderful decoration for nursery room.
19. Rainbow Shaped Bubble Sensory Fidget Toy
When things get a little tense, grab this silicone fidget toy to pop away your stress. We love how you can bring it anywhere to pop and relax. This rainbow toy is definitely one of the best stress relief gifts for adults and kids.
20. Colorful Gradient Vanity Decorative Tray
Add a pop of color to your dresser. This pretty tray helps keep your space neat.
21. Rainbow Cloud Pendant Necklace
This rainbow necklace is so sparkly. It will surely bring joy to little girls, teens, and even adults.
22. OOLY Tutti Frutti Color Changing Pens
This is a must-have writing supplies for people who love rainbow. These pens are made with multi-colored gel ink that changes color as you write. We also love how these pens glide on smoothly on paper while releasing sweet fruity scent.
23. AIMERDAY Rainbow Yoga Mat
Another thoughtful rainbow gift to cheer someone up. Practicing yoga is good for physical and mental health. Let your loved one practice yoga at home during her isolation days. It helps relieving stress, bring more energy and brighter mood.
24. Rainbow Unicorn Onesie Pajamas
Dress up as a unicorn to brighten up cloudier days during lockdown.
MORE: 23 Unicorn Gifts
25. Rainbow Cushion PopSockets
Practical and cheap rainbow gift for adults. Stick these colorful Popsockets at the back of your phone to grab it more securely. You can also use it as a stand for hands-free viewing.
26. Sorbet Dreams Rainbow Fur Saucer Chair
A "happy" upgrade for any room. Get this beautiful saucer chair to add a rainbow fun to your home.
27. Post-it Super Sticky Notes
Be sure to get a rainbow sticky notes to remind yourself of the important tasks to do.
OOLY Note Pals Sticky Note
These rainbow-themed school supplies make note-making less boring.
We are not sure if your cat will like this fluffy bed (cats prefer boxes anyway), but we are quite sure its lovely pastel rainbow colors will cheer you up.
29. Rainbow Tie Dye Large Beach Towel
Enjoy extra sunshine when you are hanging out on the beach. The bright colors will instantly lift your mood.
Get your daily dose of happiness after a long tiring day. Feel refreshed stepping out from a warm bath on this rainbow mat.
That concludes our list of 30 rainbow ideas to cheer someone up. Cheers!
Cheer Up Gift Ideas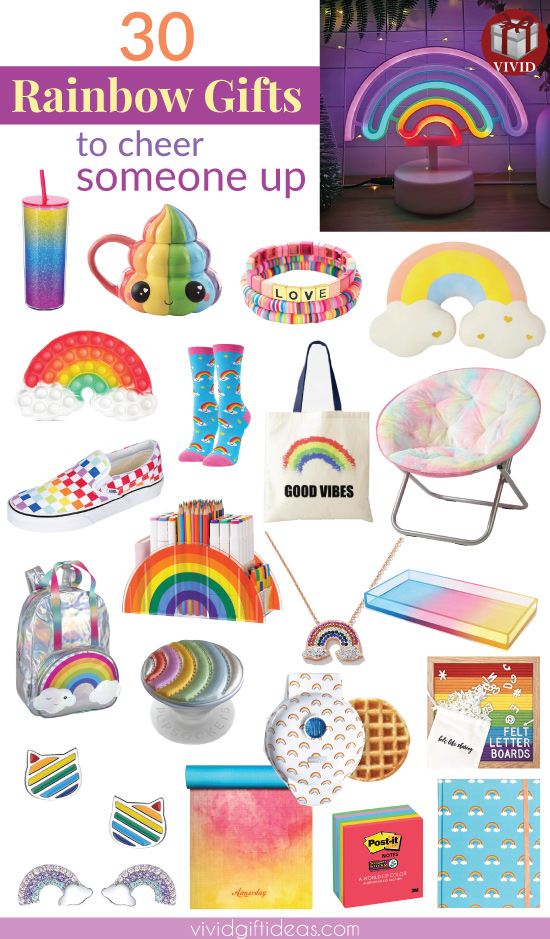 Gift Ideas by Color
All Gift Guides | Black | Black & White | Gold | Green | Mint Green | Pink | Pastel | Purple | Red | Rainbow | Yellow