See our favorite yellow gifts for your friends and family.
To most people, yellow brings to mind images of summertime, sunshine, and all things bright and delightful! If you know someone who loves the color yellow, finding the right gift means choosing something that will bring a smile. The color yellow symbolizes joy, hope, and happiness, and that's exactly what you'll find in this list of twenty of the best yellow-themed gift ideas.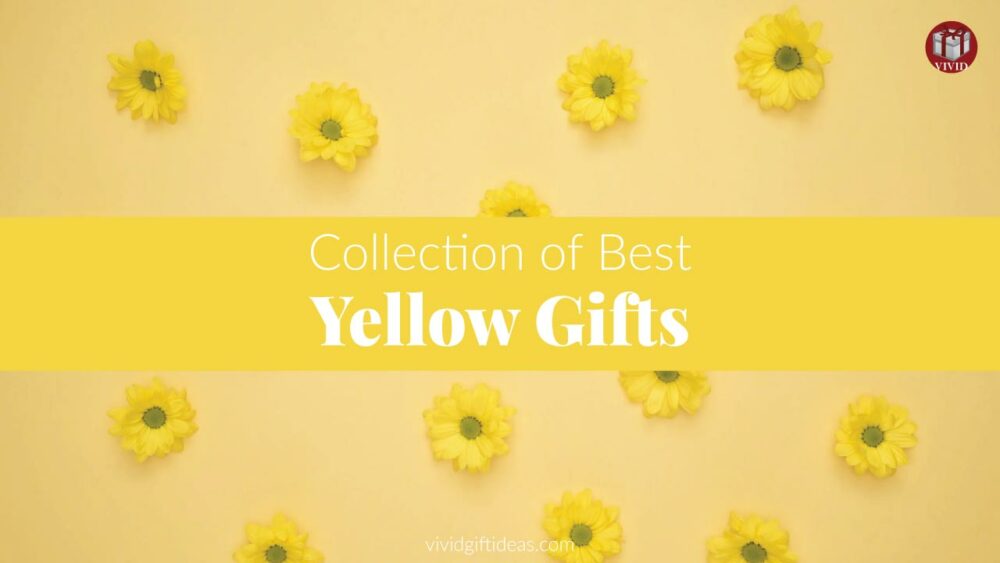 Yellow Themed Gifts
1. C.R. Gibson Yellow Leatherette Journal Notebook
A must-have for yellow lovers. The color yellow leads to some good vibes, so why not gift someone this cute leatherette notebook with the message on the front! Perfect for journaling and small enough to carry with you, this stylish pocket notebook features an elastic band closure, a ribbon marker to keep your place, and an interior pocket for extra storage. This notebook is sure to bring good vibes to anyone who needs them!
2. Mustard Yellow Vintage Trunk Luggage Sets
Head towards the golden sunset, and take this vintage luggage set with you! This super classy, antique trunk-style luggage set is a perfect shade of sunflower yellow and features handcrafted stitching for that touch of elegance. This set is certain to make you stand out from the crowd, and the heavy-duty wheels make travel a breeze.
3. Emoji Cushion
One of the best gifts for your friend who is obsessed with the color yellow. Show them how excited you are to have them in your life with this official excited Emoticon cushion! Made from high-quality, lint-free material, this pillow is super soft and perfect for cuddling. This would make a fabulous gift for anyone who needs a big smile and would make any child as excited as the emoji itself!
4. Lemon Shape Mat
When life gives you lemons, make lemonade right? This lemon-shaped microfiber rug makes a great combo gift for someone who loves the color yellow as much as they love lemons! This super-soft rug is designed to be a bathmat and is absorbent and slip-proof. But this lemon-shaped throw rug would look great just about anywhere.
5. Honey Buns Funny Boxers
Hey, guys love the color yellow too! And, any man with a sense of humor would appreciate these funny boxer shorts. Let everyone know that those are your honey buns! You won't go wrong by giving this yellow gift to him.
6. mDesign Plastic Organizer Caddy
Give the gift of organization with this space-saving storage caddy! Designed to be portable and versatile, this caddy tote would be great for makeup, bathroom essentials, or anything you just need a spot for! The built-in wooden handle gives it a touch of class, and the pastel yellow color sets this caddy apart.
7. Sun Neon Sign
Let the sunshine in! This sun-shaped, bright yellow neon light is a one-of-a-kind gift suitable for anyone. It's battery-operated and also features USB charging capabilities. It's non-toxic and crafted from LED and silicon strips, making it safe for use anywhere! This eye-catching neon light would look great on a table or hanging on the wall and will bring some brightness to any space.
8. Yellow Leather Dangle Earrings
True yellow fanatics will jump for joy over these golden earrings! Made from genuine leather with brass hooks and 18K gold plating, these double hoops drop earrings are stunning and unique! Hang a little gold from your earlobes, or gift these earrings to someone in your life who loves yellow as much as you do!
9. CUPSHE Ruffle V Neck Two Piece Bathing Suit
It's an itsy bitsy, teeny weeny, yellow bikini! This yellow plaid patterned two-piece features padded cups for that extra lift and playful ruffles on the top and bottom. Buy it for yourself to make a splash at your next pool party or day at the beach, or gift it to someone else. Maybe just go ahead and buy two so you don't have to share.
10. Lemon Cross-Body Purse
This stunning lemon-shaped cross-body style purse is one of a kind! Carry your love of yellow lemons with you, and look absolutely fabulous doing it! This cross-body bag features an inner zipper bag and an extra-long gold chain strap. It is lightweight, adorable, and would make a wonderful gift for any stylish lady in your life.
11. Hand Shaped Sticky Notes
These aren't your momma's sticky notes! Peel these hand-shaped sticky notes, fold a few fingers down, and leave a message or reminder for yourself, or better yet, for someone else to find! You can make a pointer finger, some rocking horns, or even flip someone the bird! The possibilities are endless.
12. Bee Happy Art Box Sign
Just a friendly reminder from a little buzzing bee to be happy! This yellow-shaded rustic slat wood box sign from the "Primitives" collection by Kathy Slat is a perfect gift to raise someone's spirits. It's designed to stand freely on its own or hang on a wall, and the rustic look gives this little piece of artwork a unique style.
13. Squishy Banana Stress Toy
What goes better with the color yellow than a bunch of bananas? Twelve super-stretch bananas at that! Kids love these sand-filled rubber bananas that can stretch and squash into any shape and then bounce right back! This would be an awesome party or classroom favor or a functional fidget toy for children and adults with sensory issues.
14. Pineapple LED String Lights
Gorgeous doesn't even begin to describe these twinkling pineapple LED lights. Includes two strands of ten sparkling pineapple lights, each strand being sixteen feet long. The strands are flexible and bendable, making these lights extremely flexible for decorating. And they're battery-operated, so you don't need to find an outlet to plug them in!
15. Out of Print Literary and Book Cotton Socks
When you are in love with yellow color, check these socks out…from the library! Not only does everyone love the gift of socks, but these extra unique ones are both yellow and library book-themed! They're sure to make any bookworm happy. A portion of each pair purchased goes to help fund literacy programs and book donations for communities in need worldwide, so you can do some good while you gift!
16. Reversible Bucket Hat
Everyone loves a cute hat, and this reversible yellow bucket hat is definitely cute! The playful white flowers give it a touch of whimsy, or flip it and reverse it for a vibrant yellow sun hat! It's 100% polyester and very lightweight. The bucket-style makes it perfect for summer outings, vacations, or beach days. Keep the sun off your head and look cute at the same time!
17. Lahawaha Yellow Plaid Picnic Blanket
Anyone up for a picnic? This extra-large picnic blanket is the perfect accessory for summer fun. A bright yellow and white checked pattern is a callback to the traditional picnic blanket style, and this one rolls up for easy carry. It's made of three separate layers for ultimate softness and comfort, it's machine washable for easy care and cleaning, and it's big enough to hold up to four adults easily. A yellow-inspired stuff loved by men and women.
18. Skullcandy Push Ultra True Wireless In-Ear Earbuds
For those who's into everything yellow. Take your tunes on the go with these official Skullcandy Push Ultra wireless earbuds! These electric yellow earbuds bring a burst of color to your ears when you're jamming out. They come with their own matching charging case, feature a lightweight microphone for answering calls, and work with Android or IOS phones. The total battery time is 42 hours, so you can keep listening without charging.
19. Travel Cosmetic Toiletry Bag
If you need a yellow-themed gift idea, how about this perfect carry-on makeup bag and organizer. The golden yellow color with a delicate white daisy pattern makes this bag super cute. It's made from imitation leather, is totally waterproof and easy to clean, and provides a perfect place to store makeup, toiletries, or even a camera and electronic accessories that you want to keep with you while traveling.
20. Joules Women's Molly Welly Rain Boot
Let the girls who love yellow make a splash with these Joules Molly Welly rain boots! Perfectly adorable traditional yellow rain boots, adorned with adorable little bumblebees, make these rain boots stylish, functional, and fun. Splash around in the puddles without getting your feet wet! Pair these with a yellow rain slicker for the perfect rainy-day look!
That concludes our list of best yellow themed gifts. Thanks for reading.
Gift Ideas by Color
All Gift Guides | Black | Black & White | Gold | Green | Mint Green | Pink | Pastel | Purple | Red | Rainbow | Yellow