Whether you are going for a short getaway or a business trip, pack like a pro with these awesome weekender bags. These travel bags on Amazon are in the right shapes and sizes to help you travel smoothly without the extra bulkiness. No matter what mode of transport you choose, be it a train, plane, or car, these bags are the perfect fit. Ladies, you don't have to sacrifice style when picking a functional travel weekender bags. We have brought together a list of 28 cute travel-friendly duffles, totes, and backpacks. They are simply stylish and are actually pretty roomy to hold all your stuff for a short trip. Don't let your bag weigh you down when you are escaping for the vacay. Let these awesome weekenders be your best companion for the upcoming adventures!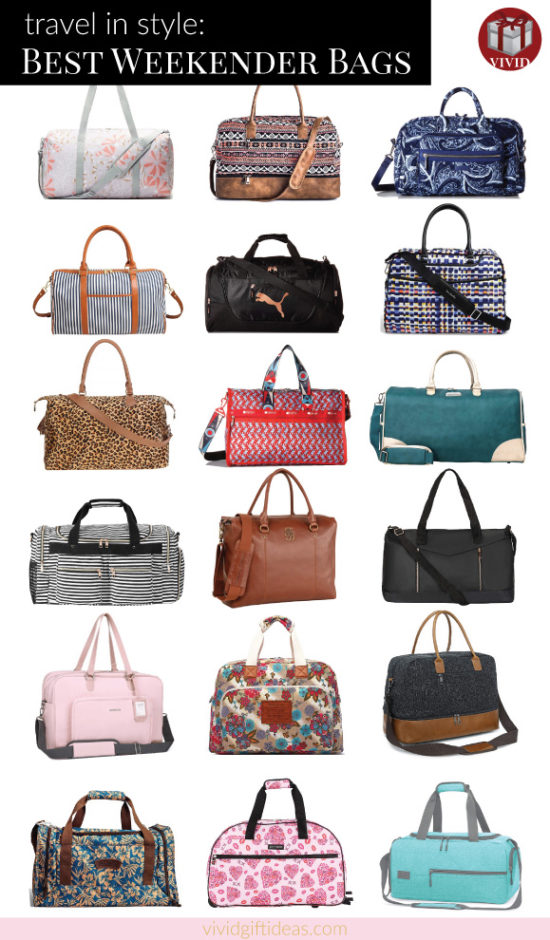 Best Weekender Bags Under $30
Let's begin with some money-saving pieces. If you don't want to spend big on a travel bag, these 8 cheap weekender bags on Amazon work well for people on a low budget.
1. Jadyn B Gray Floral Travel Duffel
For less than $30, you can get this beautiful floral weekender to travel in style. It has a large side pocket for storing your shoes, an easy-access front pocket, and a zipper pocket on the inside.
2. BAOSHA Women Canvas Holdalls Weekender Bag
Yes, we love navy stripes. This large overnight bag is made of durable canvas with faux leather accents. It has one zipper pocket and two small pockets on the inside.
3. DALIX Striped Monogrammed Tote
If you want your bag to be extra special, customize it with your initial. This heavy-duty, personalized monogrammed tote is roomy enough to fit your clothes, skincare, and other travel essentials.
4. Zoeshop Laptop Travel Daypack
We love the thoughtful design of this backpack. It has multiple spacious compartments with practical inner pockets for separate storage. The zipper pockets, mesh pockets, and small pockets in different sizes allow travelers to organize their stuff. Also, it is built with a USB charging port at the side to offer a convenient charging for your electronic devices.
5. PUMA Women's Evercat Candidate Duffel
If you are looking for something with an athletic feel, this is a fantastic choice below $30. Not only is this duffle is cheap, the extra soft material is also pretty durable.
6. Malirona Canvas Carry On Travel Duffel 
We love the Japanese kimono aesthetic of the material. This bag makes for a cute weekend accessory.
7. Suruid Pastel Pink Duffel Bag 
For the girlie girl who loves pink. This water-resistant pink duffel has multiple pockets and compartments to keep your stuff organized. What we love most is the separate wet and dry compartments for our wet swimsuits/ sweaty clothes.
8. Margaritaville Blu Hibiscus Gym Bag
We adore the tropical design of this overnight bag. It has a moisture-resistant interior, a ventilated side pocket, and a detachable shoulder strap.
9. Fordicher Foldable Travel Duffle Bag
This nylon elephant weekender bag fits quite a lot of stuff. It is water resistant, lightweight, and sturdy. This bag can be neatly folded into a really small size for easy storage. It also comes in other charming print options like butterflies, llama, rose, owls, and cactus for succulent lovers.
10. MarsBro Water Resistant Weekender Bag
One roomy main compartment for your clothes, towels, and other stuff. One shoe compartment with a ventilated air hole. One front zipper pocket for keys, phone, and small accessories. One internal pocket to hold valuables. One side pocket for the water bottle, shampoo, and skincare.
A cheap sky blue bag for a short vacation, gym, hiking, and camping.
Stylish Weekender Bags
Next, let's move on to pricier, fancier weekender bags you can find on Amazon.
11. Vera Bradley Women's Softside Weekender Travel Bag
Talk about a trendy piece that combines functionality with fashionable design, this travel bag by Vera Bradley is the perfect match for frequent travelers. It features a well-thought design with multiple storage pockets, adequate size, dual carry handles with a trolley sleeve to help make traveling a breeze.
12. LeSportsac Classic Medium Weekender
Get ready for an exciting weekend with this stunning red weekender by LeSportsac. It is made with its heritage ripstop nylon fabric that is light, sturdy, and full of vivid colors.
13. TUMI Voyageur Just In Case Backpack
A gorgeous floral backpack with best in class functionality. It is lightweight and versatile. This nylon backpack can be folded flat for easy storage.
14. Nicole Miller New York Designer Duffel Bag Collection
If you prefer a retro style, this unique teal weekender is ideal. Plus, its textured faux leather has that luxurious feel of a high-end product. If teal is not your color, it has other color options like cream, navy, and black.
15. MICHAEL Michael Kors Nylon Kelsey Large Backpack
The appeal of minimalism — classy black x gold detailing. This is a cool-looking travel backpack perfect for the fashionistas, business professionals, and students.
16. Herschel Mica Travel Totes
This orange tote has a simple and modern look that will go well with your beach outfits. It is well made, huge, and versatile. It even has extended handles that allow it to be comfortably worn on the shoulder.
17. Betsey Johnson Designer Carry On Luggage Collection
Don't worry if you hate to carry a heavy load. Get this wheeled duffel, pull out the handle and let it roll. The lightweight construction and softside design makes it fit easily into tight space and overhead bin.
18. Tommy Bahama Large Weekend Overnight Duffel 
This brown clamshell duffel makes sure you look chic and professional for your business trip.
19. Vera Bradley Women's Signature Cotton Compact Weekender Bag
We love everything about this bag. Its signature quilted cotton is light, the pattern is so pretty, and the size is just right for a weekend trip.
20. Kenneth Cole Reaction Dot Matrix Polyester Travel Tote
If you can't resist polka dots, get this lovely travel tote by Kenneth Cole Reaction. It is made of ultra-light material with protective metal feet on the bottom to keep the bag standing upright. The front exterior pocket includes multiple organizational pockets like card slots, pen holders, and open pockets. Also, it has a padded interior pocket that fits most laptops and tablets.
Travel Weekender Bags For Her
21. MyMealivos Canvas Carry On Bag
This carry-on satchel bag received more than 500 positive reviews from Amazon customers. Most people are surprised by its space, sturdiness, and the bottom shoe compartment.
This backpack is popular for its easy-access top opening and the fun colors. The shock-absorbing padded back and adjustable straps help ease the burden of a full bag load when traveling. It also has two big side pockets for water bottles and generous size to accommodate a laptop, books, clothes, and more.
For anyone who is obsessed with organizing. Pack like a queen with this structured bag. It can fully open down in the middle like a suitcase for easy packing. Feature: One front pocket, one back pocket, two side pockets, and two separate zones for storing your travel necessities.
24. XinblueCo Leopard Weekender Bag
Ready for a wild adventure? Get this leopard-print bag to store all your travel gears.
25. BLUBOON Weekender Overnight Duffel Bag for Women 
A tough canvas overnight bag made for wear and tear. Timeless stripes pattern, large capacity, useful storage pockets, and a separate shoe compartment. You will keep everything so organized.
26. CAMTOP Weekender Travel Tote
If the funky pattern, bold design is not your cups of tea. This handsome piece with a very roomy interior and a separate compartment for shoes is what you need for when you are on the go.
27. Lily & Drew Carry On Weekender Shoulder Bag
The colorful doodle art design will bring some excitement to your getaway. It comes in different patterns like autumn rose, blue leaf, and vintage Aztec.
28. Dolce Vita Women's Overnight Carry-On Bag
A minimalist weekender designed to fit the overhead compartment. Features solid black color with rose gold zippers. This bag is sleek, practical, and it costs only $30.
Related Articles: