Here are the hottest gifts in red color for someone you care in your life. This list got you covered in everything red, whether you are looking for something to surprise your bae, friends, or family.
Gifts that are in Red
The color red reminds us of romance, passion, love, and all things lovely and sweet. If you're looking for the perfect gift to say, "I love you," then it's got to be red, right? So, if you need a gift idea that fits any of these categories, we've got a list of 24 of the best red gifts.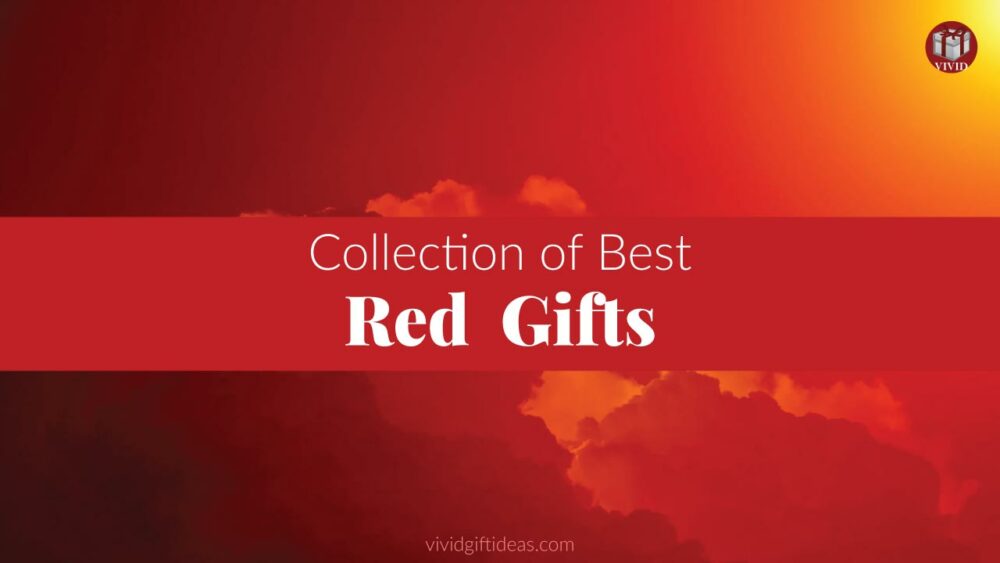 All Things Red
1. Nostalgia Retro Coffee Maker
Brew up something fabulous with this retro bright red coffee maker! This nostalgic coffee maker looks like it came directly from the past and should be sitting in a cute little diner somewhere. But it would look amazing in someone's kitchen. It has a retro look, but it's fitted with the newest technology, including a delay timer, pause and serve, and automatic shut-off functions.
2. Red Lips Pillow
Why don't you give someone a kiss? This red, lip-shaped throw is a perfect accent piece for any room in the house. It's covered in a soft, pet-friendly polyester that's designed to feel just like velvet, and the pillowcase is machine washable for easy care.
3. Red Flapover Crossbody Bag
Nothing says high fashion more than a vibrant red handbag. And this one is designed to help you stand out from the crowd. With a double compartment design and a large flapover, gold-toned hardware for that touch of class, and an adjustable shoulder strap, this crossbody bag is everything you could want in a functional fashion accessory. It is definitely a must-have for red lovers.
4. Betsey Johnson Rose Dangle Earrings
For women who love the color red. Earrings are a great way to accessorize an outfit, and these rose-shaped dangle earrings by Betsey Johnson would add some dazzle to any ensemble. The detail is amazing, from the pink rose drop embellished with delicate stone accents, and iridescent stones added to the wires give it an extra special touch of color!
5. The Book Bookends
Do you have a bookworm in your life? Then they're going to love this pair of awesome bookends! Designed in a bright red color, and with a unique metal design that screams "book," these metal bookends are a must-have for any serious book collector.
They feature padded, non-skid bases and four non-scratching pads on the bottom, so they stay in place and won't damage your shelving.
6. Victrola Vintage Record Player
This is the perfect gift in red loved by both men and women. Nowadays, everyone wants to take their tunes on the go, and with this vintage record player from Victrola, you can do just that!
Housed in an adorable vintage-style suitcase, this 3-speed turntable features Bluetooth capability, built-in speakers, line inputs for connecting other audio devices, and a headphone jack. This portable record player has everything you need to take your music anywhere.
7. Red Serving Tray
Serve up some serious style with this bright red serving tray! This would make a great housewarming gift or perfect for someone who loves to entertain. The polished gold accent handles give it a level of elegance and class. This tray would look great on a coffee table, in the kitchen, or even in the bath area to store toiletries and perfumes!
8. Polaroid Originals Instant Camera
This Polaroid Originals Now I-type instant camera is the perfect gift for any shutterbug! Never miss another moment with this easy-to-use, point-and-shoot design. It features auto-focus, double exposure, and a self-timer so you can get in the shot too! The bright red and white design is fun too!
9. American Tourister Belle Voyage Softside Luggage
A stylish red-colored gift for the travelers in your life. Never travel with old, boring luggage again. This gorgeous, vibrant red carry-on by American Tourister is sure to turn heads on any runway. Carry it by the convenient handle or roll it with you with easy, multi-directional spinner wheels. The sleek design and rose gold accents will fit right in with first-class.
10. Kate Spade Vegan Leather Luggage Tag
While you're spicing up your luggage game, keep it going with the addition of this fun Kate Spade luggage tag! Made from vegan leather, this luggage tag is a bright red apple with gold accents. It features a sturdy leatherette strap and buckle, an ID holder with paper inserts, and a privacy flap. Never lose your luggage again!
11. Eddie Bauer Men's CirrusLite Down Jacket
When it comes to outerwear, it really doesn't get any better than Eddie Bauer. The man in your life will love this vibrant red, CirrusLite down jacket. It's 100% nylon outside and filled responsible premium down, so it's super warm and insulating. This jacket is a fantastic red gift for men. It is versatile, stylish, and can be worn around town or on an overnight camping trip or adventure!
12. Victorinox Swiss Army Multi-Tool
Never get stuck without the tool you need again! This Swiss army multi-tool by Victorinox is a great gift for the man who has everything! This company has been crafting Swiss Army knives for over a century straight from Switzerland, so this is the real deal. It's made from stainless steel and comes with a lifetime guarantee.
13. Everlast Pro Style Training Gloves
Knock out the competition when you strap on these pro-style training gloves. With a classic, bright red design and the cuff that bears the Everlast logo, everyone will know you mean business when you step into the ring. These gloves feature a patented Thumb-Lok design, have a full-mesh palm for breathability, and are treated to help prevent odor build-up.
14. Urbanista Miami Wireless Headphones
If you love all things red. Vibe in style with these metallic red wireless headphones by Urbanista Miami. Featuring noise-canceling technology, are Bluetooth accessible, and has a playtime of 50 hours nonstop for your listening pleasure. They also feature an on-ear detection, so your music automatically pauses when you remove them and then restarts when you put them back on! And they come with a convenient carry case!
15. Red Apple Shoulder Bag
Be the apple of anyone's eye when you gift them this unique apple-shaped should bag! Made from PU leather, this crossbody bag has a detachable, adjustable strap and a zipper closure with enough space to carry all of your essentials. This design is one of a kind and is sure to be a pleaser for any fashion-forward purse connoisseur.
16. DASH Mini Waffle Maker Machine
Let someone know how much you care with this mini waffle maker that makes delicious heart-shaped waffles! Or use it to make paninis, hash browns, or other easy on-the-go breakfasts and snacks. It's easy to clean, features a non-stick surface, and comes with a recipe guide so you can create tons of yummy snacks!
17. Chic French Beret Hat
Nothing says red quite like strawberries, so combine that with this cute French beret and what do you get? A chance to sweeten yourself up! This adorable strawberry-themed French beret is knitted by hand and crafted from polyester and wool. And it's adjustable so you can get the perfect fit!
18. Strawberry Friendship Bracelets Sets
A small gift in red color that girls adore. Friendship bracelets are always in style, and these ones are a perfectly sweet gift for a best friend or child in your life! They're made from hand-woven rope and metal alloy and come with an adorable strawberry charm. These bracelets are adjustable, so both you and your bestie can wear them everywhere together!
19. Vintage Enameled Trinket Box
Make someone feel like complete royalty when you gift them this vintage enameled trinket box. Made from heavy, adorned in an elegant gold floral pattern, and layered in stunning crystals, this little treasure chest looks like it should belong to a queen! It's lined in soft, blue velvet to protect your treasures, and has two layers for storing all your valuables inside safely.
20. Red Lingerie
If you are looking for a romantic red birthday gift for her. Make it an evening you'll never forget with this bodysuit babydoll lingerie piece in red. Gift it to that special lady in your life, or women can buy it for themselves to wear on special occasions. This bodysuit is super soft and stretchy, so it fits snugly without being uncomfortable. The straps are adjustable, and the lace pattern is flattering so it can be worn with all body types.
21. Ruby Heart Pendant Necklace
Top off that romantic evening by gifting her this ruby heart pendant necklace. This double heart pendant with a sparkling ruby red design definitely says, "I love you," so she will have no doubt. This would also make a great gift for mothers, grandmothers, daughters, best friends, and women born in July (Ruby is the birthstone of July). Pretty much anyone who needs a little love will appreciate this dazzling pendant.
22. Laptop Bag for Women
When red is your favorite color, you can't miss getting red things. Carry all of those essential electronics safely and look great doing it. This deep red laptop bag works great for whatever you need it for. It makes a great briefcase, carrying case, or handbag. And it features three sections, including a padded pocket for a laptop or tablet, a pocket for your mobile phone, and two compartments for storing documents, books, notepads, and more.
23. Assorted Red Stickers
When you are obsessed with red. Say it with a sticker, or fifty! This set of red-themed stickers gives you lots of options for expressing yourself or leaving a little pick-me-up for someone special. There's a little something for everyone in this set. Decorate your phone, laptop, water bottle, or anything else that's just begging for a little customization.
24. Strawberry Pops it Coin Purse
This coin purse is shaped like a strawberry, and it's a Pops It toy at the same time! It's like two gifts in one! This would make a great gift for little ones with busy fingers. Give them a place to store their coins and keep them occupied in the process with this fun sensory toy!
That concludes our list of best red themed gifts. Thanks for reading.
Gift Ideas by Color
All Gift Guides | Black | Black & White | Gold | Green | Mint Green | Pink | Pastel | Purple | Red | Rainbow | Yellow