Celebrate socially distanced Christmas by sending these thoughtful gifts for mom.
This holiday is going to be a special one. Many of us are under coronavirus stay-at-home order or have been advised not to travel across the country so we have to celebrate Christmas at home. Just because we are practicing social distancing and self-quarantine doesn't mean we can't celebrate this special occasion. Whether you are under the same roof as your mom or not, we have brought together 15 quarantine-improving gifts that your mom will love. These long-distance quarantine gifts are thoughtful and practical. They will make stay-at-home time cozier and quarantine period more bearable. Show mom that you care, treat her with a cozy gift, and provide some fun to make her self-isolating days less boring.
Read on to discover best quarantine gifts for Christmas 2020.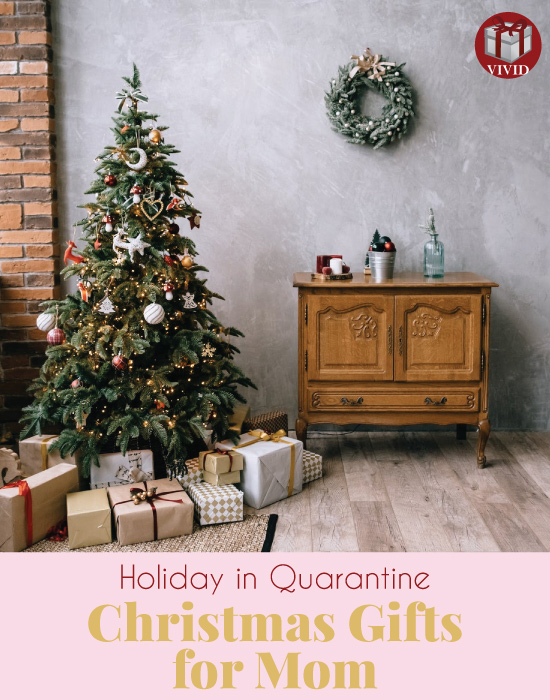 Christmas Gifts for Mom During Quarantine
1. Funny Social Distancing Wine Glass
Make mom smile while we are practicing social distancing and celebrating holidays at home. Toast to more chillaxing time at home, toast to staying healthy, and toast to a special Christmas in quarantine.
2. Knock Knock It's Gonna Be Okay Inner-Truth Journal
A journal to reassure your mom that it's gonna be okay. This journal features over 70 quotes of hopeful wit and playful prompts. It helps to keep the writer sane by clearing her mind and writing down the thoughts.
3. Shymay Women's Kimono Satin Robe
It is also a great idea to send cozy gifts for mom in quarantine. A warm blanket, comfy pajamas, or bedroom slippers are good choices. We recommend this pretty satin robe that feels silky soft and smooth on the skin. Your mom will adore the unique Japanese cranes and flower patterns.
4. I Love You Tea by Par Avion Tea  
Don't fret if you are apart. Send a love message to your tea-loving mom with this black tea crafted with vanilla and sugar hearts.
5. VOBAGA 3-Temperature Coffee Mug Warmer
For the moms who work from home during this coronavirus pandemic. She will thank you for making sure her coffee is always warm while she works on her projects.
Mother's Day Gifts for Quarantine
6. LILY SADO PURE BLISS Berries + White Tea Face Mask
Cozy up and pamper yourself while staying in. Use this detox purifying mask filled with powerful antioxidants from white tea, raspberries, and strawberries. It detoxifies the skin,  rejuvenates your skin cells, and reduce fine lines. A fantastic anti-aging facial mask for a firmer, hydrated, youthful skin.
Deliver a rainbow hug to your mom if you can't hug her in person this holiday.
8. F*ck I'm Bored! Activity Book For Adults
Keep your mom entertained in case she is f*cking bored staying home without a big family reunion this year. This book will keep her mind and hands busy with the many different types of games. It contains inappropriate language and hilarious directions to make her LOL during self-quarantine.
9. Nostalgia Tabletop Popcorn Maker
We probably spend more time watching TV to pass time these days. We can make watching movie at home on Christmas a little special. Set up your "home theater" with proper lighting, dress up in your cutest pajama set, and make popcorn available while you're enjoying your show.
10. Smith & Cult Rose Gold Sparkle Nail Polish
For the mom who loves doing her nails, it can be very frustrating to find all the salons are closed for the time being. Make her feel normal, get her a premium nail polish by Smith & Cult to do her manicure at home. This nail polish glides on smoothly giving your nail a flawless coverage and brilliant shine.
Quarantine Gift Ideas for Mom
11. Salacia Himalayan Salt Lamp
Another great stress-relief gift to help her get through this social distancing, self-isolating period. This globe-shaped salt lamp will make her room cozier. It is crafted with natural pink salt from the Himalayan Mountains. It purifies the air, provides soft lighting to the room, and creates a Zen effect to make you feel calm.
12. Damascus Roses Embossed Rolling Pin
If your mom is a baker, let her get creative in the kitchen. This rolling pin makes sure she rolls out her dough with sophisticated rose print. Bake five-star cookies and pies with just a simple roll action. This baking tool is definitely a winner gift for the bakers in your life.
13. A New Day Motivational Sock
Give mom a cozy gift to make her feel warm at heart when you won't be able to see her in person. This colorful sock will brighten her day and make quarantine suck a little less.
14. Stress Relieving Adult Coloring Book
One of the best relaxation gifts for mom that costs less than $10 — adult coloring book.  We know listening to the pandemic news and spending your whole day alone can be stressful. This Mother's Day, help your mom to release some stress by sending her a coloring book. It is not only an excellent stress reliever, but it is also time-killing and suitable for all ages.
15. JR Watkins Desert Rose Gel Hand Soap
It is important to practice good hygiene to protect ourselves from virus infection. Frequent hand washing is recommended to reduce the risk of infection. A good, non-drying hand soap is one of the best quarantine gifts for mom. This rose-scented hand soap is gentle yet able to cleanses your hands thoroughly. Your mom will definitely love its relaxing scent.
That concludes our list of best gifts for long-distance mom during quarantine. Thanks for reading.
Related Quarantine Gifts for Long-Distance Loved Ones: