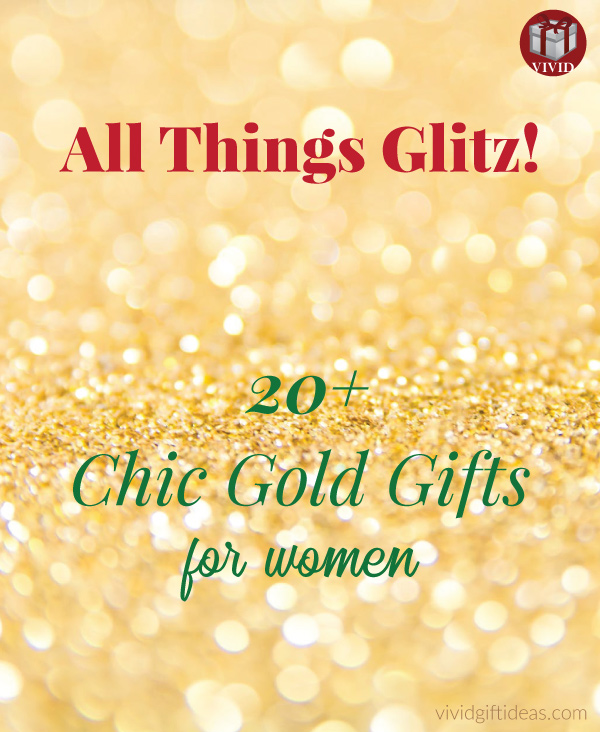 'Tis the season for sparkles, glitz, and all things gold. Here are 23 gold gifts that are perfect for people who love the yellow shine.
From shiny jewelry, fancy décor, stylish fashion pieces, tech items, and more. These are the prettiest prezzies for your mom, girlfriend, wife, BFFs, or any other girl on your list.
Best Gold Color Gifts
These gifts in gold color for women are so mesmerizing. 
When her favorite color is gold. Why not add sophistication to her room with this luxe pineapple that really stands out.
2. Antique Vanity Drawer Set
Gorgeous storage organizer fits for a queen. Display your jewelry, makeup, and skincare elegantly in its spacious compartments. Did we mention that it's gold?
3. Kate Spade Gold Spade Floral Tumbler
Remind her to drink more water. This gold water bottle makes drinking regular water a luxurious experience.
4. Eccolo Dayna Lee Collection Notebook
For the gold lovers to write down her thoughts, jot down some notes, or even doodling if she wishes to.
5. Mermaid Tail Jewelry Dish
Another gold colored gift that she will definitely love. Because a gold mermaid tail is so rare that you would love to put all your precious gems with it.
6. Rhinestone Initial Keychain
When you are looking for a fancy golden gift. What could be better gift than this shiny keychain with her initial topped with a crown?
You won't go wrong with a gift of gold in the form of chic gold office supplies. They are great to add a touch of glam to your coworker's desk
If your sister loves to party, this will be her new favorite. We love its clean line and the trendy style that goes well with anything.
These bling pens will make any writer feels like a royal. If she is a fancy queen, you definitely got to get her these.
10. Antique Gold Makeup Mirror
We are obsessed with this vintage makeup mirror. The royal-feel floral design caught our attention.
Affordable tech gadget for women in chic gold color. This little guy is loud and powerful. It has a long battery life. Easily connect to any Bluetooth device to enjoy your favorite music.
12. Succulent Plant
A realistic succulent in pineapple planter to make her room looks fresher and livelier.
13. Bulldog Clip
Keep all your loose papers in place, the fabulous way.
14. Keds x Kate Spade Glitter Sneakers
This glittering shoe is quite comfy and it helps to polish your look, even the laziest look.
15. ellie byrd Open Heart Necklace
Celebrate the season with love. Give this dainty heart necklace to your mom.
16. Inspirational Quote Bangle
More gold? Yes, you can do this.
17. Eiffel Tower Scissor
For the crafters and DIY project doers. This pair of scissors lets her cut and snip the Parisian way.
18. Ceramic Spoon Rest
Because to cook a pot of flavorful potion, I mean soup, we need to give it more time. Simmer, stir, give it a rest, and continue until it's done.
19. Godinger Marble Coasters Set
We can't stop looking at how they are beautifully trimmed at the edge. These coasters are going to make your guests feel like drinking in a palace.
20. ILNP Empire Holographic Nail Polish
It won't make everything you touch into gold, but it will definitely make you feel glam.
21. DU Care Duo End Makeup Brush Set
These brushes shine so brightly that they will make your morning makeup routine more exciting.
22. Inspirational Wall Art
This contemporary artwork will add style to her room.
23. Leather Tassel Keychain
A fashionable piece for your friend. Make any purse looks fancier.
That's it. The all things gold gift guide for the ladies this Christmas. Thanks for reading.
Remember to follow us on Pinterest for more unique gift ideas for her.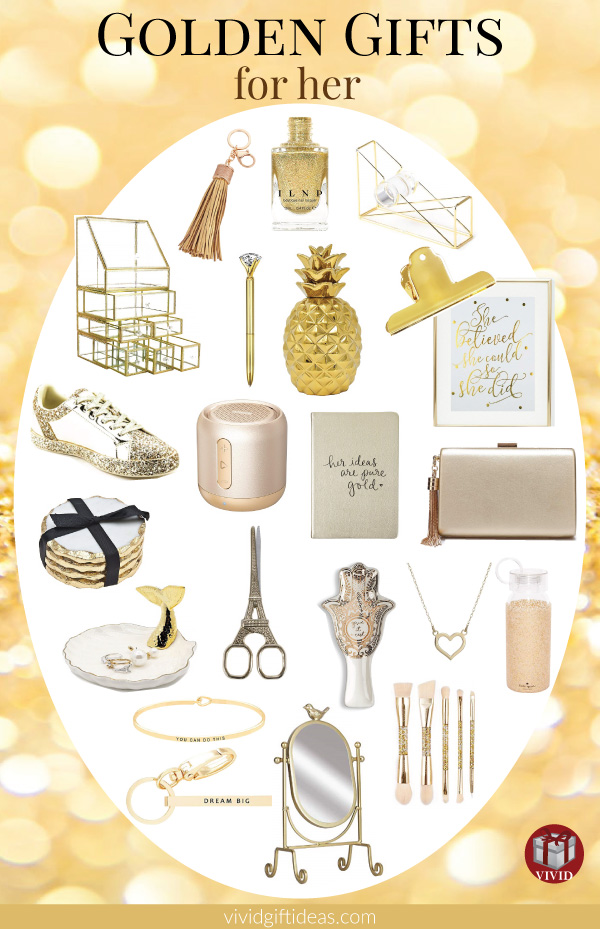 Gift Ideas by Color
All Gift Guides | Black | Black & White | Gold | Green | Mint Green | Pink | Pastel | Purple | Red | Rainbow | Yellow
Articles Related to Gold