Do you know someone who loves all things mint green colored? Do they have a retro style that just begs for a little mint green love? Don't worry! We've got you covered with this list of twenty-five mint colored gifts!
Gifts for Mint Green Lovers
1. Impala Quad Skate Skates
Give her a mint green gift in the form of retro skates. Flash back to the good old days when you lace up this pair of Impala roller-skates! These adorable quad skates are crafted from the highest quality components, so you get comfort combined with performance on the streets or the rink.
Featuring aluminum alloy trucks and baseplate, nylon core wheels, and a handy brake stopper, these stylish skates will make you the queen of the roller rink!
2. Lucky Cat Coffee Mug
This happy friend is ready with a smile whenever you need one. Bring some luck to your day when you sip your favorite beverage from this whimsical Lucky Cat coffee mug! It comes equipped with a lid and a built-in ceramic infuser. Cat lovers and coffee aficionados alike are going to love this mug, and of course it's the perfect gift for mint green lovers. 
3. EaseGave Women's Briefcase Tote
Here's something thoughtful for the professional woman or college student who is on her way up in the world. This beautiful mint green briefcase is fashionable and functional, the best of both worlds. It features a classic satchel design, gold accents, and an embossed logo. It has a multi-turn lock and a zipper for extra security and is the perfect way to carry your laptop, tablet, or anything else you might need.
4. Boss Lady Spiral Notebook
Whether that lady in charge of everything is obsessed with mint color or not, this notebook by Sweet Water Decor will be useful to her. It features a cover that is soft-hued mint green with gold foil details.
This is a gift that lets everyone know who runs things. And as an extra bonus, Sweet Water Décor is a woman-owned company with the goal to motivate and inspire all women to live their dreams!
5. iLuv TS100 Sports Wireless Earbuds
If mint green is your favorite color, you don't want to miss out on upgrading your listening experience with these wireless sport earbuds by iLuv. The color is unique, and they come with a charging case so you can take them on the go. They have a built-in microphone, and are waterproof, and are compatible with both Apple and Android products.
You will never have to worry about your earbuds slipping out again because these TS100 sport buds feature flexible silicone ear hooks that conform to the shape of your ear, making these perfect for use during workouts, exercise, or rigorous sports activities.
6. Mint Green Refrigerator
This is perfect for someone who doesn't want to leave the garage to grab a cold one. The Galanz mini refrigerator has a retro design that would make a wonderful accent piece for any room in the house! It's high efficiency and low energy consumption, so it makes perfect sense too. The sleek retro design features an adjustable temperature dial and has a removable slide-out shelf so you can customize the space requirements for your needs.
(If you love things that are in mint green, remember to check out these mint green kitchen accessories great for adding some retro vibes to your space.)
7. Allegra K Floral Chiffon Dress
Here's another gift in mint green color for the lady in your life. This floral printed dress is sure to make her feel fancy-free and beautiful. It is fully lined and features a classic baby-doll style lace-up front that's just too cute! Softness, elegance, and flow all come together to make this darling dress.
8. Juliette Enamel Huggie Hoop Earrings
Here's a small mint green stuff that women love. Nothing says femininity better than a classic pair of hoop earrings, and these huggie hoops add an urban twist to the traditional hoop design. Give these elegant hoops to the lady in your life for a definite win. They're 14K gold plated and sterling silver and feature a smooth enamel coating that really pops. The great part about a pair of hoops is that you can dress them up or down depending on the occasion and they will still look great.
9. Fujifilm Instax Mini 11 Instant Camera
Never miss another moment with the Fujifilm Instax Mini 11 instant camera! This is a great prezzie for any budding photographer, or just to capture those extra special family memories or special occasions. This compact, lightweight camera comes equipped with top-of-the-line technology, like automatic shutter speed selection and one-touch selfie mode.
10. Philip Whitney Trinket Box
How about a product that makes a stylish statement and offers a place to store all of your treasures! A unique trinket and jewelry box is so useful that any lady would love. This one features a classic mirror design, a soft mint color, and gold accents that would add an elegant touch to any space.
11. Library Book Card Socks
Check out these adorable mint-green theme socks! Designed to look like an old-fashioned book jacket just like you would check out from the library, these socks are perfect for librarians or any bibliophile! And they're made from cotton, polyester, and spandex, so they're sure to keep your feet warm, comfortable, and cozy. Plus, every purchase helps fund literacy programs and book donations for in-need communities around the world!
12. Dandelion Wishes Scented Candle
We all know that candle is a good gift to give for different giftee and on any occasion. This pretty little candle is perfect for decorating any room. Designed with a soft color palette and whimsical dandelion artwork, it will fill your room with fresh scent to calm down the body and soul.
13. Felt Letter Décor Board
This felt letter board is the complete package! It comes with a wooden easel for easy display, and a letter board with over 690 pre-cut letters, including small and large letters, cursive words, emojis, and more. And you get the super valuable wooden sorting tray so you can keep your letters organized for easy access.
14. Desk Protector Pad
Add a little mint green to make your workspace looks fresher. Get this desk mat to protect your desk surface from scratches, stains, spills, and heat. It's double-sided with two different shades of green to give you the option to customize your color. And you don't need to add a mouse pad because the desk pad acts as one already.
15. Cactus Storage Holder
No more clutter on your desk when you have this cactus pen holder. It is perfect to hold your pencils, pens, markers, and other office accessories. This cactus holder comes in a set of two so you can save the other one for storing makeup brushes.
16. Victorious Twill Jogger Pants
Men can also enjoy mint green stuff! Give him a gift to help him kick back in style with these twill joggers. They are made from cotton spandex fabric, making them stretchy for maximum comfort. They also feature a drawstring closure, so they'll be the perfect fit any time. This pair of pants gives him an extra reason to want to snuggle with you, so you can't go wrong!
17. Neff Daily Heather Beanie Hat
You can't go wrong with a brand-new hat! This super-soft beanie hat is sure to please and makes a great gift for men or women. This cool beanie hat has a ribbed-knit design, and features the Neff logo for authenticity. This is a gift that checks all the boxes; it's warm, comfortable, stylish, and fun!
18. Mini Twin Bell Alarm Clock
This charming little alarm clock makes sure you wake up on time every morning. We love its retro style with large numbers that are easy to read. It is also non-ticking and the alarm sounds loud enough for heavy sleepers and even people with mild loss hearing.
19. Dash Stand Mixer
For the aspiring chefs to bake up a little love. Mix it up with this cute little stand mixer by Dash! It's crafted with a vintage mint green look and shiny silver highlights for that retro look that anyone is sure to love. It's designed to be lightweight, compact, and portable, has six speed settings, and a revolving bowl for better mixing.
20. Storage Dresser
This dresser is sure to please the people who love mint green color. Help them to stay organized and add style to their room. This two-drawer storage dresser works great as a bedside table because it has a wooden top and a reinforced base, making it super sturdy and durable. Or use it in the closet or bathroom for extra storage wherever you need it!
21. Motivational Quote Tumbler
Everyone needs a little inspiration from time to time, and when you give someone this steel tumbler with the phrase "you got this" engraved on the front, they can take their motivation on the go! It comes packed in a nice box so it's perfect for gifting on any occasion but would work especially well for graduations or special occasions that deserve that little bit of positive thinking. The tumbler is stainless steel, BPA-free, and features double-walled vacuum insulation to keep your drink hot or cold for the long haul.
22. Vanity Makeup Mirror
When you are into everything mint green. Let your inner light shine on with this tri-fold lighted vanity makeup mirror! It features 21 LED lights, three magnification levels with touch screen dimming, and three mirror panels to provide a wide viewing angle for perfect makeup application even in dark or dim environments. The trifold design lets you fold it closed for safe and compact storage, and it's designed with a beautiful cover in your favorite shade.
23. Urban Shop Mint Saucer Chair
This faux fur saucer chair is going to be the most sought-after seat in the house. A saucer chair is designed to fit your body like a hug, and this one features a gorgeous color that will go well with any room décor. The sturdy metal frame adds an extra touch of class, and the seat is covered in super soft faux fur for extra coziness and comfort.
24. Jewelkeeper Porcelain Tea Set
Let's have a tea party with your little girls. This tea set is made of real porcelain that's safe for use with real food and drinks. It includes a teapot, creamer, sugar bowl, saucers, and teacups for four.
25. Wristlet Keychain Bracelet Wallet
Here's an inexpensive but thoughtful stuff for her who has everything. This adorable wristlet keychain is multifunctional and matching! It features a silicone beaded bracelet, matching tassel, and a bangle-designed card holder. Keep your keys, cards, and accessories all in one place and look super cute doing it!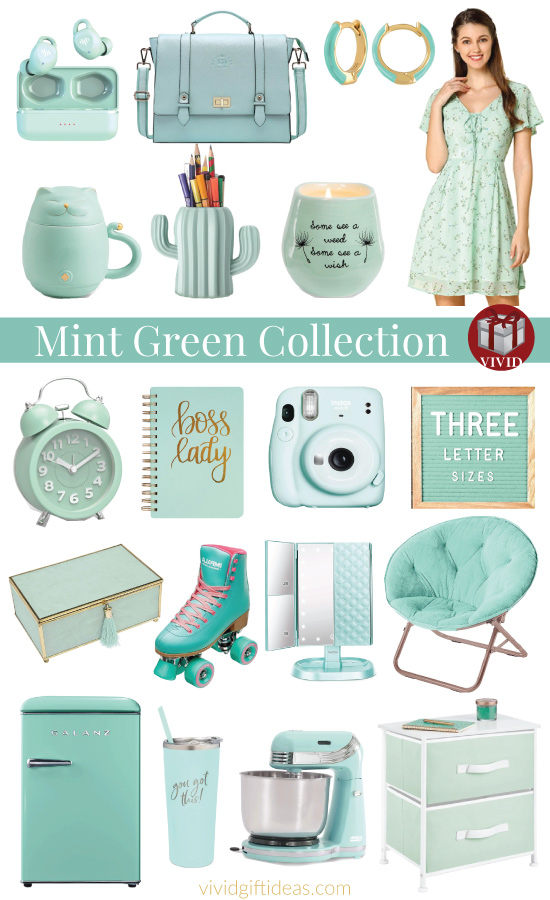 Other Mint Green Stuff You Might Love:
Gift Ideas by Color
All Gift Guides | Black | Black & White | Gold | Green | Mint Green | Pink | Pastel | Purple | Red | Rainbow | Yellow