Find the perfect 40th birthday gifts for women. We have handpicked a collection of 15 thoughtful and unique gifts for the 40 years old. These brilliant ideas gonna make her 40th a birthday to remember!
Scroll down to discover now!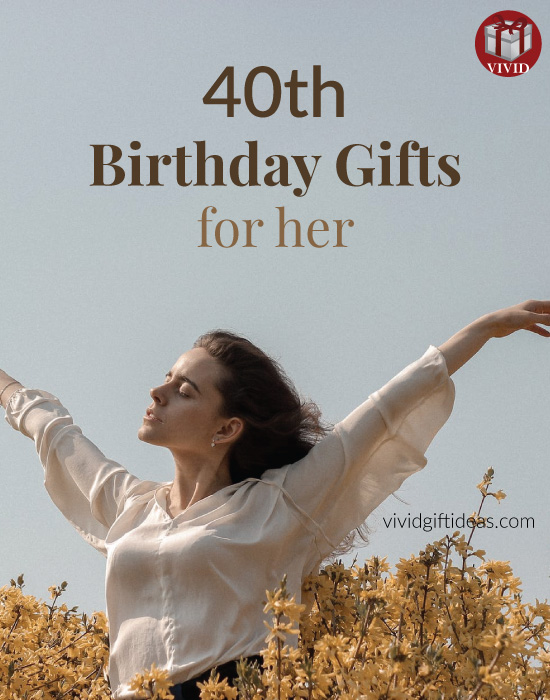 40th Birthday Gift Ideas For Women
Beautiful wine glass to show how fabulous 40 can be. A simple and perfect birthday gift for her who is turning 40.
2. Jewelry
Forty is the new awesome. Gift her with pretty jewelry on her special day.
This is a meaningful present to celebrate for big 4-0. This bracelet is designed with 40 gold beads to represent 40 amazing years.
And yes, she is 40 AF! Get this cute bracelet for your special friend who's turning 40 this year.
A fun book for the birthday girl. This book is filled with cute illustrations and funny questions and answers regarding turning into a 40 year old. It is definitely hilarious and entertaining. A great small gift to make her smile.
A pretty bag in pink even a mature woman like her can use to work, shopping and more. This tote features Vera Bradley's colorful and fun floral design. It is roomy and sturdy. This bag is made from 100% cotton that is light, stylish and comfortable to carry around.
Stunning gold camera for her to shoot and print out photo instantly. Sleek design, handy, fun to use. This instant camera makes one of the best 40th birthday gifts that she will actually use.
Something funny to make her LOL. This big capacity ceramic mug is perfect for morning coffee. It reads "It took 40 years to become this awesome and almost perfect".
There's a saying that goes "Every time a woman turns 40, a cougar is born." Get this stylish robe to let your still young, middle aged lady to rock on when lounging at night.
Add some contemporary glamour to her vanity table. An elegant-looking and functional storage to store her jewelries, accessories, makeup, and more.
This countertop storage features four drawers and the open top section is designed with 16 slots in different sizes.
Stay golden even when you have reached the age of 40. This gold journal is perfect for the thinkers, writers, and women who love jotting everything down. It features a shimmering gold faux leather cover with a motivational quote embossed in white.
An extra sparkly crown necklace for the birthday queen because she rules!
This beautiful watch in rose gold will keep her on time as she ages elegantly. The wine-color dial carries the meaning of "age like a fine wine".
Who says girls in their forties can't have a pink tea set. Why not get this charming tea set to celebrate her fortieth birthday? We love everything about this tea set; the lovely pink color, vintage roses design with polka dotes, and also the gold trim. Ladies, let's enjoy your afternoon tea like a queen!
Lovely jewelry tree that women will definitely appreciate. The birds and branches are crafted beautifully. They are solid and functional to hang necklaces, earrings, bracelets and more.
She's the queen of damn near everything. It took her 40 years to look this good and she is still young to party but old enough to know better.
For her who loves cooking — a bright yellow apron printed with an eye-catching statement to inspire.
Proper skincare is another wonderful birthday gift for 40 years old women. This facial cleansing brush is an excellent choice. It has soft bristles to deeply cleanse, purifies and renew skin. Use it daily to achieve smooth and youthful appearance.
That concludes our list of best 40th birthday gifts for her. Thanks for reading!
Follow us on Pinterest!
More 40th Birthday Gifts For Her: