Glam up your workspace with these fabulous golden desk accessories and office supplies.
We adults spend most of our waking hours in our office doing some serious business. When we think of serious business, most of us will think serious business = we must have conventional, plain-looking working space, right? No, it doesn't have to be that way. If something shiny and stylish makes you happy, why not dress up your desk with something gold in color?
I've rounded up a collection of cute gold office supplies, accessories, and stationery in this article. If you are a student who who loves all things gold, you don't want to miss getting these school supplies in gold.
Add some gold touches for a fabulous workspace, scroll down to discover now!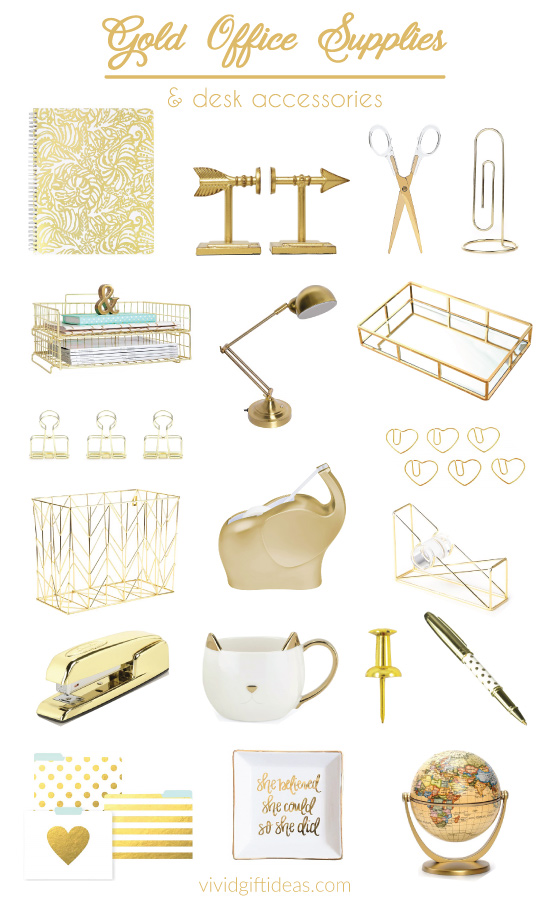 Gold Office Stationery, Desk Accessories, and Other Office Supplies
Check out these gold stationery supply products below.
If you want a professional-looking desk with hues of gold, you should get this luxe organizer tray. It is useful to store office supplies and small items. It offers a stylish space to keep your desk clutter free.
2. Jumbo Paperclip Memo Holder
If you like gold desk accessories that are cute-looking and functional, this is the one you should get. This super large sized paper clip is an eye-catching decor for the desk. It holds memos, bills, and letters in a fun way.
Girls, go get this stylish tape dispenser if you love acrylic clear & gold office supplies.
Because we heart cute little gold stationery.
Add a little rustic gold to make your workspace looks more sophisticated. Place this pair of arrow bookends against your favorite books. Its unique design makes it seems like it is piercing through a row of books.
6. Gold Stapler
This shiny gold stapler is another must-have for students and office workers. It is one of the best office supplies in shiny gold color on this list.
If you want your work desk to be in a gold theme, you can spray paint your existing desk lamp with gold. Or you can get this energy-saving LED lamp in a clean, classy design. This lamp has a flexible neck and a dimmable option to give you warm lighting for reading and working.
8. Inspirational Ceramic Dish Tray
Because the clean, white and gold design of this dish matches well with other chic office decorations you have.
9. Metal Hanging File Desk Organizer
This wire basket provides a space-saving storage solution for your workspace. You can mount it on the wall or place it on top of your desk to keep your files, papers, and magazines.
10. Lilly Pulitzer Beach Haven Large Notebook
Because your ideas are pure gold. This gorgeous notebook by Lilly Pulitzer is perfect for you to write down your brilliant thoughts.
Hold all the loose papers tightly together with flair.
A pair of pretty scissors to decorate your desk. It is sharp-looking and it is also sharp for cutting. An excellent addition to your stylish office supplies collection.
To store all your important documents with style. This sturdy and functional organizer has a beautiful gold finish for a chic look.
14. Sakura Gelly Roll Metallic Gold Gel Pen
If you adore everything gold, this set of metallic gold pens will definitely make you happy.
15. Gold Elephant Tape Dispenser
Who doesn't love to have a lucky gold elephant sitting on her desk?
(If you love elephant, don't miss out on these 32 Unique Gifts for Elephant Lovers.)
And here are some lovely folders to accessorize your desk.
Let your phone rest in gold while you are working.
18. Gold Tack Pins
Add a little pop of gold to brighten up your whole bulletin board.
19. Geographic Map Desktop Globe
This antique-style mini globe is one of the best gold office decoration under $15. It is good-looking and the small size fits nicely on any desk.
20. Kate Spade Gold Dots Ballpoint Pen
Kate Spade office supplies are famous for its playful glam style. This elegant pen lets you write like a boss.
21. Cat Mug 
This mug is to die for if you are a cat lover. Sipping your morning coffee with it will definitely make you feline good. A must-have white and gold office supplies for cat lovers. See more cat coffee mugs.
That concludes our list of 20+ Gold Office Supplies. Thanks for reading.
School Supplies and Office Supplies