Make your life more exciting by getting yourself some floral stationery. The next time you're shopping for school supplies or office supplies, be sure to add something floral to the lineup. If you aren't sure what to buy, these floral supplies below will help provide some ideas.
There's something intriguing about floral patterns and motifs. Perhaps it has something to do with what inspired these beautiful patterns — flowers and other floras. Flowers come in various forms, colors, and sizes. But they share a few things in common, they are lively, colorful, and beautiful. Looking at some flowers can make you feel more alive and happier. Now wouldn't it be nice if you can bring some of that energy to the classroom or your workplace? One way to do that is by getting yourself some lovely floral stationery and organizers.
Floral School Supplies and Office Stationery
Check out this list of aesthetically-pleasing floral stationery and see if any of them fit your school supplies or office supplies collection.
Besides offices, these floral products are suitable for elementary school, middle school, high school, and college.
1. Yellow Roses Composition Notebook
Write down your notes and homework in this vintage style floral composition notebook. It is a standard college-ruled notebook perfect for students. This soft cover notebook is beautiful and inexpensive. It is one of the must-have floral school supplies to get this year.
Hold your loose papers together with the help from these charming binder clips. You will definitely love the colorful floral pattern and the rose gold accent.
3. Studio Oh! Secret Garden Paper Pen Set
Cute pens are definitely in our back to school shopping list. This set of six pens is not just pretty to look at, they are comfortable to hold and smooth to write.
4. Graphique Watercolor Floral File Folder Set
Bring in the cheerful garden mood to your desk. Use these floral paper folders to organize your documents.
5. Vera Bradley Pretty Posies Clipboard Folio
This is a versatile 2-in-1 folio with a sleek clipboard front. Features an interior pocket for loose papers, a pen loop, and a legal notepad. This folio has Vera Bradley's signature elegant floral design on the front and on the inside too. Check out this post for more cute Vera Bradley school supplies like this clipboard.
Get a planner to help you to plan your schedule. This undated planner has double sided tear-off pages for you to write down to-do lists, notes, and ideas. It also has sections to track your exercise, meals, and water intake.
7. Crystal Flower Ballpoint Pens
We don't want to go back to school with boring standard school supplies. We want these gorgeous pens to brighten up our desk.
8. Tervis Floral Bouquet Tumbler 
Bring your favorite drink wherever you go and enjoy sipping it from time to time. This double walled vacuum insulated tumbler keeps beverages hot and cold for hours. The vibrant flower design matches well with other floral school supplies you have.
9. Kenox Canvas Flowers School Backpack
We definitely need a good-looking floral backpack to pack up all our unique floral school supplies. This canvas backpack is roomy, stylish, and functional. It is great for school and traveling.
10. Bloom Daily Collapsible Desk Organizer
Give your organization some flair with this vintage floral holder. It is super cute and very sturdy. Great for storing folders, papers, magazines, and anything else.
11. Peter Pauper Yellow Flowers Journal
Another must-have floral school supplies — a sweet floral journal notebook for you to write down your thoughts and personal reflection.
12. Rifle Paper Co. "Let's Do This" Notepad
An adorable floral desk accessory we don't want to miss. Let's write down our to-do stuff on this gorgeous note sheet and check it off upon completion.
13. Floral Garland Wreath Self-Stick Notes
Flowers make us happy, so they will surely remind us better when we use these floral sticky notes to write down important stuff.
Keep all your writing utensils and bullet journal supplies in one place. This floral pencil case has two compartments with elastic pen loops and zipper pockets for organizing your pencils, pens, markers, notepad, and other stationery supplies.
15. Make It Happen: Floral Notebook
A pink floral notebook for your creative ideas. This notebook is wide ruled.
(Read here if you love Pink School Supplies)
A chic designer pen for modern students. This is a black ink pen with stylus tip on the other end. We simply love the vivid floral design on its metal body. Be sure to check out our Kate Spade New York school supplies article if you like this kind of design.
17. Nine West Floral Dial Strap Watch
Spread a little flowery cheer to your wrist. Wear this floral watch by Betsey Johnson. We love the dainty floral pattern and the fun color combination.
18. PraxxisPro Bluebell & Dandelion Staplers
These floral staplers are mini, strong, and handy. It has built-in staple remover and the size is great for packing in a school bag. They come in a set of two. You can leave one at home and another one for school.
19. Floral Washi Masking Tape Set
Spread the garden cheer to your journal, arts and crafts projects. A set of ten light and waterproof tapes to decorate your school stuff.
Place this box of 250 delicately designed floral note cards on the desk for you to jot down notes and reminders.
21. Toplive Floral Padfolio Case 
A useful padfolio folder to keep your work organized. It is handcrafted with feminine-looking floral fabric, durable PU leather, and magnetic closure. This floral padfolio case is equipped with a tablet sleeve, a clipboard, a pencil holder, storage pockets, card holders, and an earphone organizer.
Follow us on Pinterest for more cute school supplies.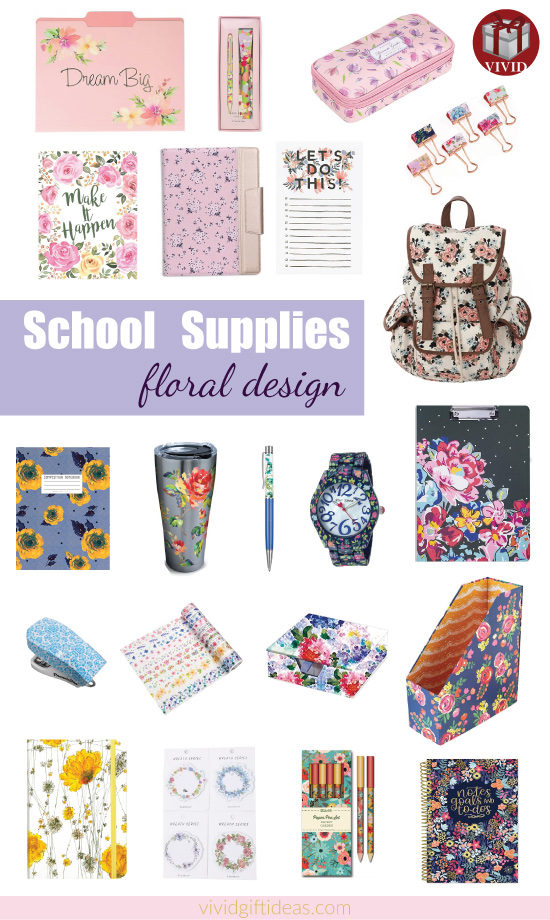 So what do you think of these cute floral school supplies? Did you find anything you're going to buy? If you're looking for more cute ideas for office supplies / school supplies, be sure to check out these cool ideas below.
School Supplies and Office Supplies
All School Supplies articles.