The popular Disney's animated film, Frozen, is coming back big this November. Fans around the world can't wait to see Queen Elsa embarks on a new adventure together with her sister Anna, Kristoff, Olaf, and Sven. This new journey to a deep forest is beyond their homeland of Arendelle. In this journey, they will learn the truth about Arendelle's ancient mystery, discover the origin of Elsa's powers, and save their kingdom.
With the release of Frozen II, the enchanted snow blue color has become the new black. The pretty light blue hues are becoming our new favorite color in everything from food, to attires, accessories, bags, and even home decor. This icy, Frozen blue color makes things look brighter and dreamier. Get yourself a Frozen-inspired blue purse today. We are sure this pastel blue bag will make you look younger and happier. Scroll down to discover a few of our favorites bags in Frozen-inspired icy blue.
Best Light Blue Bags
1. Dasein Tassel Grommets Crossbody Bag
This is the icy blue shade that's in now. We adore the pebble-textured leather and the gold-tone details.
2. SUSU The France Quilted Leather Purse 
For a sweet girl like you. This French design bowler bag is too cute to resist. The quilted leather is so soft to touch and the lovely baby blue color is definitely eye-catching.
3. Kipling Seoul Go Laptop Backpack
Let's go to school in style, the Snow Queen style. This lightweight backpack is not only good-looking, but it's also functional and durable. It is perfect for carrying heavy textbooks, folders, and a laptop around the campus.
4. SteamedBun Ita Japanese Anime Icy Blue Bag
This is a versatile piece where you can use for school, gym, travel, or shopping. Decorate it with enamel pins, insert a cute drawing into the middle of the heart to make it cuter.
5. Milisente Glitter Rhinestone Evening Bag
Snow aqua blue with sparkly rhinestones. This dazzling envelope clutch is something even Queen Elsa would carry.
6. CARIEDO Light Blue Sparkling Clutch
Hit any party like the Snow Queen. This stunning blue clutch will earn you lots of compliments.
A gorgeous shoulder bucket bag crafted with rich leather. Features a classic bucket design, modern metal stud details, with an attractive icy blue hue. It is another must-have light blue bag to add to our closet this season.
8. OURBAG Cute Cat Shoulder Bag
If you are a cat lover who loves Frozen blue shades, this is the purr-fect purse for you.
9. Alyssa Flapover Crossbody Bag
Double compartment, charming light blue, added with a retro flair. This is definitely one of our favorites.
10. SG SUGU Animal Pattern Dome Crossbody Bag
Don't skip the wildness even when you pick a soft, aqua blue bag.
11. Vaschy Sky Blue Mini Backpack 
Light blue mini backpack is definitely chic and on trend now.
A simple and stylish light blue handbag for adult Frozen fans. We love the elegant design and its clean lines. This bag looks professional for work and it also looks fabulous for after-work.
13. MINICAT Light Blue Small Crossbody Bag
A nice little purse perfect for daily use. The sophisticated cut-outs and studs make this bag looks truly unique.
14. Sakroots Large Smartphone Crossbody
If flowers make you happy, get this pretty aqua wristlet today.
15. BOSTANTEN Women Briefcase Laptop Tote
We know adulting is hard. Don't let the dull office life washes away the sparks of your inner princess. Imagine when Queen Elsa goes to work, this is definitely the blue work tote that she will carry.
16. Betsey Johnson Kitsch Blue Retro Radio Shoulder Bag 
Carry a vintage radio wherever you go. This glossy, snow blue shoulder bag is a fashionable piece for any cool girl.
17. WOZEAH Crossbody Cell Phone Purse 
This small bag is perfect for the days when you want to go light. Carry no extra bulkiness. Step out of the house with just your phone, IDs, and cash.
18. Kate Spade New York Addison Leather Crossbody Bag (Light Blue)
Let's end our Frozen-themed icy blue bags collection with this nice designer purse by Kate Spade. It is made of saffiano leather with an adjustable strap, two slip pockets on the inside, and one pocket on the back.
That concludes our list of 18 Frozen-inspired light blue bags and purses for girls of all ages. Don't wait! Grab one of these bags for yourself or your loved one this Christmas.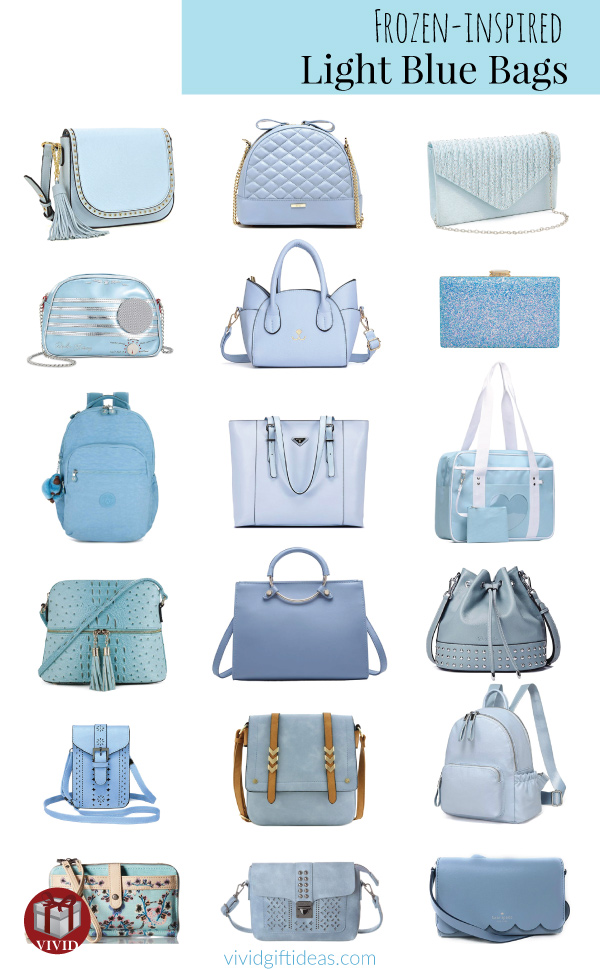 More Cute Bags For Women: