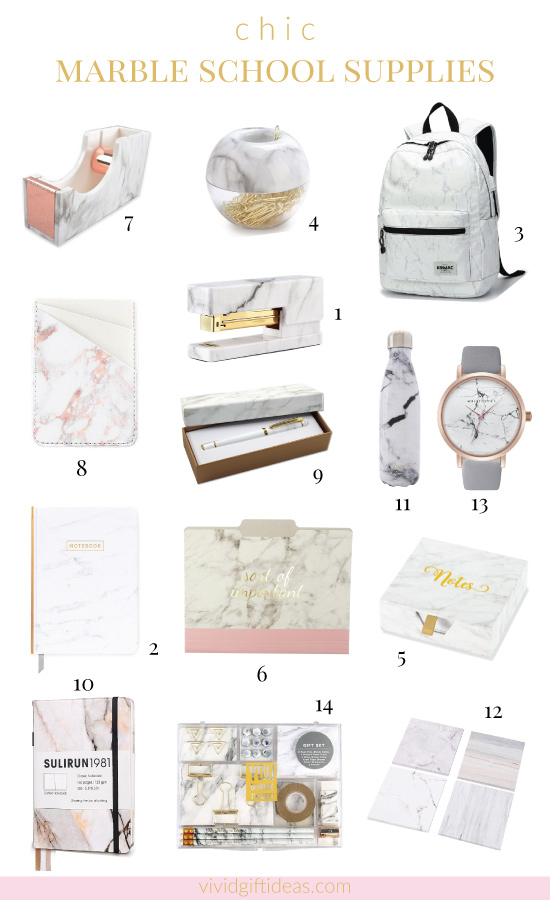 There's something fascinating about marble and things with marble design (e.g. school supplies) that words can't quite describe. Marble patterns are unique and fun to look at. They grab attention without overpowering others. This is why marble goes so well with other hues and colors such as rose gold, gold, and pink.
In this back to school special, you will find the inspo you need when you shop for stylish school supplies (or office supplies). These cute (and marble!) school supplies below will make going to school even more fun.
Marble Back To School Supplies
[toc heading_levels="4″]
Let's get some fancy marble-licious school supplies to make our desk looks pretty. This luxury marble stapler made in a contemporary style is a perfect addition. Heavy duty design, sophisticated look. It is a strong and functional stapler to get your loose papers to stay in tack.
This white marble notebook with metallic gold accent is a must-have marble school essential. 160 lined pages for you to write down notes and other stuff.
If there is no clear bag policy in your school, then this cool-looking marble pattern backpack is definitely a must-get. It has a large capacity, ventilated padding for comfortable back support, and a built-in USB cable with charging port.
Trendy desk accessories in marble theme. These gold paper clips are cute and functional.
Put this marble-patterned memo sheets on your desk to give it a chic, edgy look.
Organize with a marble flair. A pack of nine folders in three lovely designs to sort your papers according to their level of importance.
Another superb marble school supply product for your desk. This tape dispenser looks charming with its white marble design and the rose gold accents. It is a sturdy and functional piece for easy one-handed dispensing.
Get rid of the bulky wallet. Stick this compact card holder on the back of your phone to hold some cash and cards. A practical and convenient phone accessory for girls.
A solid roller ball pen that provides a smooth writing experience. Features an elegant marble design with gold accents. A fine pen for you to write in style.
(Read here for 16 kawaii pens for school)
A premium dotted notebook perfect for bullet journaling. Made of acid-free thick papers that resist bleeding and feathering. The attractive cover is made from faux leather with a sleek touch. This notebook also comes with an inner pocket, three marker ribbons, and a pen loop.
Carry this beautiful marble water bottle to keep you hydrated in school. It is made of a triple-walled, insulated construction to eliminate condensation so they never sweat in your bag.
Stick these marble notes wherever you want to remind yourself of the things to do.
We know watches aren't usually considered school supplies but why limit yourself if you like the marble pattern? You can even accessorize with a pair of marble earrings or marble necklace. We recommend this stylish watch by Wristology. It has a minimalist, modern, and slim design that goes well with any outfit. The combination of marble dial face, rose gold case, and the gray leather band looks elegant. This is a sophisticated-looking watch for women of all ages.
Can't get enough of marble school supplies? You should get this luxurious set of marble themed stationery kit. The box contains stylish paper clips, push pins, binder clips, memo pad, marble pencils, glitter gold washi tape, pencil sharpener, and a matching marble pattern eraser.
School Supplies and Office Supplies