It's a new school year! As you shop for back-to-school supplies and outfits, why not get some gifts for the teachers? Simple, inexpensive gifts will do — it's the thoughts that count! Not sure what gift to get? Check out this list of teacher gift ideas below. These gift ideas for teachers will help the teachers become more productive and effective at teaching.
Back-to-School Teacher Gifts
The perfect teacher appreciation gifts from students, parents, or principal.
1. Undated Academic Year Teacher Planner
Lesson planning is a crucial part of a teacher's job. Help make lesson planning more efficient and fun with this beautiful floral planner. Plan by month, week, and day. Be inspired by the inspirational quotes inside. A terrific floral school supply for teachers.
2. Clipboard with Artistic Flair
Catch the attention of students with this stylish clipboard. The clipboard features attractive abstract art print with a sturdy rose gold clip (see also: rose gold school supplies). Teachers can use it to hold her planned lesson notes and seating chart.
3. Teacher Binder Clip Set
A set of color-coded binder clips to help your teacher to organize the test papers, homework, and documents. A cheap gift for teachers of elementary school, middle school, and high school.
4. Motivational File Folders
Another fantastic teacher gift that teachers really want. A set of unique file folders with vibrant iridescent color and motivational quotes in gold. These folders add a chic touch to the teacher's office.
5. Razzle Dazzle Colored Pencils
Dazzling fun colored pencils for her creative work. These amazing pencils are filled with glittery to make your drawing stands out. 12 brilliant colors for all your coloring needs. Great gift for art & craft teachers.
6. Awesome Message Tape 
The super awesome note roll to dispense sticky notes with ease. Pull, tear and create a note to praise the students for their awesome job done. This is a great teacher gift from the school principal or school administration. This is also fun gift to give to your coworker-teacher friend.
7. Jumbo Paper Clips
Add a pop of color to your teacher's desk. These large-sized paper clips are great for organizing her stacks of loose paper.
8. Post-it Notes
Sticky notes are cheap but tremendously useful gifts for teachers. Use it to make lists, create memos, and decorate the bulletin board. It is one of the best teacher gifts that teachers will appreciate.
9. Inspirational Magnetic Clips
For teachers to clip the task list, artworks, or reminders on the whiteboard.
10. "Teacher aka Educational Rock Star" Travel Mug
A cute travel tumbler for the educational rockstar. The mug features a fun confetti design to brighten up her days in school. Check out this post for more inspirational teacher's coffee mugs like this.
11. Shaping The Future Teacher Tote Bag
A new bag for the new school year. Let your teacher go back to school in style by carrying her teacher stuff in this beautiful tote bag. It is roomy, lightweight, and durable. Perfect for teachers to haul her teaching essentials. Also check out these amazing backpacks for school.
12. Iridescent Pencil Case
A clear pencil case for teachers to keep their school supplies. The see-through design allows the teacher to grab what she needs without having to rummage through the whole case. A fan of bags and pouches with transparent design? Check out these clear backpacks.
13. Sharpie Permanent Markers 
Basic back-to-school supplies that teachers need. A pack of permanent markers in 12 vibrant colors. Use these markers to color-code lesson plan and grade essays. In the hands of a teacher with artistic talent, these markers can work wonders.
14. Assorted Notepads 
Classroom reward is another back to school teacher gift that teachers appreciate. Help him/ her to share the cost of teaching by getting some cute school supplies that children love. Mini notepads are great gifts for students. It is cheap and functional. The kids can use it to write lists and take notes.
15. Cute Cat Sticky Index Tabs
Lovely cat memo flags suitable for school use. These kitties are perfect for marking book pages, separating chapters on textbooks, decorating, or leaving a note. This is a cute gift for teachers who love cats. Also, check out our cat lovers gift guide.
16. Dr. Seuss Assorted Pencils
Pencils are always in short supply. You can get a bunch of pencils with attractive design to make the children happy. We recommend this box of pencils featuring Dr. Seuss's wise words and classic characters to inspire the students.
17. Novelty Crayon Shaped Erasers
These colorful crayon-shaped erasers are another affordable back-to-school gifts you can get for your child's teacher.
18. Teacher Appreciation Keychain
An apple charm keychain to show your appreciation for the teacher's hard work. Pass this small teacher gift to thank your kid's teachers and let them know how much they meant to the kids.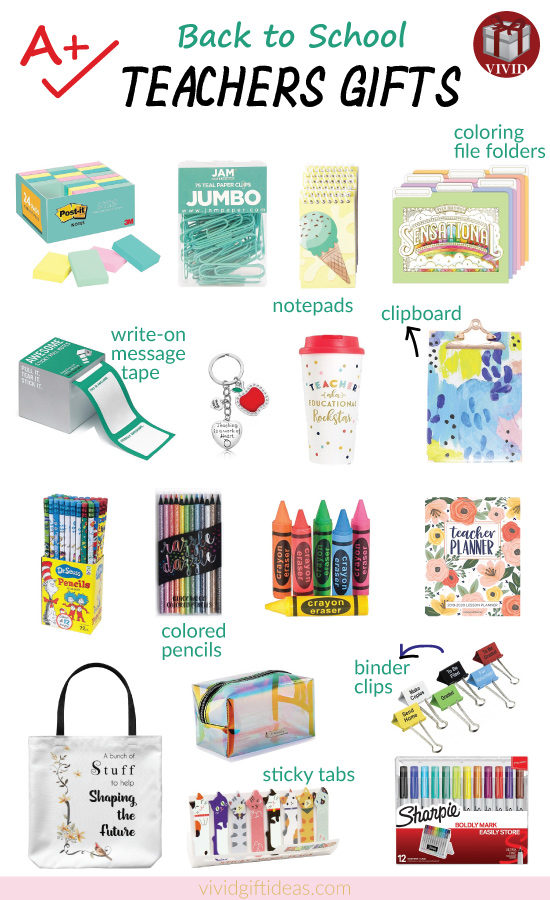 Follow our Teacher Gifts board, and Back-to-School board on Pinterest.
Back-to-School Articles
Gift Ideas for Teacher Articles