Are you looking for unique back-to-school gifts for students? Need some inspirations on what to get for your students at the beginning of the new school year?  Here, we have brought together a list of 14 awesome back-to-school gifts that kids will be thrilled to receive. They are small, fun, and affordable. These gift ideas are loved by both teachers and students!
Scroll down to discover 14 cheap student gifts you can afford to buy in bulk now!
Back-to-School Student Gifts
Small gift ideas from parents or teachers to create buzz for the new school year.
1. Emoji Mini Plush Pillow Keychain
Let's start our list of back to school gifts for students with these fun emoji plush keychain. Comes in 20 assorted faces and expressions. They are cool and fashionable.
(Tips: The emoji stuff is popular among the kids. You can also read here for more emoji school supplies)
2. Dr. Seuss Bookmarks
Colorful bookmarks to inspire the kids. Features famous quote by Dr. Seuss. "Read! You're off to great places!"
3. Animal Finger Puppets Set
Back to school gift for pre-school children. This set of 10 super cute animal finger puppets will surely grab their attention. They are small in size perfect for the little fingers. The material is soft and the design is adorable.
4. Cute Slap Bracelets 
Back to school is more fun with these slap bracelets on your wrist. Bright colors, stylish pattern. Kids will definitely love it!
5. Rainbow Pencils
Teachers, you can also get these awesome rainbow pencils for your students. They have a mixture of 7 colors. Perfect for writing and drawing on scrapbook, journal, notebook, letter and more.
6. Crayola Crayons 
You can also get other school supplies like pencil, eraser, glue and etc. This box of classic crayons by Crayola is a decent choice. Contains 8 basic colors with extra strength and brightness great for coloring.
7. Frozen Treat Erasers
A sweet treat for your students. These erasers are cute school supplies with the design of ice creams with different flavors. They look lovely and adorable.
8. Acrylic Brooches Set
Chic brooches to clip on school bag, clothes and anywhere you like.
9. Assorted Plastic Stamps
Kids will enjoy using these stamps. Comes in a pack of 50. Includes insects, heart, smiley faces, farm animals, and more!
10. Stackable Bear Pencils
Cute back to school supplies under $10. Pack of 24 whimsical pencils with bears.
11. Food / Candy
Food and candies are one of the best back to school gifts for students from teacher. Fun size candies or chocolate are good.
12. Hand Sign Color Pens
Colorful pens that are cute and functional. Vibrant color, cool design. Suitable for middle school and high school students.
13. Nose Pencil Sharpener
Funny back to school gift for students. Nose pencil sharpener that looks gross when you sharpen the pencil. It is like someone is picking his nose. Definitely will become a big hit among the small kids and even the teenagers.
14. Drawstring Bags
These drawstring bags are cheap and nice. They are lightweight and roomy. Kids will definitely love them! By the way, check out these cool school bags if you're shopping for one.
That concludes our list of 14 Awesome Back to School Gifts for Students. Thanks for reading. Have a wonderful school year ahead!
Follow our back-to-school board on Pinterest.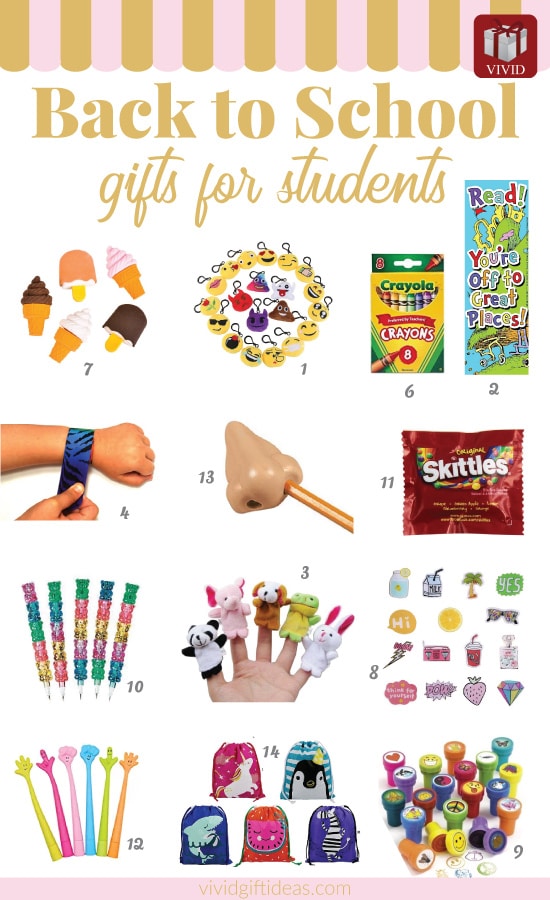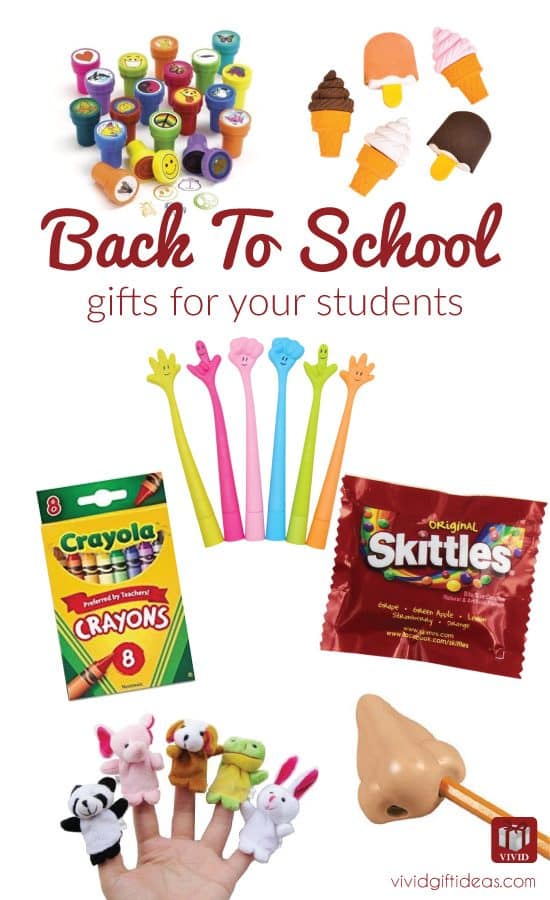 Related Topics
Student Gift Guides
Back-to-School Ideas