We celebrate Teacher Appreciation Week during the first week of May. Looking for perfect appreciation gifts for your favorite teachers? Here are 9 inexpensive and meaningful gift ideas for teachers.
Scroll down to discover our list of best Teacher Appreciation Week gifts.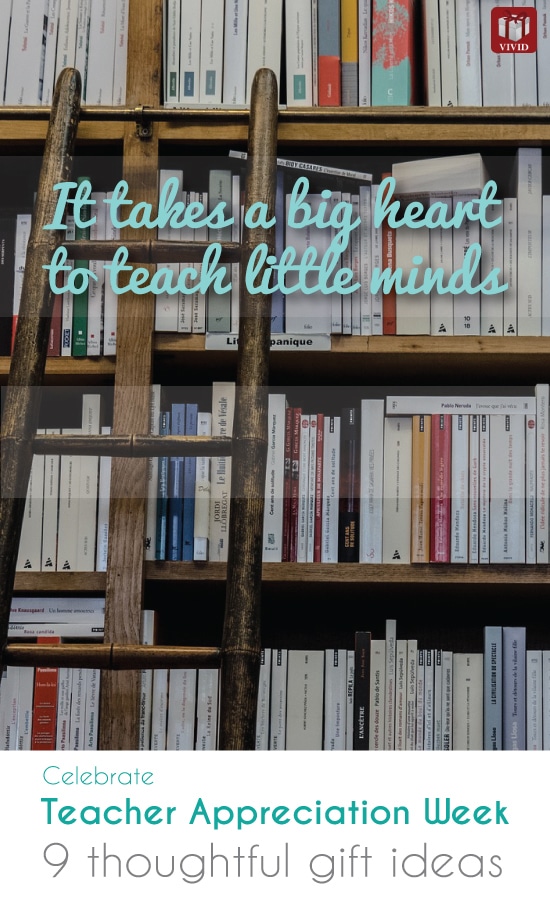 Teacher Appreciation Week Teacher's Gifts
Celebrate teacher's day / week with these appreciation teacher gifts.
1. Teacher Nutritional Facts Mug
Cute mug for your amazing teachers. Made of ceramic, 11-ounce capacity. Gonna be a big hit in the teacher's office!
2. Apple Charm Keychain
Small teacher appreciation gift under $10. Made of solid metal. Sturdy, good-looking and functional.
3. Inspirational Pen Set
On this Teacher Appreciation Week, you can also get this set of 3 pretty pens for your teacher. Lovely colors with motivational quotes. Chic and stylish to write with. See more cute office supplies like these pens.
4. Paper Tantrum Nifty Note Pad
Constantly having to deal with young students that throw tantrum? Lighten up her day with this note pad. It is funny and stress relieving. One of the best gifts for pre-school teachers.
5. A Teacher Box Sign
Beautiful wood sign perfect for every educator. Black and white, distressed paint design. Reads "A teacher takes a hand, opens a mind, touches a heart, shapes the future."
6. Today I Made a Difference
Fantastic book for teachers. Tells inspirational stories about teachers who overcame different obstacles and use their knowledge to make an impact on people's life.
7. Ello Campy Travel Mug
For teachers to enjoy warm beverages when they are on the go. This cool-looking mug combines the vintage aesthetic of a camp cup with modern vacuum insulation. It has a soft touch handle and leak-proof slider lid.
8. Starfish Bottle Stopper
A small and thoughtful gift for teacher who made a difference in your life. Antique copper starfish bottle stopper attached with touching message to show your appreciation.
9. Tree of Life Pendant Necklace
Another good Teacher Appreciation Week gift – Tree of Life necklace. Handcrafted from pewter. It looks unique and attractive.
That concludes our list of good gift ideas for Teacher Appreciation Week. Thanks for reading.
Follow our teacher gifts board and back-to-school board on Pinterest
Teacher Gift Guides