Discover teacher supplies that make teaching more effective. Doing back-to-school shopping to restock your teaching supplies? Get inspiration from this list of cute school supplies! There's stationery, organizers, classroom activities rewards, and much more. These school supplies are excellent back-to-school gifts for the teachers from students, parents, and school administration.
Essential Back-to-School Teacher Supplies
Must-have teaching supplies that will make teaching more effective, and classroom activities more fun.
Cute Office Supplies for Teachers
Below is a list of basic everyday office supplies that'll brighten up a teacher's life. These office essentials are great for teacher's office and classroom.
Add a gold touch to your teacher's desk with this fabulous stapler by Swingline. Its solid build can punch through 20 sheets of paper. Open it up to tack papers to the bulletin boards. Awesome white & gold stationery for teachers.
2. Gold Paper Clips in Magnetic Holder
Don't go back to school with boring stationery supplies. Let's get this stylish marble themed accessory to dress up your desk. This marble beauty is a magnetic holder with 100 pieces of gold paper clips inside. The perfect aesthetic paperclip organizer for teachers and teaching assistants.
3. Lesson Plan Teacher Planner
Teachers need a good planner. It is a helpful teaching tool to plan lessons, track progress with each of the classes, and organize teaching schedules. This undated planner allows teachers to customize the planner according to their school's schedule. Featuring monthly views, weekly planning pages, student information page, important dates spread, and more. A must-have for school teachers to stay organized throughout the year.
Cute back-to-school supplies for teachers who are cat lovers. These kitties will help you hold your notes, photos, artworks, or cards on your cabinet, whiteboard, and any magnetic surface.
5. Pilot FriXion Erasable Highlighters Set
Highlighters are excellent teaching tools. Grade school teachers can use these pretty pastel highlighters to highlight important notes and talking points on their lesson plans. Alternatively, the teachers can also use these highlighters to educate their students by highlighting what they're doing right and what they're doing wrong.
Did we mention that these Pilot highlighters are erasable? You can erase your mistakes without damaging the paper. A must-have school supply product for language teachers — such as English teachers and Spanish teachers. Because they're excellent little helpers in grading essays.
6. Vera Bradley Clipboard Folio
This chic clipboard folio is a functional teacher supply you can't miss. The clipboard front allows you to hold your seating charts and planned lessons. The interior pocket is great for storing extra notes. This clipboard is complete with a refillable notepad and an elastic pen loop to hold your favorite pen. It's a little pricey, but if you're into designer stuff, Vera Bradley's office supplies lineup is quite aesthetic.
Teachers need a lot of sticky notes in different colors and sizes. Sticky notes are not just for reminders, they are also great for writing notes, labels, lists, and as a decoration for the bulletin board. These colorful sticky notes are excellent cheap back-to-school gifts for teachers.
Floral office supplies for teachers. Help her hold the test papers and homework from particular class periods. These sturdy binder clips can also be used for holding photos, resealing bags, and to sort her stacks of loose paper.
9. Teacher Decorative File Folders
Stylish marble back-to-school supplies the teachers will love. These thick paper folders give a modern spin to a teacher's organizing solution. The rose-gold-lettered folders are more than just aesthetic office supplies; they are inspirational and sentimental teacher's essentials that motivate. They come with assorted tabs to help you organize your documents.
10. Tombow TwinTone Marker Set
Colorful, dual-tipped markers for teachers in pre-school, elementary school, middle school, high school, or college. This pack of twelve double-sided markers is perfect for color-coding, writing, decorating, and creating works with attractive colors. Switch between the broad tip and extra-fine tip for a bold or precise design you desire. A fun but inexpensive gift for your favorite teacher.
Back-to-School Classroom Supplies
Here are some cute classroom supplies to make learning more fun.
A rainbow collection of washi tapes to jazz up the bulletin board and decorating the classroom. It comes in 20 vibrant colors to add a little sparkle to your projects. One of the essential classroom supplies for art teachers.
12. Emoji Erasers
Giving a small reward is one of the best motivators for good behavior. You can get these emoji erasers for your students as a reward this school year. They are cute, cheap, and fun. The kids are going to love it for sure. These emoji school supplies are excellent student gifts from teachers.
13. Index Cards
Use index cards to conduct classroom activities, keep notes, and set reminders for yourself. Pastel in color with rounded corners, these index cards are beautiful! The cards come in a natural-colored brown box. Use these index cards to make yourself more productive as a teacher. Give them out as gifts to help your students with their presentations. Inversely, these can be simple teacher gifts from students, other teachers, or parents.
14. Teacher Stamps
Motivational teacher stamps all students love! Students love getting praised by their teachers. This is especially true for students from lower school grades — pre-school, elementary school, and middle school. Dish out some compliments whenever appropriate with the help of these awesome teacher stamps. This set of 30 rubber stamps come with unique compliments such as Great! and Well Done. The encouraging messages on these stamps are great for grading papers and classroom activities.
15. Postcards from Teachers to Students
Reinforce positive classroom behavior with sincere compliments. One great way for teachers to give compliments is by giving the well-behaved students a positive postcard. Let them know why you're proud of them by telling them specifically what they have done right.
These Emoji stickers are one of the best classroom rewards for daycare teachers and school teachers to give out to their young students. Check out our emoji school supplies article for more emoji stuff like this.
Inspirational pencils for teachers and students. These colorful and motivational pencils (topped with eraser) are versatile school supply gifts for both students AND teachers. Their colorful appearance grabs your attention; the motivational phrases on them instantly brighten your day. Some of the positive phrases are Brilliant, Excellent, Well Done, Great Job, Fantastic, Super Star, and You Did It! This inspirational pencil set is a good, inexpensive classroom reward for kids, tweens, and teens.
The basic classroom supplies that art teachers need. These strong scissors easily cut through paper and other craft materials. They have asymmetrical plastic handles suitable for left and right-handed kids.
19. Wireless Speaker
The modern back-to-school supplies for high-school teachers. Teenagers love music. You can get a portable speaker to stream music or sound clips from your phone for effective learning.
Back to School Essentials for Teachers
Essential teacher school supplies for this new school year.
20. Shaping The Future Teacher Tote Bag
Yes, teachers definitely have a bunch of stuff to carry to school every day. Get her this beautiful bag to haul all her teacher supplies in style. It has an elegant floral design perfect for female teachers. More of a backpack person? Check out these cute backpacks that are perfect for school and office.
21. Insulated Thermal Travel Mug
A chic travel mug for teachers. The mug's double-walled design keeps beverages hot for hours. It is a useful daily essential for the teacher when she needs her coffee fix. These inspirational coffee mugs are also great for teachers.
22. Holographic Iridescent Clear Pencil Case
A see-through case for teachers to store their stationery supplies and other small objects. Use it as a pencil case or a pouch for other necessities. By the way, these clear backpacks are pretty cute too. This kind of cheeky pencil cases is the perfect teacher school supply for teacher appreciation.
Always keep wet wipes in hand to prevent germs from spreading among the students.
That concludes our list of Cute School Supplies for Teachers.
Follow our school supplies board on Pinterest.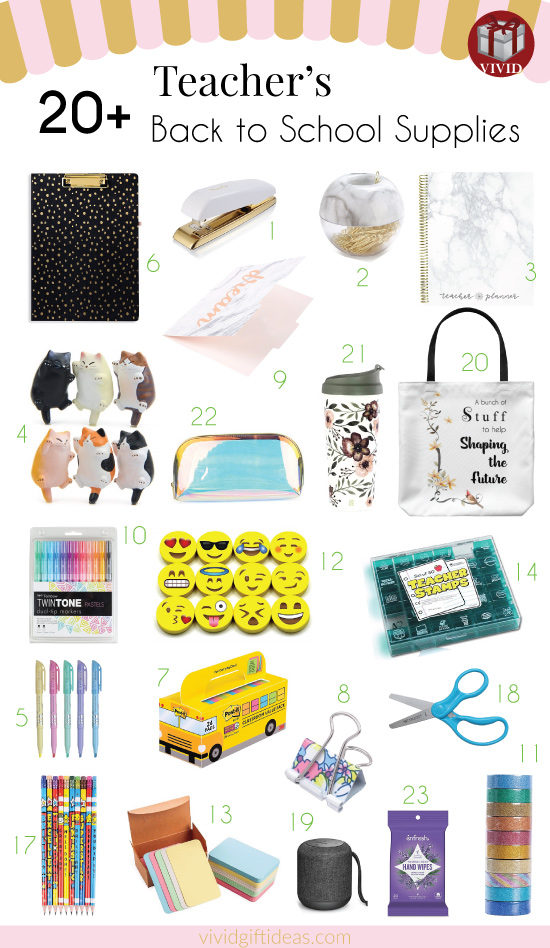 Articles Related to Back to School
Back-to-School Gifts
Back-to-School Supplies
Gift Guides for Teachers