Backpacks are awesome! And cute backpacks are even more so. If you're looking for a new backpack this Back-to-School season or just a new bag to replace your old and worn school bag, here are some backpacks that you'll love! These unique school backpacks are cute, cool, trendy, and fashionable! While we think that these backpacks below are perfect for teenage girls, they will work as great for tween girls, teen boys, and even adults!
Top 15 Cute Teen Backpacks Girls Love
One of the most important parts in back to school shopping — pick a cute backpack to kick off your new school year right. Here's a list of 15 best backpacks for middle school, high school, college, and beyond.
[toc heading_levels="3″]
1. Vera Bradley Backpack with Quilted Design
Teen girls definitely need a cute, fashionable backpack for school. Let's start with this beautiful cotton backpack by Vera Bradley. Features Vera Bradley's signature colorful pattern with sunflower design. This backpack is made from lightweight quilted cotton for the modern students to carry their books, laptop, and school supplies comfortably. Added with two interior slip pockets to keep your tech essentials safe, this bag also has multiple pockets at the front, side, and back for endless organization.
2. Cute Backpack for Lemon Lovers
Leaper Casual Lemon Pattern School Bag
Use this lemon school backpack so that when school life gives you lemon, you can make lemonade.
3. Gamer Girls Must-Have – Nintendo Super Mario Backpack
Slay your new school year with this playful Mario backpack. It is made of sturdy canvas with a padded compartment inside and two side pockets for the water bottle. It is a fun and durable bag for everyday use.
4. Go Retro – Vintage Style Backpack to Complete Your Outfit
We love this girl school backpack because of old-school style and vibrant colors. It gives a vintage flair that we girls adore.
5. Minimalist Black Backpack With Gold Accents
For the fashion lovers — because a minimalist bag won't steal the attention away from your stylish school outfits. This black backpack with gold zippers easily goes well with any outfit. It is lightweight and roomy. Features a wide-mouth top loading design, built-in USB port, and practical pockets inside. Going back-to-school has just become a glamorous affair with the help of this killer school bag.
6. Military Fashion Style Camouflage Backpack
If the girly design is not your thing, go for this camouflage backpack. It is a cool-looking, spacious bag great for high school. Some teenage guys will probably love this design too.
7. Chic Midsize Backpack for School
For teen girls who hate traditional bulky school bags. This NYC cab-inspired backpack will make her happy. It is really cute and useful for storing wallet, notebooks, small school essentials, makeups, and a lunch box.
8. Floral Laptop Backpacks for School – Cute Book Bag For Girls
JanSport student backpack is always on the top of the list of best backpacks for teenage girls. It has a great size to fit all your textbooks, binders, and miscellaneous school supplies. This girl school bag also has a dedicated compartment for laptop. Besides, the mesh pocket and front pocket allow easy-access of smaller items and water bottle. It is a tough backpack by JanSport that can last through your high school year.
9. Cool Attention-Grabbing Backpack with Tie-Dye Motifs
Up your school bag game with this eye-catching tie-dye print backpack. Features durable cotton material, large capacity compartment, comfy padded back panel, and multiple pockets for easy organization.
10. Unique Canvas Backpack With Exotic Pattern
Bohemian Canvas Daypack with USB Charging Port
For her who appreciates exotic pattern. Because this unique print and the black canvas form an appealing high contrast effect.
11. Vintage Floral Classy Teen Girl Backpack
This is a pretty floral backpack for teenage girls. The vintage flowers and aged color caught our attention. What's more? A bunch of pockets in different sizes and plenty of room to haul our belongings.
(Read here if you are into beautiful floral school supplies)
12. Unicorn All-Over Black Backpack – School Bag For Unicorn Lovers
This backpack has unicorns all over it. It is the grown-up-version unicorn backpack perfect for teenage girls. You can fill it with unicorn-themed school supplies to make going back to school more fun.
13. Cool Trendy Laptop Backpacks For The Edgy Girls
A heavy-duty High Sierra backpack with spacious room and multiple organizer pockets perfect for high school. It also has a zippered accessory pocket with USB port, mesh beverage pockets, adjustable side compression straps, and ergonomic shoulder straps with a built-in suspension system.
14. Water-Resistant Large School Backpack – Also Great for Traveling
Opt for this simple rucksack if colorful prints and patterns are not your things. This is an extremely strong backpack made of durable water-repellent fabric with large capacity for your heavy AF school essentials. It is well-made with thoughtful designs and functional features. An awesome backpack perfect for school, traveling, hiking, and cycling.
15. Fashionable School Bookbag Set with Marble Graphic
The marble design gives a trendy feel to this pastel blue backpack. It is well-constructed with a roomy compartment and utility pockets for students to carry their books and essentials for school. It comes with a matching lunch bag and a zippered pouch. Also, don't forget to grab some marble design school supplies to match this bag!
Follow us on Pinterest for Back to School Supplies.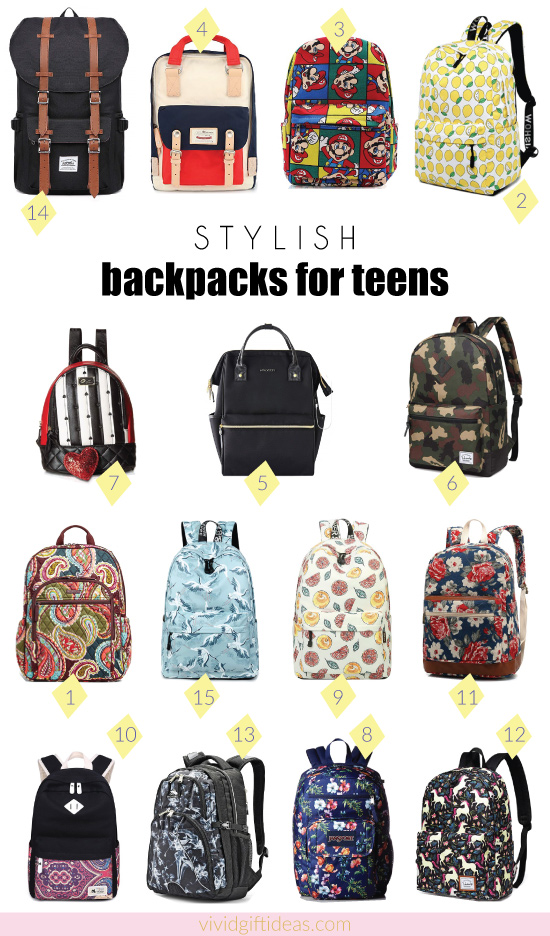 What is Your Favorite Backpack?
Did you find anything interesting from the list of cute backpacks above? Which school bag is your favorite and why?
Cute & Trendy Backpacks To Check Out
Cute School Supplies to Stuff Your Backpack With