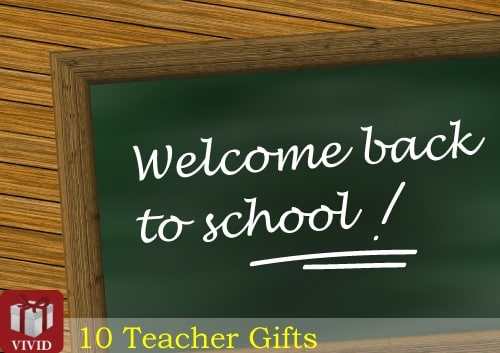 It's the back to school season again. Want to get a gift for your child's teacher? Read here for our list of 10 best back to school teacher gifts. All gifts selected are nice, affordable and useful for teachers. Scroll down to discover more!
First of all, let's start with a big sized bag that is suitable for teacher. This "I teach" tote bag has amazing large capacity that can fit everything she needs for school from laptop, books, to school supplies. It is super durable and strong, can hold heavy content. You can also put in some school supplies and make it a gift for teacher.
The bag says "So, I inspire, manage, coach, engage, solve problems, listen, detect, explore, believe, care, worry, & always make time to laugh with my kids."
Teachers need plenty of school supplies to give their students the best learning experience. This classroom stamp set is great for teacher to grade schoolwork. They are cute and functional. Includes inks and stamps like "Good Job!", "Super Star", "Please correct", "Let's discuss" and more.
Red apple and green apple sticky notes dispenser. Looks attractive and works well. Easy one-hand dispensing. Comes with 3X3 sticky notes. Refillable.
Another wonderful gift for teacher. 9 adorable signs to remind students about classroom rules. Bright colors, whimsy design. Perfect as classroom decoration!
School supplies like pencil, eraser, paper clips, and markers are also highly appreciated by teachers. This pack of crayons is perfect for teachers teaching young kids. 64 rainbow colors. Kids will definitely love them.
Fun-looking caddy carrying 4 removable cups filled with scissors. Easy storing. 24 colorful scissors for both right-handed and left-handed use. Blunt tip, good for kids.
Another school supplies that teachers need. Non-toxic, washable, all-purpose glue safe for kids.
Teachers come in contact with many students. They need hand sanitizer. Wet Ones Antibacterial Hand Wipes will come in handy for him/ her to use in school. Individually packed. Convenient to kill germs and keep hands clean when needed.
Teacher is like an angel who gives students guidance and knowledge. This artsy figurine depicts the greatness of teacher. The figurine has her angel wings spread open and is holding a red apple. Inspiring. It is a beautiful desk decoration.
A cool teacher tumbler for her to drink her favorite coffee every morning. Reads "Teacher: Opening minds, inspiring hearts". Also comes with a card to bless her a great teaching year ahead.
That's our list of 10 Back to School Gifts, specially selected for the teacher of yours/ your child. We are sure your teacher will be glad to receive them!
Like our ideas? Follow us on Pinterest!