Head back to school in style, shop for new supplies that are chic and cool. Top 20 back to school supplies for teens and tweens. Make your friends jealous of your awesome school essentials, stylish backpack, fancy desk accessories and more.
Scroll down to discover now!
Back To School Supplies List – Middle School x High School
Get organized with your schedule with this colorful planner perfect for high school students. Chic cover with unruled daily blocks, notes space, monthly and weekly spreads. It has a great layout and spacious design. A perfect notebook to keep track of a teenager's busy life with style.
Go back to school feeling motivated with this set of 30 lovely pencils in different shades of pink. They are imprinted with inspirational quotes in gold.
And, if you are a pink lover, these pink school supplies will make definitely make your school days a lot sweeter.
Girls, you definitely need to get this Frappuccino to keep yourself hydrated all day. Cute donut design, fun to use. You can even write your name at the back!
A good quality backpack for teenage girls is a must have. You will love this stylish backpack with summer vibes. Fun design, vibrant colors. Features roomy main compartment, padded laptop pocket, a utility pocket at the front, two side pockets to hold the water bottle, and multiple inner pockets. It fits textbooks, laptop, binders, and more school supplies.
A cute book bag that shows your girl power. It features a retro style graphic with an inspirational statement. This tote bag reads "Wink at challenges. I am a strong girl."
For whatever notes you need to make. Write them down and stick on wherever you like. A whimsy way to remind yourself of whatever important task.
Look who's swimming your way, ready to pin your possessions with their distinctive tusks. It is the unicorn of the sea — the adorable narwhal who can add a magical touch to your desk.
Back to school is more exciting with fancy stationeries like marble school supplies. Add a luxurious touch to your study desk with this gold clips in marble holder. It is made of durable steel wire with gold-plating.
Girls who love gold and rose gold accessories will adore these diamond pens. They are gorgeous, slim, and shiny. Perfect for you to write gracefully like a princess!
If you are looking for a really unique back to school supplies, why not get something personalized? This mesh pouch can be customized with your name or message to keep your makeup, hairpins, earbuds, and other small stuff.
This set of three fresh scented body mist makes one of the best back to school gifts for girls. Three different types of scents suitable for teens. They smell lovely, girly, and not overpowering. They are mini in size great for storing in bag and locker. Spritz it and feel refreshed.
Another must-have to help you keep organized with homework and notes. Nine gorgeous folders embellished with gold foils. They are surely good-looking and functional.
Small tech gadget that you will love — coffee shaped storage drive. 32GB storage capacity, high speed transferring rate.
Keep this tin of bandages in the school bag. Cheery lemon print to take your ouch away. A must-have back to school supplies.
Stay hydrated with this beautiful pastel blue tumbler with floating pineapples. Double walled, vacuum insulated to keep your drinks cold or hot for long hours.
You don't wanna miss this cactus desktop organizer that looks stylish and functions well. It is sturdy to hold pens, pencils, markers and more. The two branches are magnetic. You can place paper clips there or hang some stationeries.
These subtly tinted lip balms are another must-have back to school essentials for teen girls. By Nivea. They are moisturizing and soothing. It comes in 4 fruity scents including cherry, strawberry, blackberry and watermelon.
Listen to music like non-ordinary people. This is an awesome elf ear shaped earbuds that let you enjoy music and looking "fairy" good. Excellent sound quality, comfy earpiece, with built-in microphone. You will definitely love it!
18. Outfits for School
Don't forget to prepare some cool outfits for school.
For the nerds, geeks, and any girls who love reading books.
Wear this and be inspired. Work hard towards your goals in this new school year. Be the goal digger that stands out from the crowd.
This statement tee is made from 100% cotton. The font has pink marble pattern detail.
Teenagers need a good antiperspirant to keep up with their active lifestyle. Opt for this natural deodorant with natural botanical formula. It is aluminum free. (Aluminum is known for causing breast cancer). Now you can stay fresh and odor-free all day without risking your health.
Unique alarm clock to help you go back to school on time. It will beep loudly and run away from your nightstand until it is caught. No more running late to school!
That concludes our list of 20 back to school supplies for teens and tweens. Thanks for reading.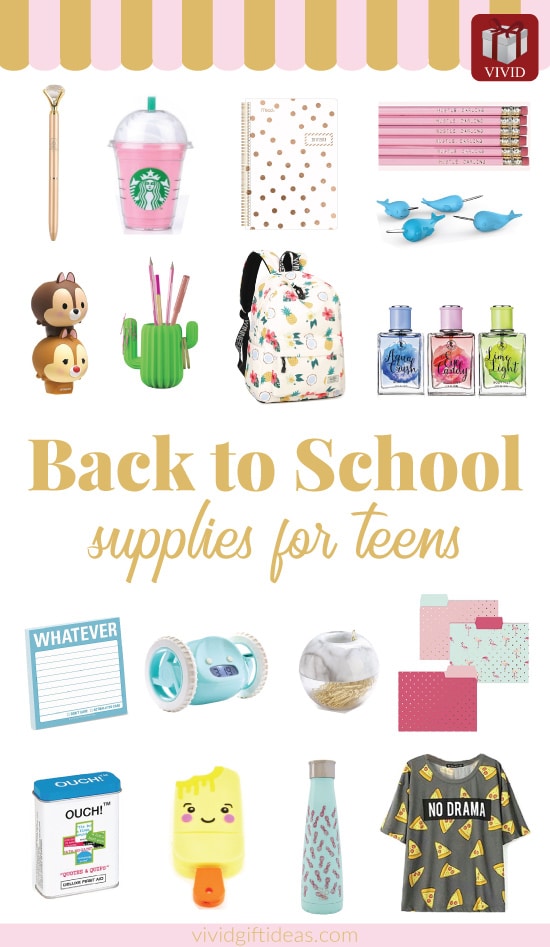 School Supplies and Office Supplies