Giving gifts to your coworkers doesn't have to break your bank. Read here if you are looking for affordable Christmas gifts for coworkers. We have brought together 17 cheap office gifts under $20. These gifts are cool and they look more expensive than they really are. Impress your colleagues with these great finds this holiday.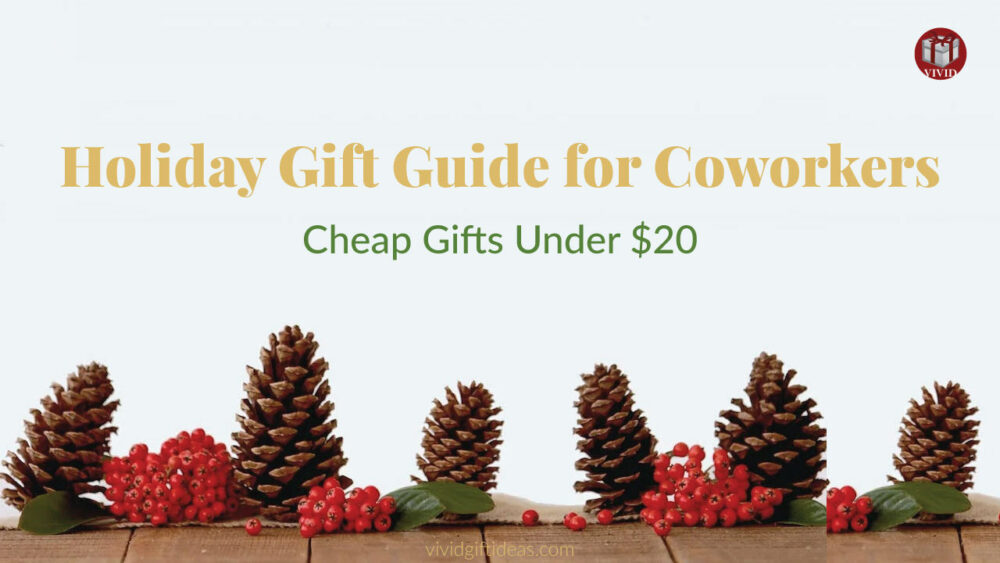 Inexpensive Christmas Gifts for Coworkers Under $20
A cute, small gift for your female co-workers to place her jewelry, office supplies, keys, and other treasures.
2. Pizza Socks
Everybody loves pizza. Treat 'em with a box of pizza this holiday. It is colorful and fun. This sock makes one of the best Secret Santa gifts for coworkers.
Get creative when you want to write down a reminder or important notes.
4. Work Sucks!: An Adult Coloring Book
You are not supposed to complain that your work sucks at the office, but when you go home, you can always get a cheap stress relief therapy by coloring away the stress.
(Discover 10+ Best Funny Adult Coloring Books to Reduce Stress)
5. Personalized Stainless Steel Tumbler
If you have an amazing work buddy who shares fun and laughter with you. Get this special Christmas gift for that favorite co-worker.
5. Motivational Unicorn Sweatshirt
Be sure to get something fun for your co-workers this holiday. Why not get a unicorn sweatshirt? Because unicorns will make adults happy too!
Another good Christmas gift for coworkers that's really affordable — Chic office supplies for the ladies. These pens are so cute, you might end up stealing one for yourself.
8. The Secret Art of Dr. Seuss
Explore and immerse in the colorful world created by Dr. Seuss. 60 whimsical paintings depicting outlandish creatures in otherworldly settings. These artworks are created for Dr. Seuss's own pleasure and never shown to the public. Enjoy the sophisticated style of a dazzling rainbow of hues not seen in his popular books for children.
For the ones who religiously pack a healthy lunch to work every day.
10. Oh, For Fox Sake Wine Glass
When you want to help your co-workers to release some work stress. What's the best thing to do after work? Get a glass of wine to unwind, for fox sake!
A beautiful addition to your colleague's kitchen.
Fancy candles never go wrong for the year-end holiday office gift exchange party.
13. Modern Marble Undated Planner
Welcoming the new year with this stylish planner. It is filled with inspiration artworks to help your employees to get organized with their new schedules.
14. Mini Briefcase Card Holder
The latest, most effective way to get more professional at work — To put a mini briefcase in your regular briefcase.
15. Daisy Mug
A little motivation for your colleagues. These vibrant daisies will surely brighten up her day.
And, you might want to get different funny mugs for a different coworker.
16. Shark Attack Sushi Serving Platter
Serve with this plate for the next party and make your guests LOL.
Brighten up the workspace. Decorate with this healthy fruit, and say bye-bye to the boring pins.
Presenting a big candy cane for the sweet girl in the office.
That concludes our list of best Christmas gifts for coworkers. Thanks for reading and have a happy Christmas!
19. Check out our Pinterest for more creative office gift ideas.
More Holiday Gift Ideas for Co-workers: