What happens when you put emojis in school supplies? Magic. That's what happens.
Are you a big fan of emoji? This school year, let's go back to school with a bunch of emoji school supplies that are cool and cute. Express your mood, say it with emoji whenever you can. Check out the ✏📌🎒📘 in emoji design that will make your friends go 😍😍.
Scroll down to discover 20+ emoji stationery and school supplies you should get for school.
Related: 18 Cool School Supplies for Teens
Cute Products For Emoji School Supplies
Head back to school with these awesome emoji school essentials. Here's a list of super cute emoji stationery, backpack, and other school supplies to express yourself.
No more bad school days when you write using these poop pens. These popular poops look super cute. They glide on smooth on paper. They are gonna be a big hit in school!
A pack of four awesome notebooks to make doing homework more exciting. Each of them has adorable smiley faces. The inside back cover is printed with quick references like multiplication tables, conversion tables, and grammar rules.
A pair of colorful sneakers featuring different smiley faces. Classic design, full canvas upper. Matches well with any school outfits, this pair of shoes looks cool and trendy.
Lip balm is another must-have essential in a school backpack. Moisturize your lips and express how you feel with Minnie Mouse. She has a different expression on each side. Use it and enjoy the nice flavor and pretty soft shine it gives.
Keep this tin of plasters in your school bag in case of emergency. Reach for the multicolored bandage when you have a small cut or blister. Features different emojis to make the ouchies go away.
Wear this pair of adorable socks with your school outfits. It is soft, comfy and fun.
7. Unique Emoji School Backpack
Go back to school in style. Carry your books, school supplies and more in a funky emoji bag. We love the below two designs. The rich colors and cute emojis make the bags stand out.
Write down reminders and important notes on these eye-catching smileys. They have four alternating faces for any mood. Definitely will bring more fun to your school days.
A box of darling binder clips that we love. Assorted design, cute expressions, bright colors. They are made of high-quality steel that is strong to hold the papers together.
Go back to school with unique nail art. Wear emojis on your nails and let your hands do the talking. It sounds really cool, right?
A set of five emoji earbuds to match your school outfits. Each of them has a special facial expression in vivid color. Good sound quality, non-tangle cords.
A set of 48 smiley face push pins that we must add to our school supplies collection. Features durable plastic head and a sharp iron point. Brighten up any locker or cork board.
Stay hydrated, drink lots of water every day from this lovely tumbler. It has a sweet pink design featuring multiple emojis to make your day the best day ever!
We know school life can be dull at times, that is why we must have cute emoji school supplies to make us happy. Get this customizable binder to make going back to school something to smile about. You can personalize the cover and spine to make your notebook distinctly yours.
This binder has sturdy round rings and two pockets at the back for extra storage of unpunched, loose papers.
These colorful pencils are must-have school supplies for kids, tweens and teens. The smiley faces and goofy emojis will instantly put a smile on their face.
16. Emoji Portable Charger
As a modern student whose life depends on electronic devices, it sucks when our devices run out of battery. A nice looking and functional power bank is one of the best back to school gifts every techie student wish to get.
A beautiful zip-around wallet featuring attractive smiley faces. Features 3 full-length compartments, 1 zipper coin bag, 8 card slots and 2 long slots. Fits a cell phone, ID, cards, cash, and more.
A deluxe nail polish set loved by girls of all ages. It contains 18 gorgeous colors to play with. The quick-drying, water-based, non-toxic formula makes it great for kids use.
It is a nail polish that you can peel off without using a polish remover. Simply peel off the dried polish to remove it from nails.
Add a little green to our life. These charming 🌵 cactus pens are perfect school supplies to decorate the study desk.
Girls, let's accessorize with this bracelet. It has ten interchangeable charms that you can slide, remove and change accordingly to your mood of the day.
Set of three paper file folders perfect for school projects. They are expandable to organize even large projects.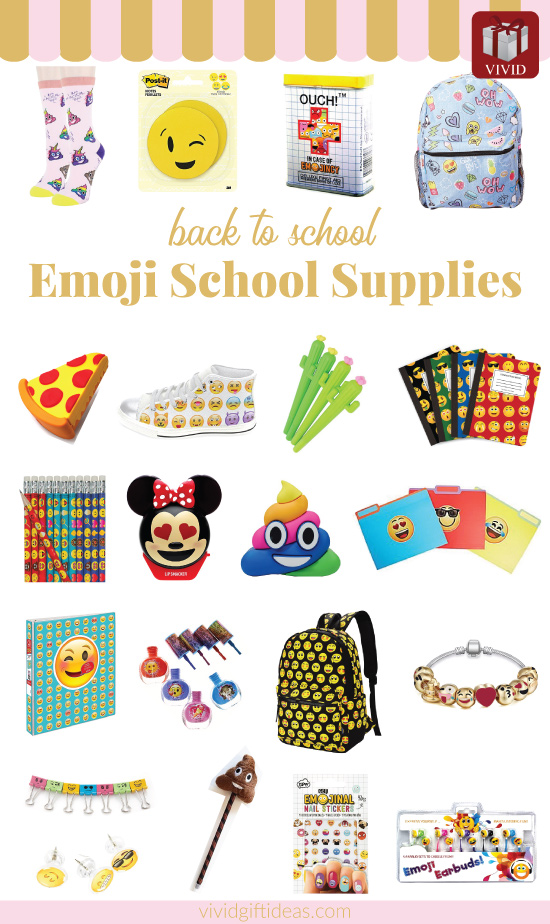 School Supplies and Office Supplies