Elephants are gentle giants loved by many. They symbolize wisdom, strength, patience, and longevity. These largest land animals have close family structures, long-lasting memories, and also high intellect. They are admired by people from many cultures. If you have a friend who loves elephants, or you yourself find elephant-themed stuff irresistible, don't miss out on our list of unique elephant gifts. We have collected 32 awesome elephant-themed gifts from jewelry, home décor, kitchenware, books, to office supplies. They are cute, fun, and also affordable. These gifts are perfect for elephant lovers of all ages from kids, to teens, and adults.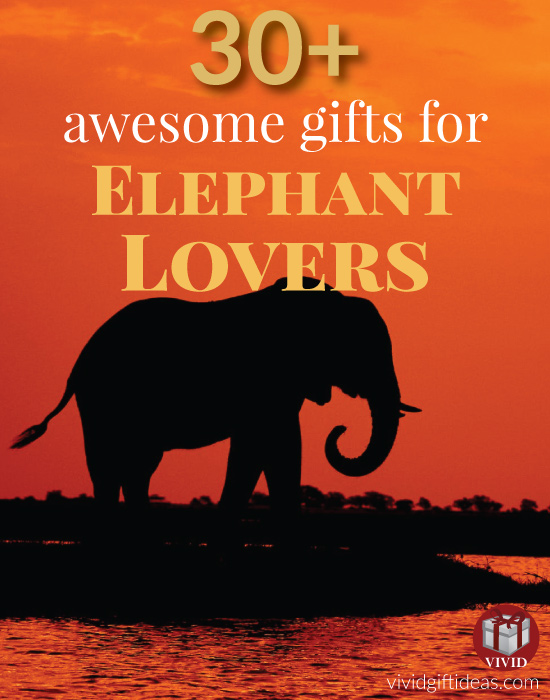 Best Gift Ideas for Elephant Lovers
1. Vintage Elephant Shape Organizer
On special occasion like birthday or Christmas, be sure to get an elephant-themed gift for the elephant lovers in your life. This metal tray is perfect to hold jewelry and small accessories. Its intricate design and antique bronze color will glam up any space.
2. Rose Gold Elephant Earrings
This pair of earrings makes one of the best gifts for girls who love elephants. They are shiny and sweet-looking. Elephant symbolizes good luck in many cultures. Girls, let's wear these elephant earrings and be lucky!
3. Your Argument is Irrelephant Glitter Wine Tumbler
A pretty tumbler added with elephant pun. It will make the wine lovers LOL.
No more misplacing your reading glasses. Let this gentle creature helps you to carry your glasses in place.
In this photo book, you will find more than 100 amazing photos of elephants in different angles, breath-taking close ups, and also with their young ones. This book makes a wonderful elephant gift for men, women, and also kids.
Declutter your home. Store all your knickknacks in this whimsical elephant basket.
7. Initial Elephant Charm Keychain
Give your elephant-loving friend a personalized gift in the form of a beautiful elephant charm keychain with her initial.
Show your support and love to your BFF. This darling elephant will always be "ear for you", just like you are always by her side. This punny mug makes a special gift for best friend.
9. Elephant Lightweight Backpack
Show your love for elephants wherever you go. This backpack is roomy, lightweight, and comfortable to carry to school or travel.
(Read also: 20 Cute Backpacks for Travel, Work, & School)
10. Color Changing Elephant Night Light
An adorable elephant gift for kids. This LED night light keeps your kid company when they sleep. Features soft silicone cover with touch control. Just tap it to change the color.
11. Happiness Elephant Pendant Necklace
Elephants are wondrous creatures that symbolize happiness, strength, and everlasting luck. Give this necklace to your girlfriend, BFFs, sister, or daughter who love elephants. It is an excellent gift that elephant lovers really want.
12. Elephant Shaped Paper Clips
These rose gold and gold elephant clips are coming to keep your papers organized. They are really cute and functional. A must-have desk accessories for students and working adults.
13. Elephant Tea Mug
Tea tastes better in this mug. We love the detailed design completed with eyes, trunk, ears, and feet. You can stash your teabag in its head after you have done steeping your tea.
Elephants, elephants, and more elephants. Be surrounded by your favorite animal at night. This soft cotton pajama makes a fantastic loungewear for girls who admire elephant.
15. VSCO Elephant Stickers Pack
A pack of 50 assorted elephant stickers for people who are obsessed with elephants. They are made of waterproof PVC material great for decorating water bottle, journal, laptop, skateboard, phone, and etc.
(Related article: 20 Unique VSCO Gifts for Girls)
16. Gold Elephant Non-Slip Mat
Greet your guests the tusker style. We love the stunning gold elephant and unique paisley motif.
17. Boho Elephant Travel Makeup Bag
For the jet setters to travel in a organized way. This bag is spacious enough to fit all your skincare, makeup, and brushes.
18. Scotch Desktop Tape Dispenser
Make your elephant lover happy with this gift. Add some cuteness to her workspace. Make her working hours more fun.
19. Socksmith Women's Elephant Love Socks
Let these elephant couples warm your feet. They are so in love that they create tiny red hearts between their trunks.
20. Don't Forget This Shit Note Pad
Elephants are known for their long lasting memories. Write your to-dos on this notepad and let them remind you of your tasks.
This summer, hit the beach with this colorful beach blanket. Big size, plushy material. It will become your new favorite.
22. The Art of Marjorie Sarnat: Elegant Elephants Adult Coloring book 
One of the best stress relief gifts for women who love elephants. Whenever you are feeling stressed, color your favorite animal to make the stress go away.
23. Elephant Character Backrest
This elephant backrest is so cute even adults would love it.
When you can't get enough of elephant-themed items. Hang this decorative string lights to fill your room with forest vibe.
25. MRCUFF Elephant Pair Cufflink
Elephant gift that men will appreciate — This cufflink looks simple and beautiful.
26. Majestic Elephant Journal by Studio Oh!
Because this notebook with charming elephant design is a practical and inexpensive gift for elephant lovers. The cover is embellished with foil stamping and it has 192 lined pages to write down whatever you wish. 
A must-have gift for elephant lovers. This black and white abstract artwork looks modern and attractive. Hang it on the wall to feel the Zen and calming effect this tusker brings. It definitely is a cozy dorm room decoration for girls and guys.
28. Elephant Pattern Foldable Travel Duffle Bag
For the girls who are obsessed with elephant stuff. Even our travel bag need some elephant elements.
29. Bohemia Chiffon Kimono Beach Cover-up
Yes, we adore the lovely elephant motif of this kimono. It is lightweight, flowy, and looks great with your summer wear.
30. Elephant Pattern Men's Boxer
Because he is so obsessed with elephants he needs this boxer shorts.
31. Sleepwish Tribal Elephant Throw Blanket
Elephant lovers definitely need this plushy blanket to keep them warm and cozy at home.
32. Grey Elephant Silicone Tea Infuser Set
People who drink tea will be happy to get these elephant tea strainers. Fill them with your favorite tea leaves to make tea time more exciting.
That concludes our list of 32 gifts for people who love elephants. We hope the above gift guide helps giving you some ideas on what to buy for an elephant lover. Thanks for reading.
More Animal-Themed Gift Ideas:
Bunny & Rabbits | Cats | Dogs| Flamingos | Frogs | Giraffes | Llamas | Penguins | Turtles
Mythical Animal Gifts: