Add chic and playful vibes to your workspace with some cool office supplies. Revamp your cubicle to make it look stylish. We have compiled a list of 22 Kate Spade stationery and desk accessories to help keep your desk organized in a pretty way.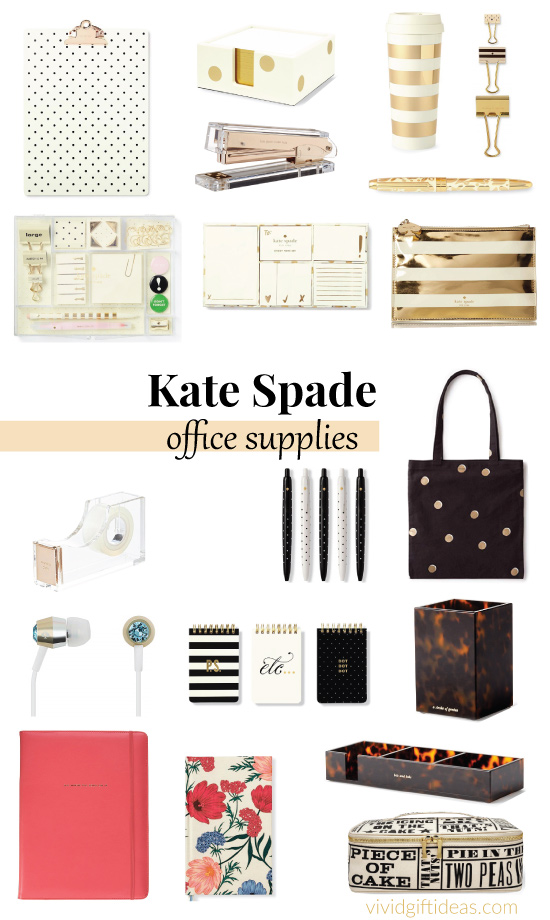 Check out these cute Kate Spade office supplies now!
Office Supplies by Kate Spade New York
1. Kate Spade Golden Floral Pen
Every lady needs fine quality stationery. This gold floral ballpoint pen ensures a luxe writing experience. It is a sophisticated designer pen that glides on really smooth.
This notebook featuring Kate Spade's classic gold dots is a bestseller. People use it as a planner, journal, note-taking, and even writing homework. It is said that not only students need Kate Spade school supplies, we as a working adult totally need a proper notebook to write on.
Let these stylish gold-foil accented Kate Spade sticky notes to remind us of the things to get done.
4. Kate Spade Tortoise Pattern Note Holder
Add personality to your workspace with this series of tortoise pattern Kate Spade office supplies. The black and brown tortoiseshell pattern is bold and classy. It is not the ordinary holder for your stationery, it is a luxury piece to boost the look of your desk.
5. Pencil Cup
Tortoiseshell pattern is definitely on the trend radar, don't be afraid to match it with your other office supplies by Kate Spade.
Start a great day by sipping your favorite coffee in this gorgeous Kate Spade white & gold tumbler. Check out our awesome coffee mug collection.
This acrylic stapler from Kate Spade is certainly a tasteful addition to your workspace.
No matter how busy your days get, this fashionable clipboard will keep you going.
Dress up your desk with Kate Spade's signature gold dots. Stapler, pencil holder, tape dispenser, calculator are also available. Get the whole set of them if you wish. After all, the more gold dots the merrier.
10. Dot and Stripes Binder Clips
Cute Kate Spade binder clips to keep the loose papers together.
11. Set of 5 Pen Set 
Because black and white polka dotted pens never go out of style — especially when they're stationery designed by Kate Spade.
This piece of tape dispenser made of clear acrylic mixes with metallic gold adds a touch of elegance to your desk.
13. Kate Spade Blossom Hardcover Journal
This beautiful Kate Spade journal reminds us of grandma's garden in the springtime. It is your secret garden for jotting down thoughts and ideas.
Yes, a striking gold striped case to store all your Kate Spade office supply collection.
15. Kate Spade Office Supplies Box
This is the one Kate Spade stationery set that you don't wanna miss. There is so many cute stuff in this box. I love the paper clips, pencil, binder clips, notepads, and magnets.
If you need a small wallet for your business cards, IDs, and some cash, this is perfect for you. The dusty pink color looks feminine and the glitter detail at the back adds a wonderful touch to it.
17. Red Lips Legal Notepad Folio 
We all know that work meetings are boring. Why not kiss the dull moments away with some red lips? It will be a fun companion at work.
Attending a serious business meeting? No problem. Ladies, take out your less flashy pink leatherette padfolio. It is embossed in gold with "She wrote the book on it".
19. Kate Spade Aquamarine Earbuds
Listen to your favorite songs the extra sparkling way.
Write down the to-do list, grocery list, and whatever list you need when you are on the go.
21. Canvas Book Tote
This is a sturdy canvas bag with a pocket inside to haul your books, documents, and whatever you like in style.
22. Kate Spade Go Bananas Sayings Lunch Carrier
Oh, and don't forget to bring your lunch. This lunch bag is insulated to keep your food fresh, and the cute sayings will definitely make you smile.
There you go, girls, more than twenty office supplies designed by Kate Spade New York you need to get right now!
More Kate Spade Stationery
Read this article for more exciting Kate Spade school supplies for students.
More cute stationery on our Pinterest!
School Supplies and Office Supplies