See our favorite penguin gifts perfect for adults and kids. 
Penguins are flightless marine birds. Almost all penguin species are native to the Southern Hemisphere except the Galápagos penguin, the only species that live in the north of the Equator. People are charmed by their chubby, short-legged appearance. Also, they can stand upright and walk on their legs like humans (okay, just a bit like humans. You will agree that they look super cute when waddling on ice, right?). These chubby creatures are always black tie ready and there are so many reasons to love a penguin.
Penguins are truly awesome with their unique characteristics. That's why there are many people who are obsessed with penguins. If you find penguin-themed products irresistible or if you're shopping for a penguin lover in your life, see here for our list of best gifts for people who love penguins. We've got you covered with 25 penguin lover gifts for someone who loves all things penguins.
Bring a smile to the face of penguin enthusiast. These merchandises are suitable for men, women, teenagers, and kids.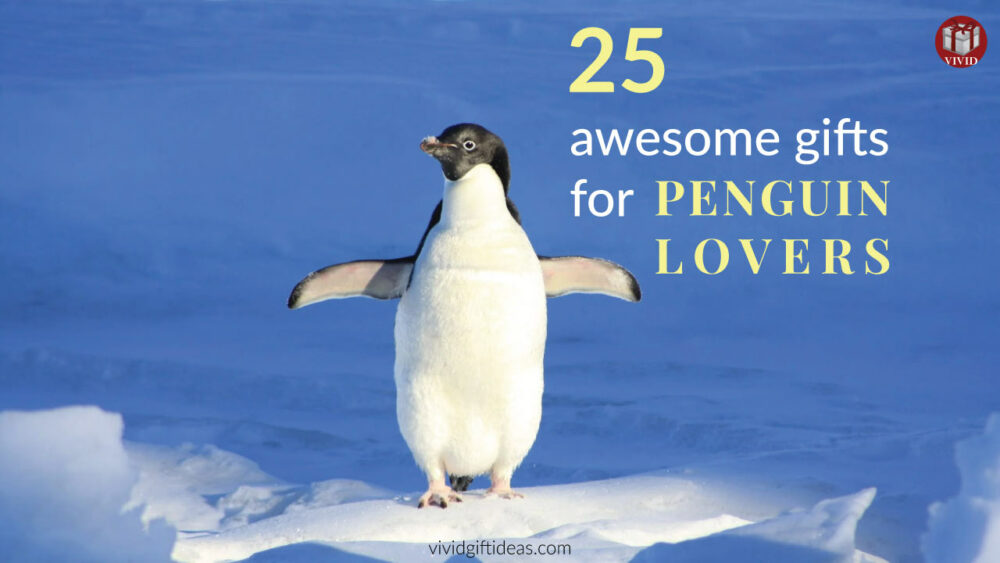 Best Gifts for Penguin Lovers
1. Penguin Wearable Hooded Blanket
Let start our list with one of the best penguin gifts for adults and kids. Let's wrap yourself in cuteness with this hooded sherpa penguin blanket! The hood will keep you cozy even in the arctic! It even has fuzzy mittens attached to keep your hands warm. And as a bonus, you can use it as a blanket, or snap it up and it doubles as a cloak!
2. Silicone Night Light
When you love penguins so much, you don't want to miss lighting up the night with this cute penguin touch lamp! This little penguin would be great for a nursery or bedroom. The lamp features three modes, including seven soft colors.
And it has a rechargeable USB battery! It's made from flexible silicone, has no sharp edges, and there is no risk of electrical shock. Kids can even cuddle him while they sleep!
3. Penguin Stud Earrings
Perch a penguin on your ear! These delicate sterling silver stud earrings feature a sparkling blue cubic zirconia stone that matches the color of the sea. They come with a jewelry box, and are ready to gift to the girls who love penguins.
4. Penguin Sign Decor
A unique gift for anyone who wants to make a statement, this funny penguin sign tells it like it is! It features a one-of-a-kind design letting people know this is "Penguin parking only, violators will have to waddle off!" This gift is sure to bring a laugh and a smile. It's made from color-printed aluminum and comes with pre-drilled holes for easy installation.
5. Every Penguin in the World
A must-have for anyone passionate about penguins! Every Penguin in the World, by Charles Bergman, chronicles the journey of the author and his wife around the world to see all seventeen species of penguin. Great storytelling, stunning photography, and an educational experience like no other make this a winning gift for any penguin conservationist.
6. Penguin Glass Wine Stopper
For those wine parties that just won't stop…put a penguin stopper in it! This gift would be great for the penguin lover and wine enthusiast. The penguin is made of glass and features a multi-colored battery-operated LED light to give your bar set up a playful glow. It comes packaged in a PVC box for easy gifting. Pair it with someone's favorite blend, and this will be a gift to remember.
7. Inspirational Keychain
Carry some inspiration and advice with you wherever you go! This penguin keychain is sure to charm anyone. A spunky little penguin gives you some great life advice and will bring a smile and a laugh every time you look at it!
8. The Coolest Emperor Socks for Men
For the penguin-loving man in your life know he is the coolest of the emperor penguins with these cozy socks! Every man loves a new pair of socks, and these feature a penguin design that makes them one of a kind. Keep his toes warm in penguin style!
9. Binder Clips
When you need to clip something important, do it in penguin style! These rose gold office supplies are shaped like penguins to bring a little whimsy to your work. They come twelve to a box and are a perfect gift for the studious penguin fanatic. You can also hang them anywhere for a bit of penguin personality!
10. Penguin Pop Fidget Toy
How about a penguin-shaped pop fidget toy for the little penguin lover in your life? Pop Fidgets are a great gift for kids, and this penguin-inspired sensory toy is sure to bring hours of fun for anyone. It's reusable, washable, and made from soft silicone materials. Pop Fidgets help relieve stress, so take this penguin along with you anywhere to keep little fingers busy!
11. Vinyl Waterproof Stickers
Stickers, stickers, and more stickers! With these adorable penguin stickers, you can decorate and accessorize anything, and make it your own. You get fifty assorted waterproof stickers. Each little penguin is different and unique, making it fun and easy to enjoy customizing your belongings.
12. Magical Uniguin Bag
Introducing the "Uniguin!" For the penguin lover who also loves all things unicorn-themed! Carry some inspiration with you wherever you go with this cute and functional bag. This half penguin, half unicorn friend provides a source of inspiration by reaching for the stars!
13. Penguin with Hinged Enameled Jewelry Box
Do you know a penguin lover who needs a spot to hide their most valuable treasures? This gorgeous jewelry box is sure to make someone happy. It is hand-painted and adorned with sparkling rhinestones. Pop the hinged compartments open for a perfect place to store jewelry or trinkets. Plus, it looks gorgeous as a décor item for a dresser or bedside table.
14. Happy Kisses Penguin Necklace
Jewelry always makes a great gift, and this enchanting penguin pendant is sure to dazzle any penguin enthusiast. It's a delicate outline of a penguin plated in 18K rose gold, and it comes with a message card that reminds you to "Be a penguin – Stay cool and waddle your own way!"
15. Penguin Art 3D Puzzle
Two gifts in one! Have fun crafting this 3D Penguin art puzzle together, and then have a whimsical piece of décor to enjoy forever! The puzzle is made from 100% recycled fortified paperboard, making it strong and sturdy. This penguin parent and baby is a perfect craft for parents and kids to do together.
16. Unisex Penguin Onesies
Waddle your way around the house in comfort! There's nothing cuter or more fun than a onesie! Bring back a little bit of your childhood by snuggling inside this soft, adult-sized penguin onesie! Wear it for snoozing, or just for a bit of fun! A onesie also makes a fabulous Halloween costume!
17. Penguin Statement Coffee Tumbler
I just freaking love penguins, ok? For anyone who needs to know, this coffee mug will help explain your love for penguins. This mug is double-walled and vacuum insulated, so it will keep your beverage warm or cold for hours. Made from stainless steel and BPA-free, it's unbreakable and rust-resistant. Not to mention the design is just freaking adorable, ok?
18. Liquid Motion Bubbler Timer
Keep track of the minutes with this enchanting liquid motion bubbler. The penguin friends inside swim atop the liquid as it drips down inside the diamond-shaped timer. After two minutes you can flip it over and start again! The action of the bubbler is a calming stress reliever. This is a cute gift idea for a desktop or office accessory.
19. Penguin Panic – Party Card Game
Is anyone up for a game? Don't panic, just blurt out the winning word before anyone else can, and you win! This is a fast-paced, super fun game that works for all ages. It would be a great party game for kids, or add some adult beverage for a little grown-up fun! But beware because hilarity is sure to ensue!
20. Kids Lunch Box Bag
If you have a little waddler in your life, they need a penguin lunch bag! Your child is sure to be the talk of the lunchroom with this little penguin buddy by their side. This insulated lunch bag doubles as a backpack. There is plenty of space inside for snacks and a convenient mesh pocket on the side for storing a water bottle. Your child will never forget their lunch bag again!
21. Penguin Tri-Fold Wallet
Even penguins need a place to keep their cash! This trifold wallet is a handy place to store money, credit cards, coins, and more. It even has a place to keep a picture of you (or your favorite penguin friend). And it's pretty cute to boot!
22. Keepin' It Cool Notepad
Who doesn't like cute school supplies? Stay organized and get things done with these penguin friends to keep you motivated! This penguin to-do list is a great gift idea for penguin lovers of all ages. You get 50 tear-off sheets to help you accomplish any task, and the penguins will keep you smiling all day!
23. Pen Pencil Holder with Phone Stand
Do you want to watch some funny penguin videos while you work? How about a penguin who helps you hold your phone and your pencils? This quirky penguin looks ready to make some noise, but he will help you stay organized while working at your desk. He can hold pens, pencils, scissors, and more. And he features a super convenient place to prop up your phone. This is a great gift for any multi-tasker.
24. Personalized Notebook
If you need somewhere to write, try out this penguin notebook! The leatherette cover can be engraved with name. This notebook would make a great gift idea for anyone who loves to write in a journal or diary, for schoolwork, or for daily organizing.
25. Penguin Plush Toy Keychain
Let this dapper penguin pal keep your keys safe! Carry this mischievous penguin friend with you on your travels to bring some fun and delight wherever you go. He's super soft, made from durable fabric, and oh-so-cute!
That concludes our list of best gifts for people who love penguins. Thanks for reading.
More Animal-Themed Gift Ideas:
Bunny & Rabbits | Cats | Dogs | Elephant Lovers | Flamingos | Frogs | Giraffes | Llamas | Turtles
Mythical Animal Gifts: