See our favorite llama gifts for the people who are obsessed with llamas.
Everybody loves llama. This fluffy barn animal is winning the hearts of kids and adults, men and women. It is grabbing the spotlight and becoming the trendiest creature in town. In fact, the llama is so popular that the llama merchandise is overtaking mermaid and unicorn's. Llama is having a big moment. If you are looking for a cute gift to buy, llama gifts have no prob-llama to impress your recipient. From fashion accessories, office supplies, home decorations, and more. These fun llama products are perfect for the people who love llamas.
So, read on to discover 24 awesome gifts for llama lovers below.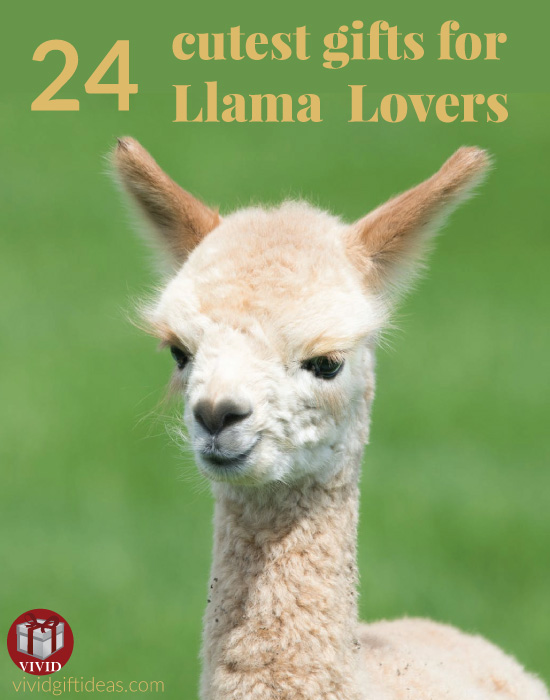 Gift Ideas for Llama Lovers
1. Llama Ceramic Trinket Dish
Let's start our list of gifts for llama lovers with this ceramic catchall dish. Get organized with your favorite animal. Declutter your dresser and bathroom counter by placing all your accessories and other loose items on it.
2. Motivational Llama Keychain
A small llama gift that girls adore. This keychain serves as a reminder of how llamazing you are.
3. Funny Llama Stemless Wine Glass Set
Wine down after a busy day. Llamaste and relax. Drink your favorite wine with your bae because these llamas have no prob-lama to make your stress go away.
4. The Llama Sutra: An Off-Colour Adult Colouring Book
A naught gift for adults. This book features 35 coloring pages added with a sense of humor. Learn the llama moves while you are coloring. And here's a friendly reminder: please make sure that no kids are around when you are doing it.
5. Poolcandy Glitter Llama Pool Tube
Get rid of your unicorn pool float, it is so last season. Make way for llama pool float. It is definitely trendier and prettier with the glitter inside.
6. Fred Como Tea Llama Infuser
Drinking tea is more fun with the companion of a llama. Fill it with your favorite loose tea leaf and dip it in hot water.
7. Sparkly Llama Earrings
A pair of sterling silver llamas for the girls who love llamas because she is llamazing.
8. Color Changing Llama Mug
Feel the alpaca magic every morning. Make hot coffee and see your llama changes color. You can also pet its head and grab its neck as a handle. An amazing llama gift perfect for birthday and Christmas.
9. Llama Journal
You deserve this pretty notebook because you are awesome! You will get to see a cute llama on every page you write or doodle on.
10. Llama Rolls Washi Tape Set
If llama notebook is not enough, get these colorful llama washi tapes to decorate your bullet journal, laptop, keyboard, folders, and other stuff.
Llama Gifts
11. Primitives by Kathy Inspirational Hinged Box
Add playful flair to your dressing table. This little wooden box has colorfully patterned trim and a sweet llama who says "Llamaste all day".
11. No Prob Llama Socks
A cheap and amazing llama gift for men. Ditch the boring black socks and wear this to work instead. It adds a touch of quirkiness under your dull suit.
12. Llama Funny Parking Sign
For the aspiring llama farmer — make him/ her smile by hanging this metal sign in the room.
13. Llamaste Meditating Llama Yoga Tank Top
Greetings from the meditating llama. Wear this racerback tank and feel the magical Zen feeling.
14. Ask Me About My Llama Funny Flip Shirt
Hide your llama inside and surprise people when they ask about it. This is a freaking cool T-shirt that guys will love!
15. Llama Succulent Planter Pots
Petite and elegant. These minimalist-designed llamas pots will brighten up any space.
16. Llama Novelty Luggage Tags
Don't forget to bring along your favorite animal when you are going for a trip. They are made from soft, flexible PVC plastic that's durable for frequent travel. The colors are vibrant and they certainly can grab your attention from far.
17. Llama Sleep Mask
Give a good night's sleep to the llama fans — a fluffy, silky soft mask to make her feel relaxed.
18. Tervis Llama Flora Insulated Tumbler
This fluffy farm creature will make your coffee tastes extra llamazing. It is double-walled to keep hot drinks hot and cold drinks cold for hours.
Gifts for People Who Loves Llamas
19. Llama Chia Pet
For people who are obsessed with llamas, do you ever wish you have a llama as a pet at home? Now, you can keep your own llama. This llama chia pet will bring you good health. Water the chia seed and see it grow into a luscious green coat in a few weeks.
20. Llama PopSockets Grip
Is there any cuter duo than this llama and sloth friends? You wouldn't want to miss sticking them on the back of your phone for extra grip.
21. Llama Night Lamp
Give llama love to the girls. This adorable decorative light will attract the attention of any girl who enters the room. It gives a warm ambiance perfect for the bedroom.
22. Ooly Note Pals Alpaca Farm Mini Sticky Tabs
Cute school supplies make us happy. Let these adorable farm creatures help you to better organize your papers and flag the important pages the llamazing way. You can also use it as sticky notes.
23. Llama Pens
Make writing homework more fun with these adorable llama pens. They glide smoothly on paper with blank ink. These little cuties come in a herd of eight in different pastel colors.
24. Snoozies Drama Llama Slippers
This pair of llama slipper socks will make the llama fans happy. It is so soft and plushy she wouldn't want to take it off.
That concludes our list of best gifts for llama lovers. Thanks for reading.
Remember to follow us on Pinterest!
Related Animal-Themed Articles: