See our favorite bunny gifts and products for people who love bunnies.
Rabbit — the small, furry animal with long ears is one of the 10 most popular pets. Bunnies are very loving and sociable. People love its adorable look and the soft fluffy coat. These furry creatures love to be pampered and petted. They have the cutest look when they nudge you to get your attention. There are so many reasons to love a bunny. That's why there are so many people who are obsessed with bunnies. If you are shopping for the bunny lovers in your life, see here for our list of unique bunny gifts. we have brought together more than 20 best rabbit gifts for the bunny lovers and rabbit owners. From fashion accessories, home decorations, writing supplies, and more. These bunny merchandises are perfect for men and women who love bunnies.
So, read on to discover 22 best gifts for bunny lovers below.
Best Gifts for Bunny Lovers
1. Rabbit Pearl Earrings
Let's start our list of best gifts for bunny lovers with this pair of dainty pearl earrings. Features lustrous freshwater pearls and a simple design that's perfect for everyday wear. It definitely looks pretty on girls of all ages.
2. Bunny Love Tote Bag
Sending some bunny love to your girl with this cotton tote bag. It is roomy and durable. Perfect for carrying books, clothes, loads of other stuff, and even your pet bunny.
3. Best Bunny Mom Coffee Mug
She always gives tender loving care to her little pets. She is the best bunny mom of the year who deserves to get this awesome mug.
4. Studious Rabbit Bookends
One of the best bunny gifts for him. Place this pair of antique-looking bronze bookends featuring two rabbits reading a book. His bookshelf has never looked better.
5. CASODA Plush Bunny Bathrobe
When you love bunnies so much you wish you were a bunny yourself. Wear this fleece robe to hop around at home. It is so soft and plushy you never want to take it off.
6. Gray Rabbit Keychain
A small bunny gift that's so adorable you might want to get one for yourself. It is made of faux fur. No rabbit is harm for the production of this keychain.
Gifts for People Who Love Bunnies
7. JIUFENG Bunny Short Wallet
Cute, slim, and functional. This wallet keeps your cards, IDs, and cash organized.
8. TONYMOLY Pocket Bunny Perfume Bar
Stash this solid stick-style perfume in your purse. They will give you a hint of fresh floral scent wherever you go.
9. Rabbit Coloring Book for Adults Relaxation
Take it out to color whenever you are feeling stressed. Each page of this coloring book is specially designed with a peaceful bunny graphic. It is a fantastic stress relief gift for your friends who love bunnies.
10. TAMOYO Bunny String Lights
Rabbit lovers will adore these LED string lights. They are not for Easter only. They are perfect for the whole year long.
11. Rabbit Socks
Get a colony of rabbits to warm her feet because one or two rabbits are never enough for bunny owners.
12. 925 Sterling Silver Rabbit On Moon Pendant Necklace
What's the best gift for the little girls who love bunnies? We recommend this silver necklace with a charming rabbit pendant. It definitely looks sweet on your daughter.
13. Bunny Ears Scrunchies
A must-have hair accessory for the bunny-loving girls with long hair.
14. Lovely Rabbit Gel Pens
How can you miss out on these rabbit pens if you are obsessed with rabbits? These cute pens will make us write faster and better.
15. LED Bunny Night Light
This bunny knows how to keep your kid feeling safe at night. It gives a calming glow to make kids sleep faster.
Gifts for Bunny Moms
16. I rabbit Kutani Pottery Teapot
This is a great gift for bunny moms who enjoy drinking tea. This gorgeous black teapot with moon-gazing hares will definitely make her tea tastes better.
17. Rabbit Pattern Backpack
A durable canvas backpack with roomy compartments. Let's carry loads of rabbits, textbooks, and whatever backpack essentials you need to school.
(Want to see more cute backpacks? ➡️ See here for 20 Cute Backpacks for Travel, Work, & School)
18. Whitewashed Rabbit Table Lamp
Because we would never settle for an ordinary lamp. Seeing these six furry creatures resting on our nightstand makes us feel content.
19. Anmones Alarm Clock with Night Light
This bunny will make sure you get up on time. It is an alarm clock with six ringtones and adjustable volume to make waking up in the morning a little more bearable.
20. White Rabbit Planter Pot
House your succulent plants with these ceramic pots. They will liven up your working desk.
21. Ceramic Rabbit Bunny Ring Holder
Meet your new trinket guardian. It is small and functional for any dresser or vanity desk.
22. LED Animal Pet Desk Lamp
Let this bunny light up the dark room for you. It has an adjustable neck and three light colors to choose from. It is also bright and dimmable. A great companion to have when you study hard for your exam at night.
That concludes our list of 22 best gifts for bunny lovers and rabbit owners. Thanks for reading.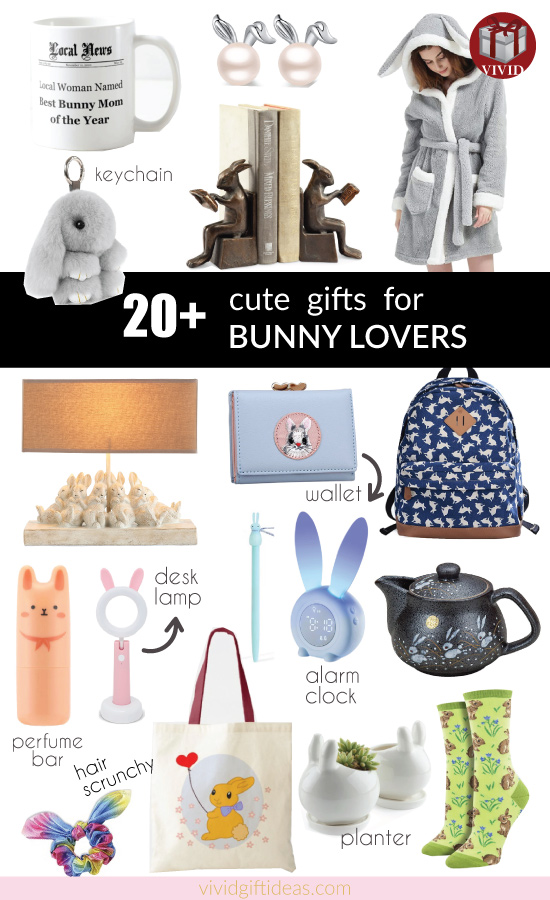 More Bunny Gifts:
Cute Animal-Themed Gifts:
Cats | Dogs | Elephant | Flamingos | Frogs | Giraffes | Llamas | Mermaids | Narwhals | Penguins | Turtles | Unicorns